Occassional Cocktails may earn compensation from purchases made after clicking links on this page. Learn more Here.
If you like Moscow mules and gin then you must try out the super easy foghorn drink. This light and refreshing slightly citrusy drink is sure to dazzle your taste buds.
What is a Foghorn Drink?
A foghorn drink is a combination of dry gin, lime juice and ginger ale. It has a sweet slightly spicy citrus flavor that is quickly followed by a strong botanical flavor from the gin.
It is very similar to a gin gin mule, But instead of using ginger beer you use ginger ale. The combination of liquor, citrus juice and ginger ale or ginger beer places this drink in the category of drinks called buck drinks.
Any gin can work in this drink, but dry gin is used most commonly. Some popular brands of dry gin include Bombay and old toms.
As you may know, ginger ale is a sweet, carbonated and slightly spicy flavored soda. It really helps to add some of the spicy, tangy flavor to this drink.
For the lime juice, you can either purchase some from the store or squeeze your own. Squeezing your own will lead to a slightly fresher flavor.
When to Make This Drink:
With its refreshing flavor and ease of making, this cocktail can be served at a multitude of different times like:
summer parties
barbecues
spring celebrations
afternoon sipping
Variations:
Try out some of these ideas if you would like to change this drink up a little.
Use a different gin. Dry gin is a traditional gin used in this drink. We really like Bombay and that's what we used in our drink. Old Tom gin is the gin that people typically use for this one. However, you can use any type of dry gin or any gin at all. Each will impart a slightly different flavor.
Swap out the lime juice. Use lemon juice instead of the lime juice and you'll have a leapfrog cocktail.
Use ginger beer. Instead of using ginger ale, you can use ginger beer in this one however, you would then call it a gin gin mule.
Serve it in a highball. Though this is traditionally served in a rocks glass, you can certainly serve it in a highball glass. You may need to add an extra ounce or so of ginger ale.
How to make this drink:
If you've got just a few minutes, you can get this ready for sipping. Just toss your ingredients in your glass and give it a stir.
Equipment:
Ingredients:
2 oz Dry gin
4 oz Ginger ale
.5 oz Lime Juice
Ice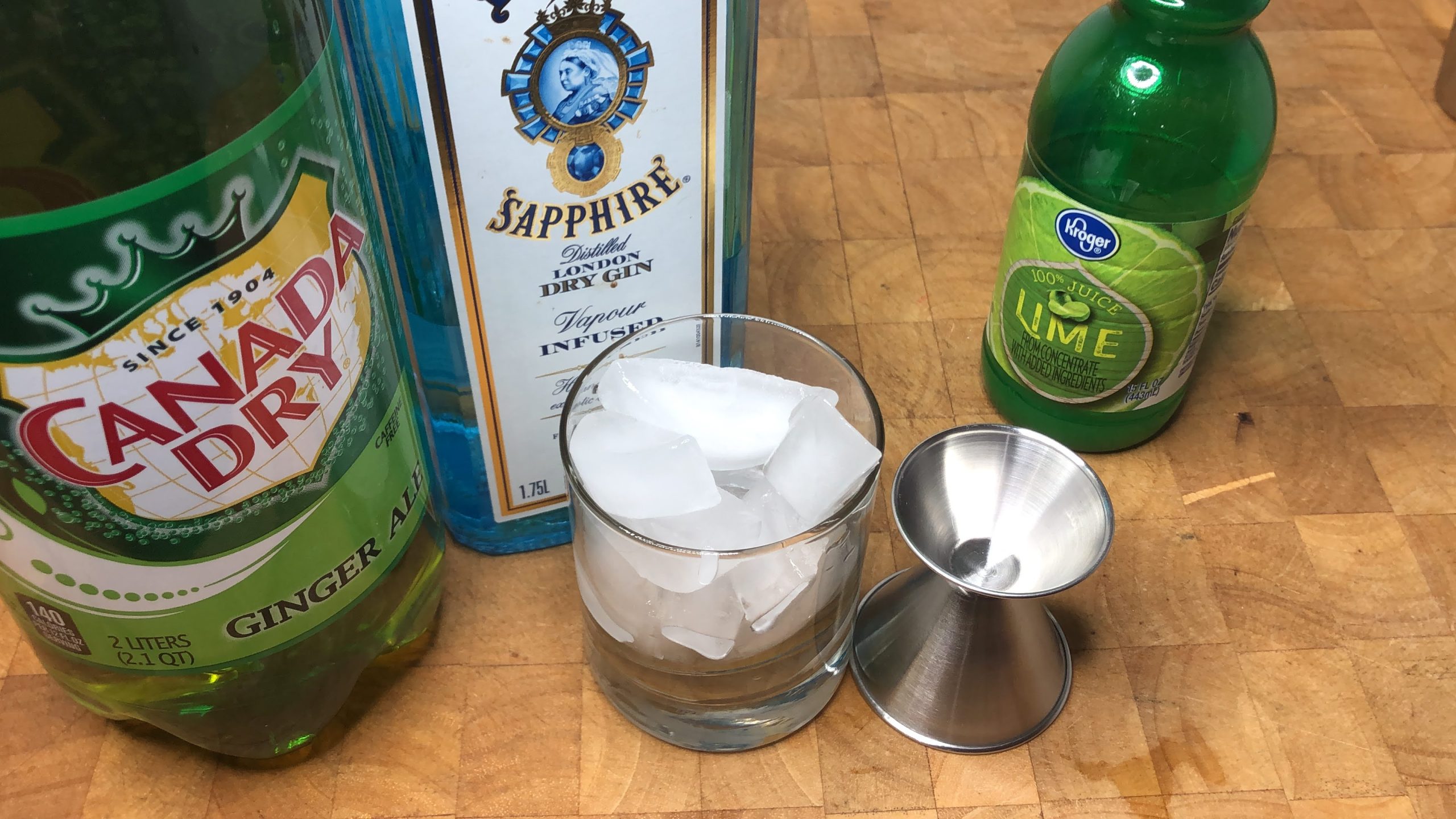 Instructions:
Step one
Get everything together including ginger ale, gin, lime juice, jigger, rocks glass, ice, shaker or bar spoon.
Step two
Place the ice into your rocks glass so that is filled up to the top.
Step three
Pick up the lime juice. Measure out 0.5 oz using the jigger and toss it into the glass.
Step four
Pick up the gin. Measure out 2 oz using the jigger and toss it into the glass.
Step Five
Pick up the ginger ale. Measure out 4 oz using the jigger and toss it into the glass.
Tip: If You want to skip measuring on this step you can. Simply pour the ginger ale directly into the glass to top it off.
Step Six
You have two options for mixing this drink together. You can either use the bar spoon or the shaker.
To use the bar spoon, simply stick it into the glass and then give everything a few good stirs.
To use a shaker, dump your drink from the glass into the shaker and then from the shaker back to the glass.
Recipe
Print Recipe
Foghorn Drink
Equipment
jigger

cocktail shaker

Rocks glass
Ingredients
2

oz

Dry Gin

4

oz

Ginger Ale

.5

oz

Lime Juice

Ice
Instructions
Dump ice into the rocks glass so that it is filled up.

Pick up the gin. Measure out 2 oz of gin. Pour that into the glass.

Pick up the lime juice. Measure out .5 oz of line juice. Pour that into the glass.

Pick up the ginger ale. Measure out 4 oz of ginger ale. Pour that into the glass.

Pro Tip: instead of measuring it, you can add it straight into the glass.

There are two ways you can mix the drink together:

1) Gently toss it into the cocktail shaker and then back into the glass.

2) Use the bar spoon to gently stir the drink up.