Occassional Cocktails may earn compensation from purchases made after clicking links on this page. Learn more Here.
The lemon-lime bite of Sprite is a perfect mixer for any high quality vodka. When the two are paired together, the Vodka and Sprite cocktail is one of the most deliciously refreshing drinks you can make.
What is a Vodka and Sprite?
The Vodka and Sprite is part of a very large library of soft drinks mixed with liquor recipes. The crisp flavor of the vodka blends seamlessly with the fizzy goodness of Sprite.
In fact, Sprite blends well with a whole host of other drinks. Some of the best Sprite based cocktails are Gin and Sprite, Rum and Sprite, and Tequila and Sprite.
Due to the light flavor and simplicity of this drink, it goes well with just about any meal and works for any occasion. Its fast and easy to make which is perfect for the end of a long day or just kicking back with some friends over the weekend.
Other Soft Drink Mixers
In addition to Sprite, some other popular mixers are Ginger Ale, Coke, Mountain Dew and Root Beer. We recommend trying the Vodka Ginger Ale, Vodka and Mountain Dew, Jack and Coke, and the Lynchburg Beer aka Whiskey and Root Beer.
But you came here to make a Vodka and Sprite. Lets show you how to do it.
How to make this drink:
One of the best things about soft drinks as mixers is they are some of the easiest recipes you can make.
Step One
Top your highball glass off with ice.
Step Two
Add 2 oz of a high quality vodka.
Step Three
Fill the rest of the glass with 4 oz of Sprite or Sprite Zero.
Step Four
Stir with a bar spoon or tumble in a mixer.
Step Five
Add a lime wedge to the rime of your glass and enjoy!
Jazz It Up
Both Vodka and Sprite work well with many different flavors. You can try adding in extra ingredients to make your own twist. Try some fruit, candy, or additional juices or alcohols. Or a little grenadine to make a Dirty Shirley.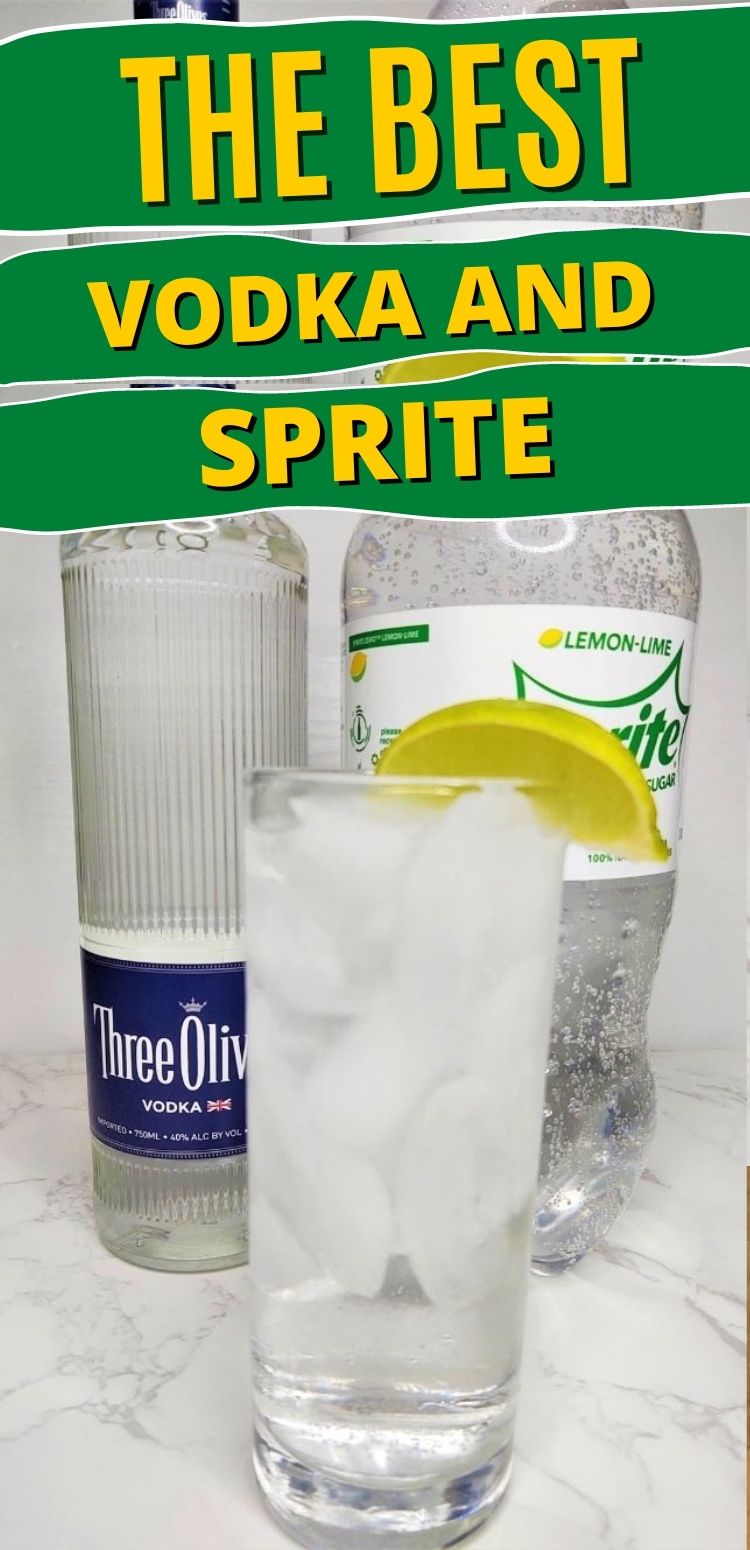 Recipe
Print Recipe
Vodka And Sprite
Equipment
highball glass

bar spoon

(Optional) Mixing tumbler
Ingredients
2

oz

vodka

4

oz

Sprite

1

lime wedge garnish
Instructions
Fill highball glass with ice

Add in 2 oz of vodka

Top off with Sprite (approximately 4 oz)

Stir gently with bar spoon

Garnish with lime wedge

Enjoy!
For more great cocktails
[pt_view id="146b5bcwjk"]