Occassional Cocktails may earn compensation from purchases made after clicking links on this page. Learn more Here.
Looking for a tangy, savory, spicy and slightly salty mocktail? Give this Virgin Bloody Mary, sometimes called a Virgin Mary, a try. This bright red mocktail is perfect for serving at your next brunch as it's a healthy drink option that's full of color and flavor.
Jump to:
🥂 What is a Virgin Bloody Mary Drink?
A Virgin Bloody Mary is a combination of tomato juice, Worcestershire sauce, horseradish, celery salt, paprika, black pepper, lemon juice and Tabasco sauce. It is often times garnished with a stalk of celery and olives.
This mocktail is so packed full of a spicy and savory flavor that you won't even miss any alcohol that you would normally taste in a cocktail. The tomato juice really shines through as the star of the show and is just accentuated by the various different spices you add in. If you like a little spice, but aren't sold on tomato juice, you might try this ginger beer mocktail or a moscow mule mocktail.
This virgin drink is, of course, a spin on the classic bloody mary which contains vodka. Most classic cocktails can be made into non-alcoholic versions such as: a virgin cosmopolitan or a virgin mojito.
Tomato juice itself is actually quite healthy. It's packed full of vitamins, minerals and antioxidants (source) So it's a nice base for this mocktail if you're looking for a healthy drink that is fancy and flavorful.
Not sure if you're ready to make this recipe? Check out these reasons why you'll love it:
Easy to customize. The base of this mocktail is simply lemon juice and tomato juice. You can scale up or down each of the individual spices added in to make it is spicy, savory or flavorful as you desire.
It's a showstopper. Everyone is sure to dazzle it all of the ornate and large garnishes that can be added to this drink. It's bright red color and extra added from the garnishes make it a real centerpiece drink to serve at any event.
Perfect for any occasion. With how easy this is to make, and to make it a large batch of desired, you can whip this up for a wide range of events from brunch to tailgating to pre-dinner cocktails.
⭐ When to Make This Drink
As mentioned, this healthy and flavorful mocktail is perfect for serving at a wide range of different events including:
Brunch
Tailgating
Large get togethers or parties
📖 Variations
Looking for a few ingredient substitutions or flavor variations? Here is a list of things to try:
Juice your own tomatoes. Since tomato juice is the star of the show, you won't be freshest most flavorful juice possible. Juicing your own tomatoes will allow you to take this drink to a whole new level.
Allow it to chill. Allowing this drink to chill or essentially marinate for a few hours before serving will really allow all the extra spices and flavors to meld and develop in the mocktail.
Add olive or pickle brine. Add 1 oz or so of olive or pickle brine to add extra little zing to your mocktail.
Use cayenne pepper. Substitute the paprika for cayenne pepper if you want a little extra heat.
Make it for a crowd. Make this in a big batch ahead of a party or large get together simply by multiplying the ingredients by 5 or 6 times and mixing in a large pitcher.
Garnish, garnish and more garnishes. One of the most fun things about this drink is the fact that you can add so many different garnishes to it. Give some of these a fun try (and don't stop at just one. Shove as many on a cocktail pick as you can and plug them into the top of the glass):

Pickle spears
Lemon wedges
Lime wheels
Cherry or grape tomatoes
Green or black olives, plain or stuffed
Pickled vegetables like cauliflower or jalapenos
Rim with seasoning salt
Cheese cubes
Cocktail onions
🥄 Equipment
📋 Ingredients
½ cup of Tomato juice – Make sure to use a high quality, low sodium, fresh tomato juice.
1 TBS Lemon juice
2 teaspoon Horseradish
2 – 3 dashes Tabasco sauce
2 – 3 dashes Worcestershire sauce
⅛ teaspoon Paprika
⅛ Teaspoon Black pepper
¼ Teaspoon Celery salt
Garnish Olives
Garnish Stalk of celery
Ice
👩🏻‍🍳 Instructions
Step one
Gather up everything you need to make this mocktail including highball glass, cocktail shaker, Hawthorne strainer, measuring spoons, jigger, paprika, Worcestershire sauce, lemon juice, horseradish, celery salt, black pepper, celery, tomato juice, and Tabasco sauce.
Step two
Fill both your shaker and highball glass with ice.
Pro tip: it's good to chill both your tomato juice and lemon juice before making this mocktail. If you have chilled both, you can skip the ice in the shaker to prevent your drink from getting watered down.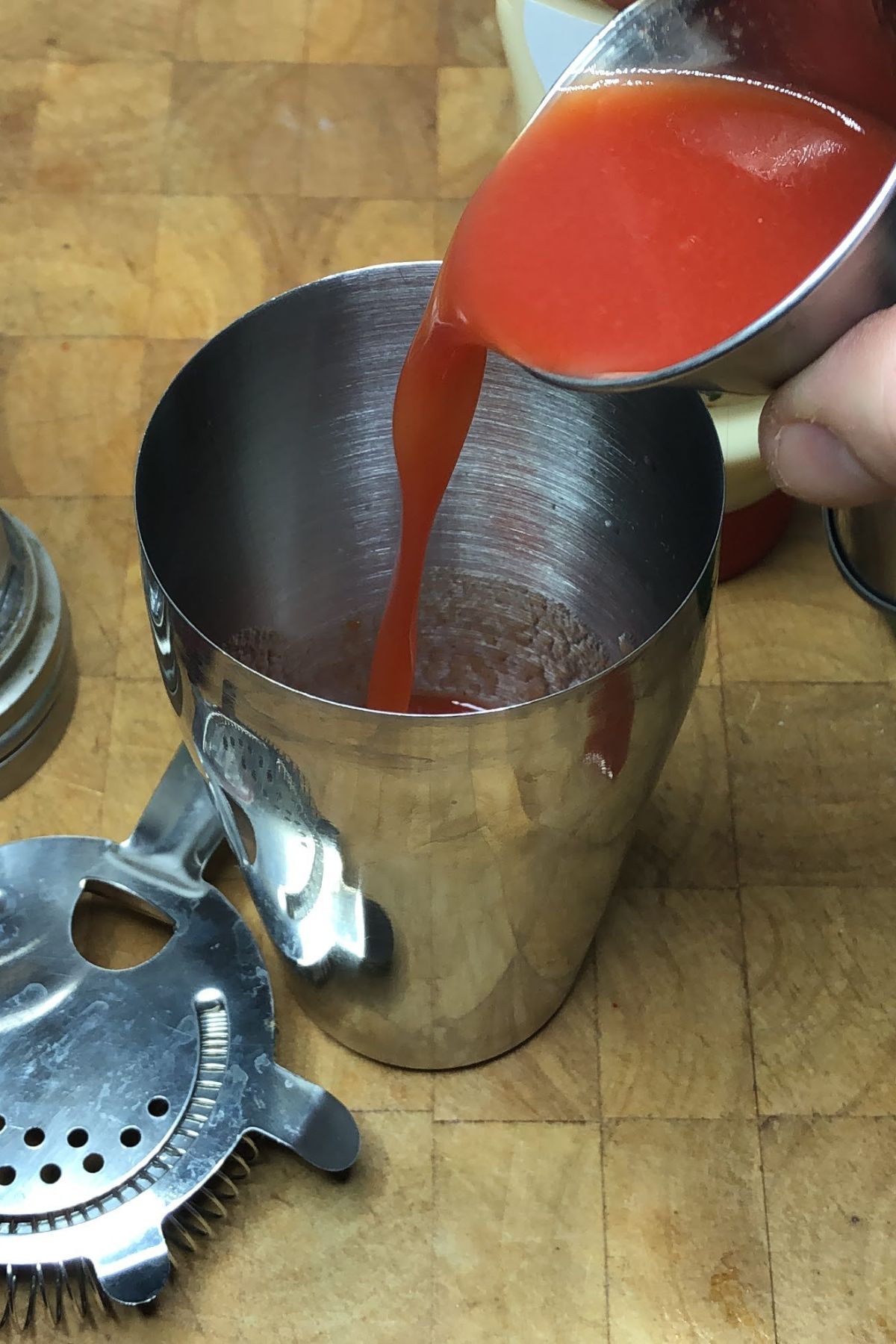 Step three
Use the jigger or a measuring cup to measure 4 oz of tomato juice. Then, pour it into the cocktail shaker.
Step four
Measure out one tablespoon of lemon juice. Then, add that to the shaker.
Step Five
Measure out an eighth of a teaspoon of paprika. Pour that into the shaker.
Step Six
Add a few dashes of Worcestershire sauce directly into the shaker.
Step Seven
Add a few dashes of Tabasco sauce directly into the shaker. The more you add, the hotter and spicier it will be.
Step Eight
Measure out two teaspoons of horseradish. Add that to the shaker.
Step Nine
Measure out ⅛ of a teaspoon of black pepper and ¼ of a teaspoon of celery salt. Add both to the shaker.
Step Ten
Put the top on your cocktail shaker and shake it up. Place the Hawthorne strainer over the shaker and strain your drink into your highball glass.
Add would ever garnishes you would like to Use. Definitely don't forego at least a stalk of celery.
Recipe
Print Recipe
Virgin Bloody Mary
Equipment
jigger

measuring teaspoon

highball glass

bar spoon
Ingredients
½

cup

Tomato Juice

1

tbs

Lemon Juice

2

teaspoon

Horseradish

2 – 3

dashes

Tabasco Sauce

2 – 3

dashes

Worcestershire Sauce

⅛

teaspoon

Paprika

⅛

teaspoon

black pepper

¼

teaspoon

celery salt

Olives

optional garnish

stalk of celery

optional garnish

Ice
Instructions
First, ensure you have filled your glass up to the brim with ice.

Measure ½ cup of tomato juice. Pour the tomato juice into the glass.

Measure 1 TBS of lemon juice. Pour the lemon juice into the glass.

Measure 2 teaspoon of horseradish and add that to the glass.

Add 2 – 3 dashes of both Tabasco sauce and Worcestershire sauce to the glass.

Add ⅛ teaspoon Paprika to the glass.

Add ⅛ teaspoon of black pepper to the glass.

Add ¼ teaspoon of celery salt to the glass.

Take the bar spoon and stir your drink up well.

If you want to add a garnish, add a stalk of celery into the glass and a few olives on top of the drink.
Notes
Variations:
You can also build this drink in a cocktail shaker and shake it up instead of stirring.
You can add pickle spears as an additional garnish.