Occassional Cocktails may earn compensation from purchases made after clicking links on this page. Learn more Here.
Vodka tonic is perfect for sipping on in the summer or really any occasion. It's a light and bubbly drink that most anyone can enjoy. This cocktail is also super easy to make.
What is a vodka tonic?
Similar to a gin and tonic only less emphasis on the liquor flavor. Gin has a much stronger flavor than vodka, so a vodka tonic tends to rely more on the tonic and any additives you choose. This drink is very similar to a vodka soda with the main change being using tonic water instead of club soda.
If you're not familiar with tonic water it's a bubbly, carbonated drink that tastes a bit bitter. It has quinine in it which you would actually use as an anti-malarial in large doses. Tonic water today typically only has a small amount of quinine which provides that bitter taste.
Vodka is a very neutral, light tasting liquor. So, when you add it to tonic water, it does not overpower at all. This allows the drink to really let the tonic flavor and the light, citrus of the lime shine through.
Because it is such a light drink, it is perfect for sipping during the summer, at dinner, or as a mid-afternoon drink. Really, it fits for any occasion you want.
How Many Calories?
Tonic water has about 10 calories per 1 oz serving. There are 4 oz in this drinks, so 40 calories from tonic water. Vodka contains around 65 calories from 1 oz. There are 2 oz in this drink so about 130 calories from vodka. That's a total of around 170 calories per drink.
Ingredients
This is a simple, three ingredient drink. All you need is:
Vodka (2 oz), 1 part
Tonic water (4 oz), but can use from 1 – 3 parts depending on how much you want to dilute your vodka.
Lime – fresh lime is obviously the best choice, but if you don't have one, you can use lime juice if necessary.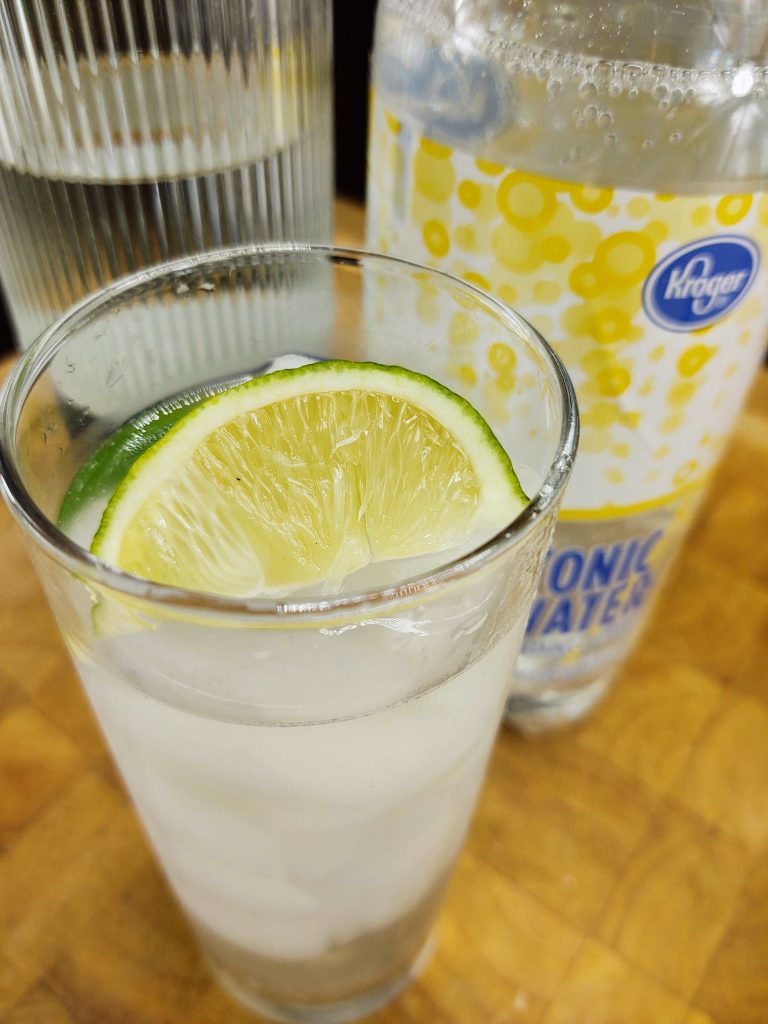 Recipe Instructions
Vodka tonic can be made by anyone, it's so simple. All you need to do is add a ratio that is 1 part vodka to 1 – 3 parts tonic, add a squeeze of lime and lime to garnish.
Step 1
Grab a highball or Collins glass and fill to the top with ice.
Step 2
Add 2 oz of vodka of your choosing. It's best to choose a high-quality vodka for this recipe especially since the vodka is heavily emphasized.
Step 3
Add 4 oz of tonic water to your glass. Again since this recipe only has a few ingredient it's important to use a high-quality version of tonic water as well.
Step 4
Add a squeeze of lime to the top and garnish the rim with a wedge of lime. Lemon can also be used. Or you can use a combination of both lemon and lime.
Variations
This drink may seem like it could be a bit boring, but it truly has the perfect mix of flavor and it's not too strong allowing it to accompany any time or meal. If you'd like to add a little pizzazz to your vodka tonic there's a couple ways to do so.
You can try adding your favorite flavored vodka such as vanilla vodka for s'mores vodka. Or you could use a homemade infused vodka like this strawberry basil infused vodka.
You can also garnish with lemon and lime instead of just lime. However you decide to enjoy it's sure to be a fun and refreshing.
Recipe
Print Recipe
Vodka Tonic
Equipment
highball glass

bar spoon

(Optional) Mixing tumbler
Ingredients
2

oz

vodka

4

oz

tonic water

splash lime juice

1

lime wedge garnish
Instructions
2 oz vodka

4 oz tonic water

splash lime juice

1 lime wedge garnish

Instructions

Fill highball glass with ice

Add in 2 oz of vodka

Add splash of lime juice

Top off with tonic water (approximately 4 oz)

Stir gently with bar spoon

Garnish with lime wedge

Enjoy!
For more great cocktails
[pt_view id="146b5bcwjk"]