Occassional Cocktails may earn compensation from purchases made after clicking links on this page. Learn more Here.
An Alien Brain hemorrhage shot is a perfect addition to any Halloween or other spooky themed party. It is one of the most elaborate shots out there but can be made pretty easily if you follow a few tricks.
What is a alien brain hemorrhage shot?
An alien Brain hemorrhage shot is made from peach schnapps, Irish cream, Blue Curacao and grenadine. This shot is a layered shot and does take a little bit of practice to get right.
This shot, admittedly, is not one of my favorite tasting shots. It definitely has a strong peach flavor with a sweet and creamy mix. Which, if you enjoy peach you will probably enjoy this.
However, even if peach isn't your thing, the fantastic look of this shot is definitely worth trying. It's a perfect shot for any Halloween party or other spooky themed get together. But, quite frankly, it works even if you just want to impress your guests with your shot making skills.
This shot has a few different variations including the monkey brain shot and the brain hemorrhage shot.
if you've mastered other layered shots such as the sexy alligator, the blowjob shot, the duck fart shot then you might be ready to increase your layering skills with this shot.
How to make this drink:
Making this drink is all about patience and going slowly so that you get all of your layering right.
Equipment:
Ingredients:
¾oz peach schnapps
½ oz Irish cream (we used Bailey's)
drizzle of grenadine
Drizzle of blue curacao
Instructions:
Step one
As you get started, you will want to gather all of your equipment as well as all of your ingredients together so that you are ready to go.
Step two
First up is the peach schnapps. Take your jigger and measure ¾ of an ounce of peach schnapps and pour it into your shot glass.
Step three
Next you are going to layer in your Irish cream. Measure ½ oz of Irish cream into your jigger.
Take your bar spoon and place it upside down in your shot glass just above the top edge of your peach schnapps. Next, very slowly pour your Irish cream over the back of your bar spoon so that it sits just at the top of your peach schnapps. It should mostly float on top but some of it will float down into the peach schnapps causing the brain looking effect.
Step four
Next, again using the back of your bar spoon placed just above the top line of your Irish cream drizzle a small amount of Blue Curacao so there is a thin layer over the top.
The Blue Curacao should float at the very top of your shot.
Step Five
Finally, to add a little blood red to your shot, place the bar spoon again upside down at the very top level of your shot glass. Then, drizzle just a little bit of grenadine over the back of the bar spoon.
Due to the density of the grenadine it should slowly float to the very bottom of the shot.
Step six
Before you take the shot, enjoy the fantastic spooky look.
When you're ready, knock it back and enjoy!
Recipe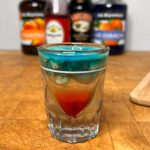 Print Recipe
Alien Brain Hemorrhage
Equipment
bar spoon

jigger

Pour Spouts

shot glass
Ingredients
¾

oz

Peach Schnapps

½

oz

Irish Cream

(we use Bailey's)

Blue Curacao

(a drizzle)

Grenadine

(a drizzle)
Instructions
Start by measuring ¾ oz of Peach Schnapps and pour into your shot glass

Measure ½ oz of Irish Cream.

Take bar spoon and place it upside down just above top of Peach Schnapps. Slowly pour Irish Cream over back of bar spoon.

Again using bar spoon upside down, slowly pour a small drizzle of Blue Curacao until it creates a thin layer at the top of your shot.

Take grenadine and very slowly pour into shot glass. (note: it will sink to the bottom)