Occassional Cocktails may earn compensation from purchases made after clicking links on this page. Learn more Here.
You're sure to hit a hole in one with this easy and delicious Arnold Palmer drink. This mocktail, which is named after a legendary golfer, has a perfect balance between bitterness of tea and tartness of citrus. This delicious blend of flavors is the perfect go-to when you're looking for a refreshing and easy mocktail.
Jump to:
🥂 What is a Arnold Palmer Drink?
An Arnold Palmer is a super easy to make mocktail that takes only two ingredients: lemonade and iced tea. To make this drink all you have to do is pour The two ingredients into your glass and give them a stir.
This drink is easily customizable as you can change the ratios of tea to lemonade. Oftentimes people will do equal parts, but that is not how Arnold Palmer himself usually ordered the drink. He would typically order it in a 3:1 unsweetened tea to lemonade.
The flavor of this beverage is delightful blend from the bit of bitterness of the tea melted with a zesty and tangy sweet and sour lemonade flavor. You can tweak the flavors by changing the ratios as mentioned about.
If you're curious about why this recipe is one to add to your next get together, here are a few reasons why:
It's a classic. This mocktail has been around for quite a while and it is popular as ever. It is a classic combination of two of the best, most refreshing summer time drinks.
It's so easy. With only two ingredients it is a super easy mocktail to make. In addition, the ingredients themselves are simple. All you have to do is decide the ratio you prefer, dump the ingredients into your glass and stir them together. If you have two minutes, then that's plenty of time.
It's versatile. You can change the ratios of lemonade and tea to suit your taste preferences. Additionally, you can Make slight variations to the ingredients in order to change the shrink up to be exactly what you prefer.
This is just one of several really popular mocktails named after a person. Some others include the shirley temple mocktail and the roy rogers drink.
⭐ When to Make This Drink
You can stir up this easy to make classic mocktail for most any time. If you're looking for a few suggestions to consider, try these out:
Brunch
Golf or other sports
Afternoon sipping
Spring celebrations
📖 Variations
While this classic drink is just perfect on its own, here are a few possible flavor variations and ingredients substitutions to try:
Use a flavored lemonade. Use a lemonade with a fruity flavor such as a raspberry lemonade or a strawberry lemonade If you want to add a little fruit twist.
Use sweet tea. When sweetened tea is used in this drink, it's typically called a Winnie Palmer who was the wife of Arnold.
Make a John Daly. Add a shot of vodka to the strength and you have an alcoholic version of this cocktail typically called a John Daly who was another golfer.
Freshly squeezed. Make your own homemade lemonade. This way you can make it as sweet or sugar-free is you like.
Change up the tea. Brew your own tea. Typically a black unsweetened tea is used. However, different brewing methods can change the strength and the flavor of tea. Additionally, you can use different types of tea to vary the flavor.
🥄 Equipment
📋 Ingredients
2 oz Lemonade
4 oz Iced Tea (unsweetened)
Lemon Wedge (optional garnish)
Ice
👩🏻‍🍳 Instructions
Step one
Get this drink started by gathering together lemonade, unsweet tea, highball glass, ice, sugar and bar spoon.
Step two
Fill the glass up with ice. It should be up to the brim of the glass.
Step three
Grab the lemonade and measure out 2 oz. Then, pour it into the glass.
Step four
Grab up the tea and measure out 4 oz. Then, pour it in the glass.
Step Five
Use your bar spoon to stir everything together well. You can add a garnish if you desire such as a lemon slice.
Recipe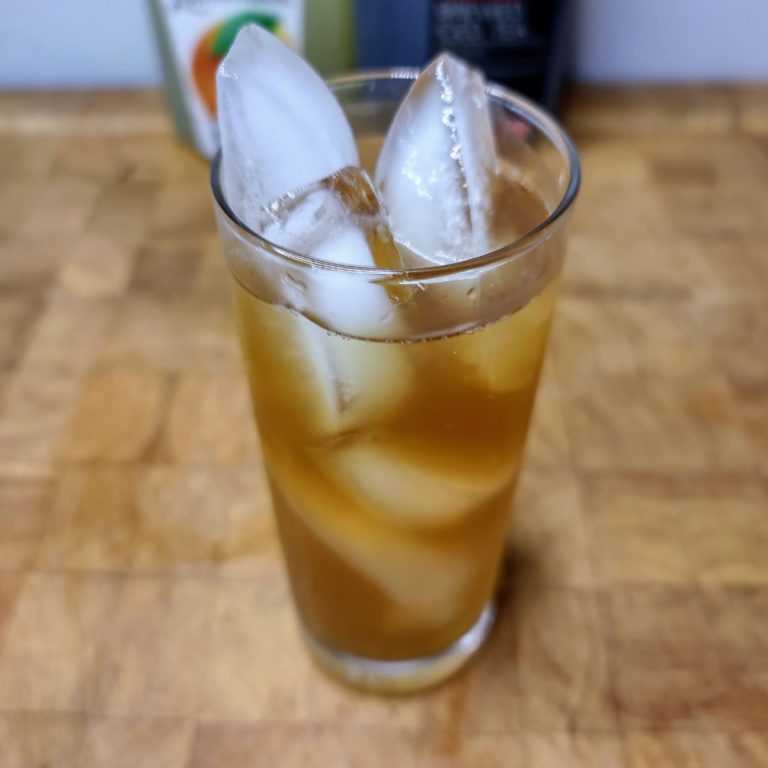 Print Recipe
Arnold Palmer Drink
Equipment
jigger

bar spoon

highball glass

Hawthorne strainer

optional
Ingredients
4

oz

Lemonade

4

oz

Iced Tea

sweet orunsweet

Ice
Instructions
Take a few handfuls of ice and toss it into the highball glass. You should use enough ice to fill the glass to the brim.

Take the lemonade and the jigger. Measure 2 oz of lemonade and toss it into the glass.

Take the tea and the jigger. Measure 4 oz of tea and toss it into the glass.

Take the bar spoon and use it to mix your drink up.

If you want to add an optional lemon wedge garnish:

1) Slice the lemon into slices.

2) Take a lemon slice and cut a small notch in the pulp.

3) Use the notch to secure the lemon wedge on the glass rim.