Occassional Cocktails may earn compensation from purchases made after clicking links on this page. Learn more Here.
Bright purple, super sweet and bursting with blackberry flavor, this blackberry simple syrup is the perfect easy to make addition to your drinks and desserts. If you want to really level up your next food or beverage creation, make this syrup and add it right in.
Jump to:
🥂What is Blackberry Simple Syrup?
Blackberry simple syrup is a vibrant purple color sweetener that is a combination of equal parts blackberries, sugar and water. The resulting syrup is sweet and bursting with blackberry flavor.
This syrup is the perfect addition to so many different foods and beverages. You can drizzle it on desserts like ice cream and cheesecakes, add it to breakfast like French toast and oatmeal or add it to drinks like coffees or milks.
Flavored simple syrups like this are easy to make and they're great for sweetening beverages because they dissolve more evenly than regular sugar. Some other flavor options include cherry simple syrup, mango syrup and raspberry syrup.
Here are a few of the reasons why this recipe works so well:
Simple and easy. With only three easy ingredients two of which are sugar and water, You can throw this one together in about 10 minutes. Simply get all of your ingredients together, simmer them, strain them and then cool them off.
Bursting with berries. This has a super sweet blackberry flavor that is super tasty.
Use it on everything. You can put this in beverages like teas and milks. You can add it to desserts like cheesecakes and ice cream. Or you can mix it into breakfasts like yogurt and oatmeal.
🥄Equipment
Masher (optional)
Wooden Spoon (or any long handle spoon)
Mason jar or Small Pyrex
Measuring Cup
📋Ingredients
1 cup Sugar
1 cup Water
1 cup Blackberries (fresh or frozen)
👩🏻‍🍳Instructions
Step one
Make sure you got everything you need to make the syrup including blackberries, sugar, water, saucepan, wooden spoon or masher, strainer, measuring cup and jar with a lid.
Step two
Grab up one cup of blackberries and dump them into the saucepan.
Step three
Grab up one cup of sugar and dump it into the saucepan.
Step four
Grab up one cup of water and dump it into the saucepan.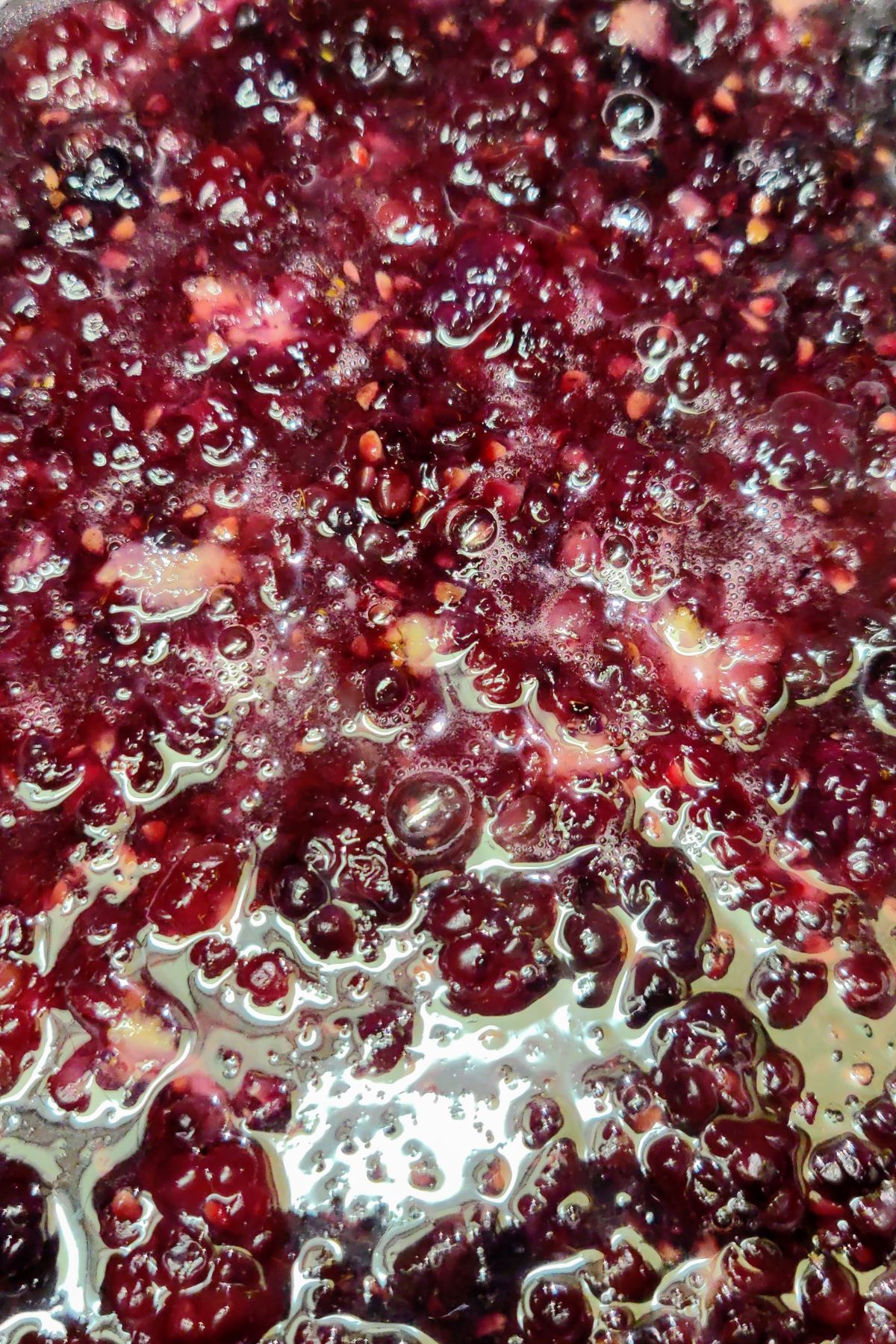 Step Five
Place your saucepan on the stove top at medium heat. Simmer your mixture for 10 minutes.
You'll want to use a masher or wooden spoon to stir and press the berries as they heat to squeeze all of the juice out.
Step Six
Take the pot off of the heat and pour your mixture through a fine mesh strainer to remove any berry pieces. Add the syrup to a jar or Pyrex with a lid and place it in the refrigerator to chill and thicken for 2 hours.
⭐How to Use
There are multitude at different uses for this syrup including:
Make flavored beverages. Add 2 oz of this to soda water, coffee, tea, lemonade or limeade to create blackberry flavored beverages.
Make cocktails and mocktails. Add this into blackberry flavored cocktails such as martinis and margaritas or fruit flavored mocktails to get a strong and sweet blackberry flavor.
Make blackberry milk. Add 2 oz of the syrup into a full glass of milk and have a sweet blackberry flavored milk.
Add it to breakfast. Stir this into yogurt, parfaits, smoothies or oatmeal. Or, you can drizzle it over pancakes, waffles, muffins or French toast.
Make it a dessert. Pour this over ice cream or add it as a moistener and cakes. Top cheesecakes and cookies off with it as well.
📖Variations
If you're looking for a few ways to vary this recipe up, check these ideas out:
Add some citrus. Add 1 teaspoon of lemon juice to help brighten up and enhance the blackberry flavor.
Use a new sweetener. Though granulated sugar is the most common sweetener and simple syrups, you can certainly use other ones such as honey or brown sugar.
Add an extra flavor. Infuse some additional flavors into this such as mint or ginger by adding a few mint leaves or a teaspoon of ground ginger. You can really use your imagination here and add in whatever flavors you like to pair with blackberry.
Thicken it up. If you're using this on desserts or breakfast foods, you might want it to be slightly thicker. You can do this by adding a tablespoon of cornstarch or by leaving some of the berries into the finalized syrup.
💭 Top Tips & Storage
Follow these storage instructions and top tips to have the most successful recipe:
Strain well. Make sure you remove all of the blackberry seeds and pieces of blackberry by using a very fine mesh strainer.
Press your berries. Use a masher or the back of your wooden spoon while it heats to really press all the juices out of the berries. Additionally, when you strain it again use your spoon to press on the berries to really get all the flavor out.
Simmer only. Though you do want it to get to a pretty good simmer while you're heating, you don't want it to get to a full boil. Boiling it can have water evaporation as well as cause it to burn.
Store and freeze well. Keep this in an airtight container in the refrigerator for 2 to 4 weeks. If you won't use it in this time, you can freeze it. To freeze it, pour it into an ice cube tray. Once it's frozen pop the cubes out and put them in a freezer bag.
Recipe
Print Recipe
Blackberry Simple Syrup
Equipment
Saucepan

Wooden Spoon

Measuring Cup

Small Jar or Pyrex

Strainer
Ingredients
1

Cup

Water

1

Cup

Sugar

1

Cup

Blackberries

fresh or frozen
Instructions
Toss 1 cup of blackberries into a saucepan.

Toss 1 cup of water into a saucepan.

Toss 1 cup of sugar into a saucepan.

Heat the mixture on the stovetop on medium heat.

Simmer it for 10 minutes while stirring regularly. You can use the masher to really press the juice out of the blackberries.

Pour the mixture through a strainer to remove seeds and any large blackberry pieces out of the syrup.

Store it in a jar with a lid in the fridge for 1 – 2 hours so it can cool off before using it.
Notes
Tips
Use a masher while heating the mixture in order to press all the blackberry juice out.
Simmer the mixture while heating without fully boiling it so that it doesn't scorch.
Use a fine strainer to keep any seeds or other pieces from getting into the syrup.
Storage
You can freeze this syrup, preferably in ice cube trays if you need to keep it for a longer time.
Store the syrup for 2 – 4 weeks in a jar with a lid or other airtight container.