Occassional Cocktails may earn compensation from purchases made after clicking links on this page. Learn more Here.
Ramp up your next cocktail, mocktail or brunch with this sweet and fruity strawberry simple syrup. A taste of this brightly colored syrup is sure to whisk you away to a beautiful summer day with its sweetness and strawberry flavor.
Jump to:
🥂What is Strawberry Simple Syrup?
Strawberry simple syrup is an equal ratio of sugar, water and sliced strawberries. It is a slightly liquid sweetener that can be used in a wide variety of dishes from beverages to dessert.
Simple syrups are essentially made for ease of adding a sweetener which is sometimes flavored into drinks. Sometimes sugar takes a while to dissolve so liquid sweeteners like simple syrup work better.
Fruity flavored simple syrups are really easy to make, and all follow essentially the same process. You can also try out blueberry simple syrup, blackberry syrup or cherry simple syrup.
This recipe is super versatile as it can be added to so many different things from milk to lemonade to lattes. And a wide variety of foods from pancakes to French toast to ice cream.
As if you needed more incentive to make this, here are a few reasons you'll love this recipe:
Easy to make. All you have to do to make this is toss your ingredients into a pot and heat them for 10 minutes. It's just three easy ingredients.
Sweet and fruity. This syrup is bursting with sweet, fruity strawberry flavor that is sure to dazzle your taste buds.
Super versatile. You can add it to so many different things from French toast to ice cream to cakes. And a variety of drinks such as milk, lemonade, soda and mocktails.
🥄Equipment
Masher (optional)
Wooden Spoon (or any long handle spoon)
Mason jar or Small Pyrex
Measuring Cup
📋Ingredients
1 cup Sugar – granulated sugar works best for this recipe.
1 cup Water
1 cup sliced Strawberries – You can use fresh or frozen strawberries. Make sure if you're using fresh strawberries to clean them well and remove the stem and leaves.
👩🏻‍🍳Instructions
Step one
Gather everything up including sliced strawberries, measuring cup, water, sugar, masher, spoon, container with lid and saucepan.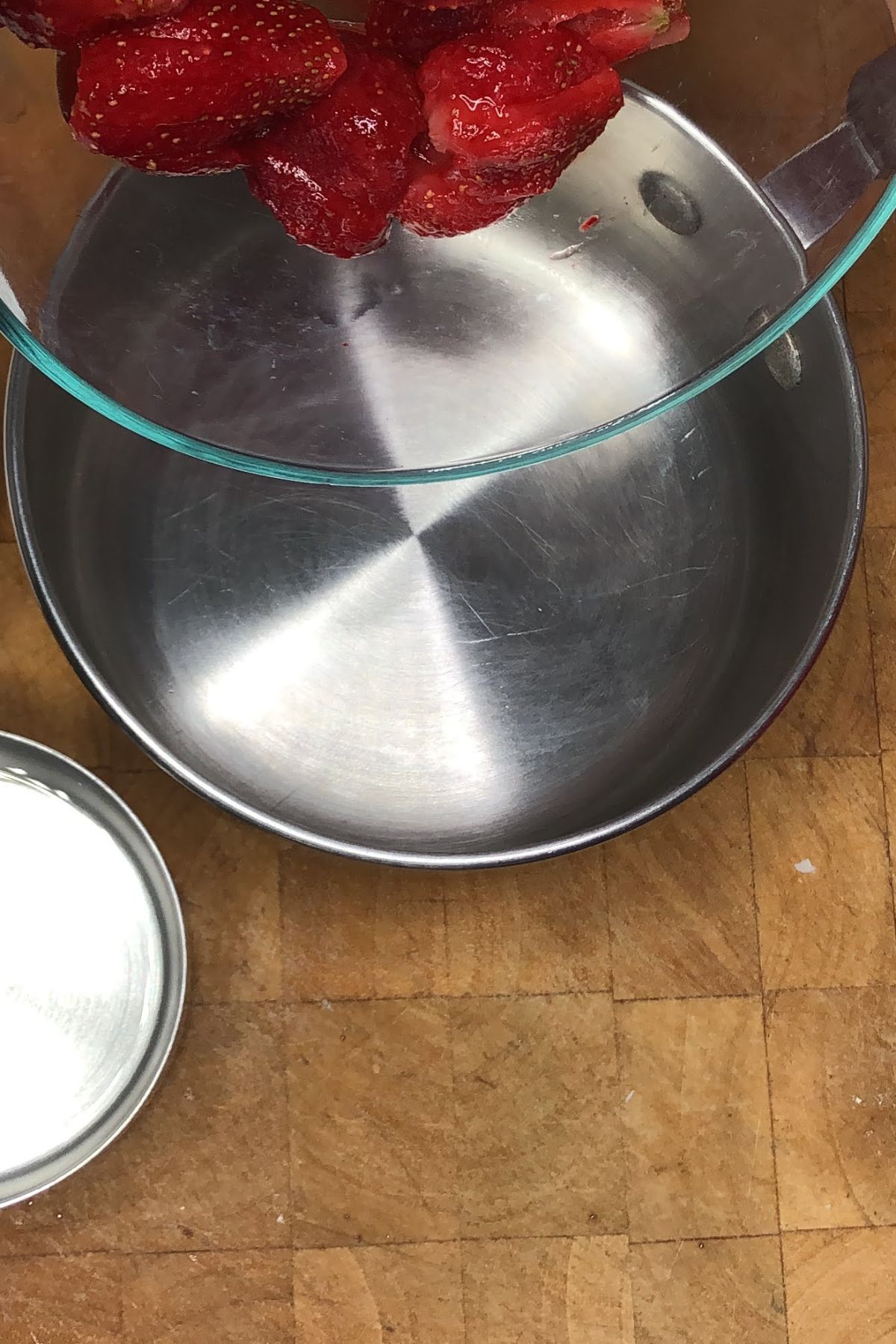 Step two
If using fresh strawberries, clean them and slice the tops off. If using frozen strawberries make sure they are slightly defrosted so that you can slice them up.
Measure out one cup of sliced strawberries and place it into the pot.
Step three
Measure out one cup of sugar and place it into the pot with the strawberries.
Step four
Measure out one cup of water and place it into the pot with the sugar and strawberries.
Step Five
Place your pot on medium heat on the stove top. Simmer it for about 10 minutes.
While it simmers, you can use a masher to help squeeze all of the flavor and liquid out of the strawberries. Make sure also to stir frequently while it heats.
Step Six
Pull the pot off the stove and carefully pour your mixture through a fine mesh strainer. This will help separate all of the strawberry pulp out of the syrup.
Put the syrup into a container like a Pyrex with a lid and place it into the refrigerator. Let it cool and thicken for around 2 hours before using.
⭐How to Use
There a wide range of different foods and drinks you can serve this syrup on and with. Try a few of these out:
Add it to cocktails. Replace plain simple syrup in your cocktails with this to rub up strawberry flavor. It works great and cocktails like a strawberry margarita.
Make flavored lemonade. Add a couple ounces to your favorite lemonade recipe to make strawberry lemonade.
Make strawberry milk. Add 2 oz to a full glass of milk for a delicious and sweet strawberry milk.
Drizzle it on breakfast. Add a little drizzle of this to French toast, pancakes or waffles to add a sweet strawberry flavor.
Sweeten up your ice cream. Drizzle some of this across your next bowl of ice cream or ice cream sundae to add a sweet strawberry flavor.
Make strawberry soda. Had 2 oz of this to a glass of plain club soda for a strawberry flavored bubbly soda drink.
📖Variations
If you need a few ingredient substitutions or flavor variations, check these ideas out:
Make it thicker. If you'll be adding this to breakfast foods or dessert foods you might want to make the syrup a little thicker. You can do this by either increasing the sugar ratio, adding a teaspoon of cornstarch, or leaving a little bit of the strawberry pulp in the syrup.
Add a splash of lemon juice. Once you finish making your syrup, you can add a little splash of lemon juice to enhance the sweet strawberry flavor.
Make additional flavors. You can make this a more complex flavor by adding a teaspoon of vanilla for strawberry vanilla or a little cocoa powder for chocolate strawberry.
Make more or less. As long as you keep the ratios of ingredients the same, you can increase or decrease them to make a bigger or smaller batch. The ingredients we give in this recipe make about 1.25 cups.
💭 Top Tips & Storage
These top tips for success and correct storage will help make sure you can maximize this recipe:
Store it well. Keep it in an airtight container with a lid in the refrigerator for 2 to 4 weeks.
Freeze it. If you won't use it within a couple of weeks, you should freeze it to keep it longer. Simply pour it into an ice cube tray. Then, once it's frozen pop the frozen cubes out and put them in a freezer bag.
Let it cool. Make sure to let it cool for at least 2 hours before using it so that it has time to properly thicken.
Stir while heating. Make sure to start frequently while it's heating so that it heats evenly and doesn't scorch on the bottom of the pan.
Recipe
Print Recipe
Strawberry Simple Syrup
Equipment
Saucepan

Wooden Spoon

Measuring Cup

Strainer

Mason Jar or Pyrex
Ingredients
1

cup

Water

1

cup

Sugar

1

cup

Strawberries

fresh or frozen
Instructions
Measure 1 cup of strawberries and put them in the pot.

Measure 1 cup of water and put it in the pot.

Measure 1 cup of sugar and put it in the pot.

Heat the mixture on medium heat for about 10 minutes.

Stir frequently while heating. You can also use a masher to break up the strawberries if desired.

Take it off the heat and strain it through the strainer to remove any strawberry pieces.

Pour syrup into a jar and put it into the fridge to thicken up and cool off.
Notes
Tips
Mash the strawberries as they heat to really get their juice out into the syrup.
Use a fine mesh strainer to strain the syrup to remove seeds and strawberry pieces.
Do not boil the mixture; simmer only.
Stir well the entire time it is heating to avoid burning.
Storage
Store this in a jar with a lid or other airtight container for up to 4 weeks.
If not using before 4 weeks, freeze in an ice cube tray.