Occassional Cocktails may earn compensation from purchases made after clicking links on this page. Learn more Here.
Does tequila and squirt go well together? The answer is a resounding yes, tequila and squirt is a refreshing and delicious cocktail.
What is a tequila and squirt soda?
A tequila and squirt soda is a cocktail very similar to a Paloma. The resulting cocktail tastes like a grapefruit margarita. This simple two ingredient highball is easy to make and with its refreshing fizzy taste is perfect for spring and summer occasions.
Tequila is a liquor that is made from the Blue agave plant. Tequila is typically around 40% alcohol by volume.
There are multiple different varieties of tequila including gold, silver and respado. The main differences in varieties are the way and of length that the tequila is aged. A silver tequila tends to have a lighter flavor while more aged tequila such as gold tend to have a more complex flavor.
The best tequila to mix with squirt really varies dependent on what your tastes prefer. Some common ones that are used are silver or respado.
Squirt soda is simply put a grapefruit soda. It has your typical sweet and fizzy soda taste along with a grapefruit infused flavor. This soda also is caffeine free. Squirt is not the only soda to mix with tequila. You can use just about any soda you want if you want to change the flavor up.
When to make this drink
This easy to make two ingredient highball can be served most any time you wish. Here are a few times to serve it up:
Summer BBQ
poolside parties are get togethers
Summer afternoon sipping
springtime celebrations
Variations
If you'd like to mix this drink up a little bit and add some variety, here are a couple ways to do so:
Make it more margarita-like. If you love the salty profile of a margarita, you can garnish the rim of your drink with some margarita salt.
Make your own squirt soda. You can make your own squirt soda by mixing grapefruit juice and club soda. This will give the resulting cocktail a lighter crisper less sweet taste.
Try out different tequilas. For this recipe we've used a silver tequila which is a lighter flavor profile overall. But you could substitute it in for a gold, aged or respado tequila all of which will create a slightly more complex flavor profile.
Some other squirt soda based cocktails are: whiskey and squirt or vodka and squirt.
How to make this drink:
All you need for this highball cocktail is two simple ingredients. It only takes a few quick minutes to mix this one up.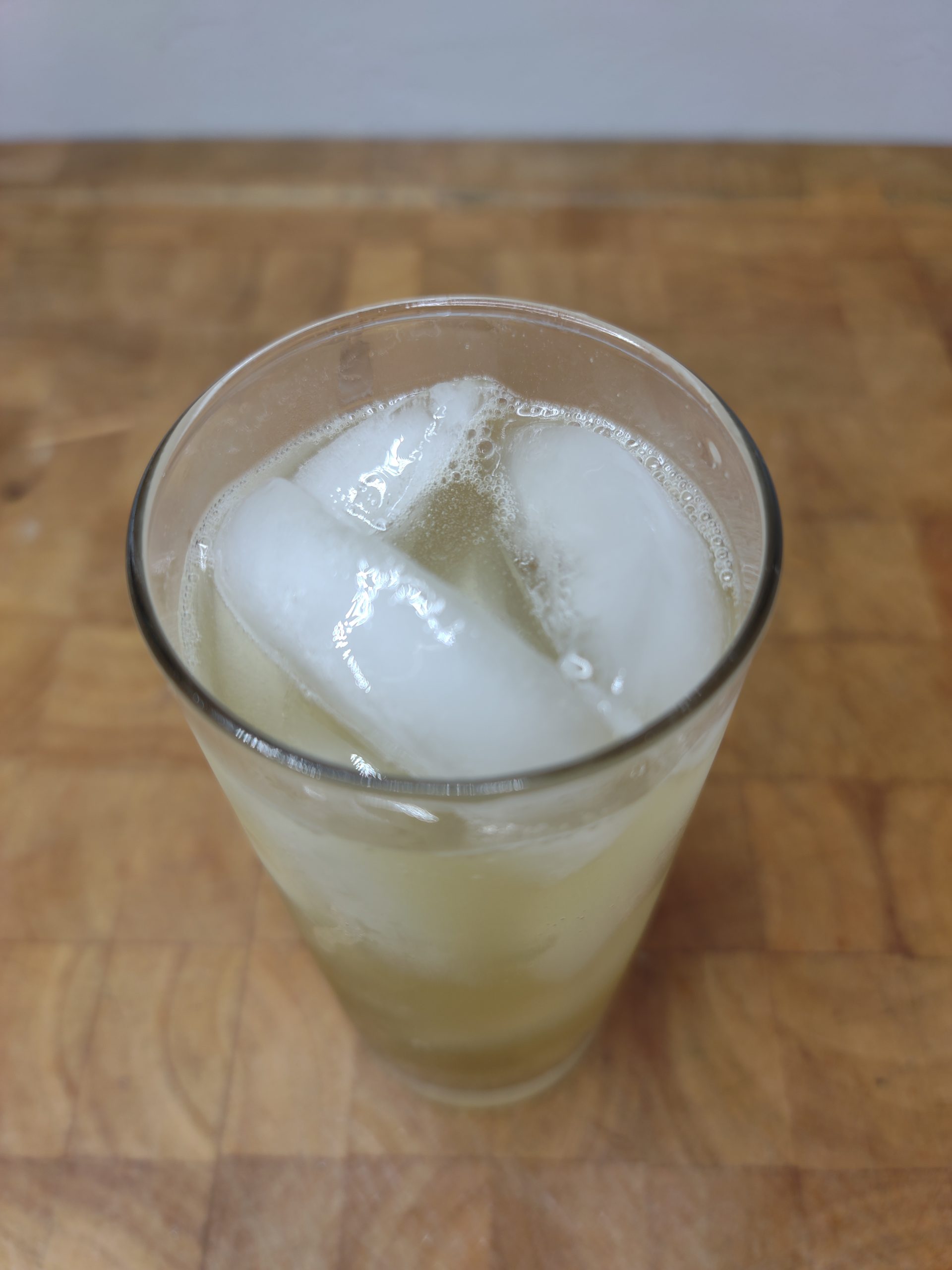 Equipment:
Ingredients:
2 oz Tequila
4 oz Squirt Soda
Ice
Instructions:
Step one
Gather together your tequila, squirt soda, ice, highball glass, jigger and bar spoon to get started.
Step two
Go ahead and fill your highball glass almost completely to the top with ice.
Step three
Pick up your jigger and measure 2 oz of your chosen tequila. Then, pour your tequila into your highball glass with your ice.
Step four
Take your jigger once again, this time measure 4 oz of squat soda. Then, pour your squirt soda into your highball glass with your tequila and ice.
note: We are using the typical 2 to 1 highball ratio for this cocktail. However, if you want to not measure your squirt soda and simply top your glass off with it you can do so. This usually results in slightly more than 4 oz of squirt being used which will lighten the tequila flavor.
Step Five
Finally, mix everything together by placing your bar spoon in your glass and giving it a few careful stirs.
If you'd like to add a garnish which is optional for this drink, a lime lemon or grapefruit wedge works well. Simply cut your fruit into small slices and then cut a notch in the pope of the fruit and place it on the rim of your glass.
Recipe
Print Recipe
Tequila and Squirt
Equipment
jigger

bar spoon

highball glass
Ingredients
2

oz

Tequila

4

oz

Squirt Soda

ice

Lemon, lime or grapefruit wedge

(optional garnish)
Instructions
Get your equipment and ingredients all gathered together.

Fill your glass almost to the top with ice.

If you want to add an optional garnish, now is the time to get it ready.

Choose if you are adding a lemon, lime or grapefruit wedge. Then, cut your fruit into even wedges.

Take one wedge and cut a small notch in the middle of the pulp.

Then, place the wedge on the rim of your glass using the notch you cut.

Take your jigger and measure out 2 oz of Tequila. Carefully dump the tequila into your glass with your ice.

Take your jigger and measure out 4 oz of Squirt Soda. Carefully dump the soda into your glass with your ice.

Note: instead of doing an exact measurement, you can just top the glass off with soda if you desire.

Take your bar spoon and thoroughly mix your drink together. Then, enjoy!