Occassional Cocktails may earn compensation from purchases made after clicking links on this page. Learn more Here.
The sweet flavor profile of blueberries and a sugar rim are perfectly matched with the tang of lime and bitter orange of a classic Margarita. This Blueberry Margarita is guaranteed to satisfy.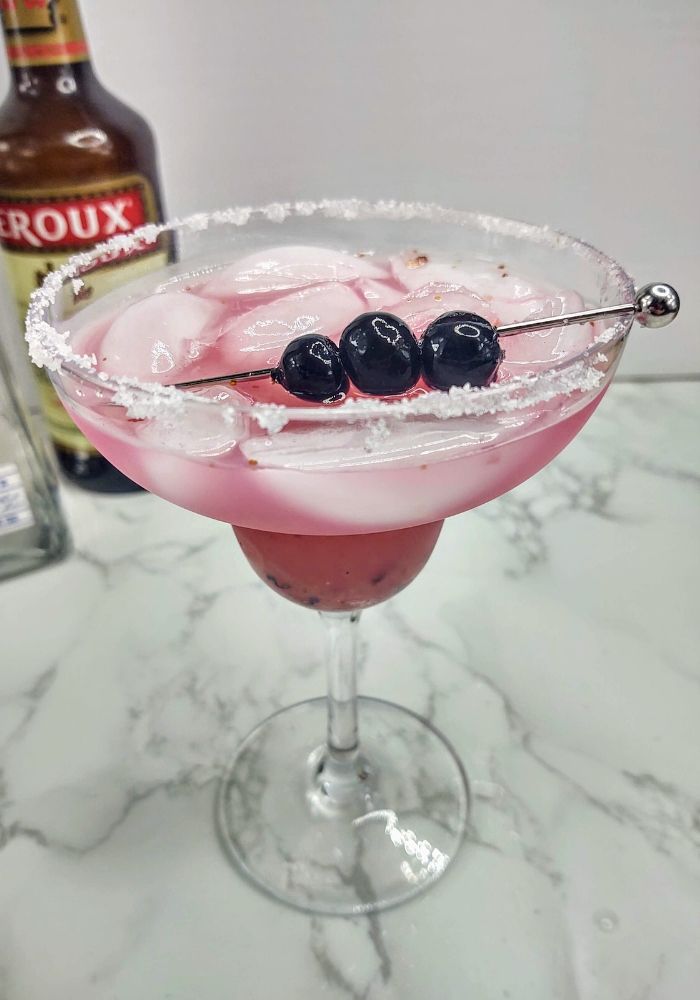 How To Make A Blueberry Margarita
Combining the blueberries and sugar rim in a Blueberry Margarita is a splendid taste explosion.
Is Triple Sec Necessary?
Part of what makes a Margarita so good is the contrasting flavors it provides. The sweetness in the blueberries and the sugar rim compliment the bitter orange flavor of Triple Sec.
If you prefer, you can substitute Cointreu or Blue Curacao, like in a Blue Margarita. The color may change and the flavor profile will slightly alter.
There are also some who prefer to take out the orange flavor altogether and allow the lime and tequila to shine through. It really comes down to your own personal preference.
What Is The Best Tequila?
Honestly, the best tequila for any Margarita is whichever one you like the best. We recommend picking up the highest quality tequila you can afford.
For the majority of our tequila based drink we prefer to use Patron silver or 1800 silver. You can substitute gold tequilas, as well, if you like. But we find silver to be a bit more smooth.
Can I Use Blueberry Puree?
Blueberry puree is the result of adding your frozen blueberries into a blender. You can go this route instead of muddling. My personal preference is to muddle for this recipe and use a puree for a Frozen Blueberry Margarita.
If you decide to go the blueberry puree route, you can easily freeze blueberries.
How To Serve?
You can rim your margarita glass in sugar if you like. You do this by first wetting the rim with simple syrup and then twirling it in sugar. The sugar helps to bring out the sweetness in the blueberries and provides a good contrast to the lime and bitter orange flavor of Triple Sec.
After preparation, strain drink through a Hawthorne strainer and onto fresh ice. This drink is best served in a standard Margarita glass.
Ingredients
Like most other Margaritas, this one is super simple. This recipe only takes a couple of ingredients.
You will need:
– 2 oz tequila
– 1 oz Triple Sec
– 1 oz lime juice
– ½ oz simple syrup
– ½ cup blueberries
Recipe
Don't blueberries count as a super food?
Step One
Add about ½ cup of blueberries, around 10 or so, to your shaker. Add in ½ oz of simple syrup. Using your muddler, muddle the blueberries with the simple syrup. It should look similar to a blueberry paste when you finish.
As an alternative, you can replace this with blueberry simple syrup.
Step Two
Put ice in the shaker on top of the blueberry paste.
Step Three
Pour Triple Sec, tequila, and lime juice over the ice into the shaker.
Step Four
Put the top back on and shake for 8-10 seconds.
Step Five
Take off the top and carefully pour your drink through into your glass, using a Hawthorne strainer. You can garnish with 3 blueberries on a 4″ inch cocktail pick.
Recipe
Print Recipe
Blueberry Margarita
Equipment
Margarita glass

shaker

jigger

Muddler

Hawthorne strainer

4" cocktail pick
Ingredients
2

oz

tequila

1

oz

Triple Sec

1

oz

lime juice

½

oz

simple syrup

1

strawberry garnish

½

cup

blueberries; around 10 or so
Instructions
add ½ cup of blueberries to shaker

add ½ oz simple syrup

muddle blueberries and simple syrup together with muddler

Fill shaker with ice

Pour in 1 oz lime juice

add in 1 oz Triple Sec

top off with 2 oz tequila

place lid on tumbler and shake for about 10 seconds

Pour drink through Hawthorne strainer into margarita glass

garnish with 3 blueberries on a 4″ cocktail pick

Enjoy!
For more great cocktails
[pt_view id="146b5bcwjk"]