Occassional Cocktails may earn compensation from purchases made after clicking links on this page. Learn more Here.
Is frangelico good in an espresso martini? It absolutely is. The resulting hazelnut espresso martini is a super sweet and fabulous drink any coffee lover won't be able to pass up.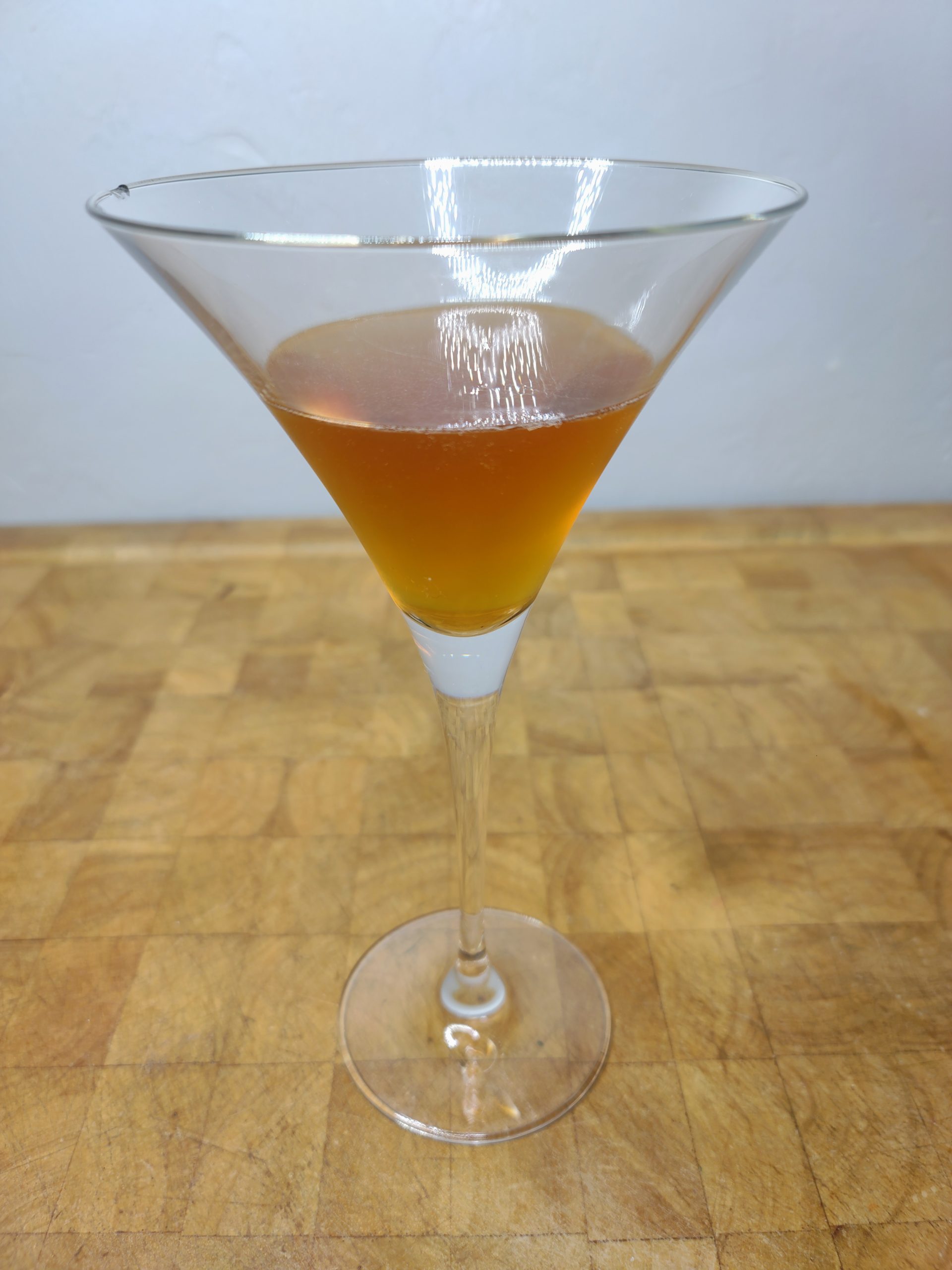 What is a Hazelnut Espresso Martini?
A hazelnut espresso martini is a combination of vodka, espresso and frangelico. This easy to make three ingredient martini drink has a light nutty flavor mixed with the flavor of iced coffee in which the bite of vodka is almost completely smooth out.
Vodka is an almost tasteless, clear liquor. It contributes the majority of the alcohol content to this cocktail. But it's neutral flavor allows the other ingredients to shine through.
Espresso is what type of coffee that is characterized by its unique brewing method. It is made with a small amount of water and under high pressure.
The resulting drink is thicker and stronger than regular coffee. For this cocktail you can either brew your own or use a pre-made cold brew espresso purchased from the store.
Frangelico is an italian-made liqueur. It is made with hazelnuts. This liqueur has a sweet, nutty flavor with hints of coffee, vanilla and chocolate.
When to Make This Drink:
With its sweet flavor, this cocktail can be served at a wide range of times such as:
dessert drinks
afternoon sipping
after dinner drinks
holiday celebrations
Variations:
Whether you're looking to substitute an ingredient or change up the flavor a little, here are a few ways to do so:
Add a coffee liqueur. To amp up the coffee flavor and add a little sweetness, add a coffee liqueur such as Kahlua.
Amp up the sweetness. If you want to sweeten this drink up, you can add a little splash of simple syrup.
Make it creamy. If you want to add a little cream and sweet flavor, add a splash of Irish cream.
Substitute the frangelico. Though this will change the flavor of the drink some, you could add another nut flavored liqueur such as amaretto and place of the frangelico. Additionally there are other hazelnut flavored liqueurs other than frangelico that you could use.
Use a coffee flavored vodka. If you want to ramp up the coffee flavor in this drink, substitute plain vodka for coffee flavored vodka.
Some other coffee based martinis to try are: cold brew martini, tequila espresso martini, espresso martini and peppermint espresso martini.
How to make this drink:
All you have to do to make this drink is dump your three ingredients into a shaker and give them a good shake. You should be able to whip this one up in under 3 minutes.
Equipment:
Ingredients:
.5 oz Frangelico
1.5 oz Vodka
1 oz Espresso coffee
Ice
Instructions:
Step one
Make sure you have everything you need including jigger, martini glass, Hawthorne strainer, cocktail shaker, ice, vodka, frangelico and espresso.
Step two
Stick your martini glass into the freezer so that it has time to chill.
If you're not using store-bought cold brew espresso, now is the time to get your espresso brewed. After you have brewed, make sure to chill it before getting started.
Step three
Toss your ice into your cocktail shaker. At the shaker should be filled about to the top.
Step four
Using your jigger, measure at 1.5 oz of vodka. Toss your vodka into the shaker over the ice.
Step Five
Using your jigger, measure 1 oz of espresso. Toss the espresso into the shaker with the vodka and ice.
Step six
Using the jigger, measure 0.5 oz of frangelico. Toss a frangelico into the shaker with the other ingredients.
Step seven
Cover the shaker with its lid. Shake well until the shaker becomes icy to touch. This usually takes around 20 seconds.
Step eight
Take your martini glass out of the freezer.
Take the shaker lid off and place the Hawthorne strainer over top of the shaker. Strain your martini from the shaker into the martini glass.
Recipe
Print Recipe
Hazelnut Espresso Martini
Equipment
jigger

Hawthorne strainer

cocktail shaker

Martini glass
Ingredients
.5

oz

Frangelico

1.5

oz

Vodka

1

oz

Espresso Coffee

chilled

Ice
Instructions
Place the martini glass into the freezer to chill.

Place some ice into the cocktail shaker. It should be pretty much filled to the top with ice.

Grab the Frangelico. Measure up .5 oz with the jigger. Pour that into the shaker.

Grab the vodka. Measure up 1.5 oz with the jigger. Pour that into the shaker

Grab the espresso. Measure up 1 oz with the jigger. Pour that into the shaker.

Grab the shaker lid and cover the shaker with it.

Shake the shaker well until it is cold and icy on the outside. Usually this takes about 20 seconds.

Grab the chilled martini glass out of the freezer.

Grab the strainer and replace the shaker lid with it.

Pour the drink into the glass.