Occassional Cocktails may earn compensation from purchases made after clicking links on this page. Learn more Here.
Spicy and sweet, this might be the best of both worlds. Give this jalapeno simple syrup a try next time you're looking for a little heat and a little sugar at the same time. This unique flavored sweetener is fun to add to a wide variety of different beverages and foods.
Jump to:
🥂What is Jalapeno Simple Syrup?
Jalapeno simple syrup is a spicy yet sweet syrup that is made from sliced jalapenos, sugar and water. This syrup is a fun and spicy addition to various cocktails like margaritas and martinis, fruit infused mocktails and baked goods.
Making a flavor-infused simple syrup is relatively easy to do. In this recipe, you only need three ingredients in about 10 to 15 minutes.
This is made much in the same way as other flavored simple syrups are including lemon simple syrup, mint syrup, Ginger simple syrup and coconut simple syrup.
And, if your still not sure about it, here are a few reasons you are sure to love it:
Sweet and spicy. A classic combination of sweet and spicy makes up this fun syrup. The hot kick of jalapenos blended with the sweetness of sugar create a well-balanced and festive flavor.
Only 10 to 15 minutes. You only need about 10 to 15 minutes and three easy ingredients to make this recipe. Two of the ingredients in fact, you likely have in your kitchen, as they are just sugar and water.
Kick up your beverages. This syrup is great to add a spicy cake to a wide array of different beverages from lemonades to cocktails to mocktails. And, it's easy to mix in since simple syrup dissolves better than regular sugar.
🥄Equipment
Masher (optional)
Wooden Spoon (or any long handle spoon)
Mason jar or Small Pyrex
Measuring Cup
📋Ingredients
1 cup Sugar
1 cup Water
.5 cups Sliced Jalapenos – We just used some straight out of a jar bought from the store. However, you could certainly use fresh jalapenos and slice them on your own.
👩🏻‍🍳Instructions
Step one
Gather everything up including sliced jalapenos, sugar, water, measuring cup, saucepan, strainer, wooden spoon and a jar with a lid.
Step two
Take your sliced jalapenos and measure out half a cup. Then, dump them into the pot.
Step three
Take your sugar and measure out a cup. Then, dump it into the pot.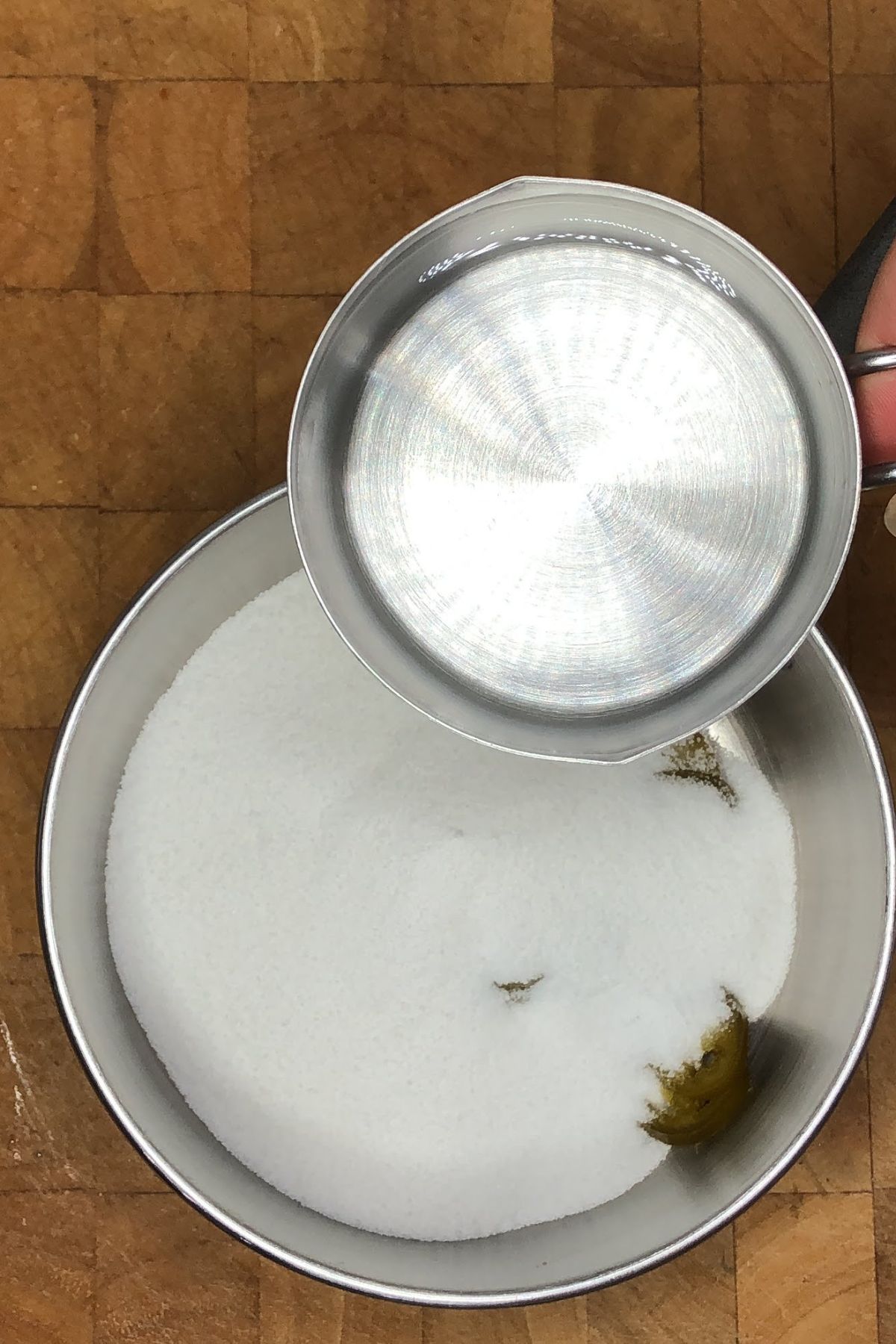 Step four
Take your water and measure out a cup. Then, dump it into the pot.
Step Five
Stick your pot onto the stove top at medium heat. Simmer your mixture for about 10 minutes stirring frequently.
Step Six
When done heating, remove the pot from the stove. Then, pour the mixture in to a jar through a strainer. The strainer will remove all of the jalapeno pieces.
Screw the lid onto the jar and place it into the refrigerator for about 2 hours. This time will allow it to cool and thicken.
⭐How to Use
There are many different uses for the syrup. Here just a few you might want to try out:
Brush on baked goods. You can brush this over baked goods such as cornbread or other rolls to give them a little spicy sweetness.
Salads and marinades. You can drizzle this like a dressing over some salads or use it like a marinade on meat.
Spicy cocktails. Add this into your margaritas to make a spicy margarita or any other cocktails that need a little kick.
In mocktails. Pair this with fruity mocktails such as a watermelon mocktail to give a little fruit and spicy kick.
📖Variations
Try out some of these different variations to customize the flavor of your syrup:
Try different jalapenos. If you're buying jalapenos fresh or growing your own, they actually come in different types. The heat and taste of the jalapeno can vary dependent on the type used.
Use fresh jalapenos. For the recipe above we used store-bought jalapenos that were pre-sliced in a jar. But you can certainly use fresh jalapenos for a little extra spice.
Add fruit flavor. The sweetness of fruit and the spiciness of jalapeno actually goes very well together oftentimes. So, you can add some fruit flavor to this for example adding a few chunks of watermelon.
💭 Top Tips & Storage
Take note of these important process and storage tips so that you have a successful recipe:
Allow it to simmer only. You don't want to boil your syrup this can lead to burning or scalding in the pot. Make sure while you're heating it it is simmering only.
Stir frequently. You also want to stir it frequently while it's heating. Again, you want to avoid burning or scalding it in the pot. You also want to make sure that it is heating evenly.
Store it correctly. You'll want to keep it in an airtight container such as a Pyrex with a lid or a mason jar with a lid. It can stay fresh in the refrigerator for about 2 to 4 weeks.
Freeze it if you want. If you won't use it all up and need 2 to 4 weeks then you'll need to freeze it. Simply pour it into an ice cube tray, freeze it, pop the cubes out and place them in a freezer bag.
Recipe
Print Recipe
Jalapeno Simple Syrup
Equipment
Saucepan

Wooden Spoon

Jar or Pyrex

Strainer

Measuring Cup
Ingredients
1

Cup

Water

1

Cup

Sugar

.5

Cups

Sliced Jalapenos
Instructions
Measure .5 cups of sliced jalapenos and dump into the pot.

Measure 1 cup of water and dump into the pot.

Measure 1 cup of sugar and dump into the pot.

Heat the mix on medium heat for 10 minutes. It should be simmering.

Make sure to stir well throughout the heating.

Take the pot off the heat and pour the liquid through the strainer to remove the jalapenos.

Put the syrup into a jar or pyrex and chill it in the fridge for 1 – 2 hours.
Notes
Storing
It can be kept for 2 – 4 weeks in the fridge as long as it is in an air tight container.
If you need to keep it for longer you can freeze it.  Using ice cube trays to freeze works well.
Tips
Stir it often while heating to ensure it heats evenly and does not burn on the bottom of the pan.
Use a fine strainer to make sure all the jalapeno seeds and pieces are removed from the syrup.
Make sure to let it sit and cool for 1- 2 hours to let it thicken up.