Occassional Cocktails may earn compensation from purchases made after clicking links on this page. Learn more Here.
Check out this vibrant and flavorful summertime oasis with an easy to make watermelon mocktail. This refreshing beverage is bursting with sweet watermelon flavor and is sure to help keep you hydrated in the heat of the summer.
Jump to:
🍉 What is a Watermelon Mocktail?
A watermelon mocktail is a vibrant drink made from watermelon, mint leaves, lime juice and club soda. The resulting beverage is a beautiful pink color and full of sweet watermelon flavor and a little fizz.
Fruit flavored mocktails are a great addition to any event as they look and taste fancy but are a non-alcoholic option for kids or those who don't like to partake in liquor. This is not the only fruit flavored mocktail that's easy to make some others include a cranberry mocktail, watermelon agua fresca and an orange mocktail.
Here are just a few of the reasons why this recipe works so well:
Hydrating. This drink is super refreshing and hydrating with the watermelon and club soda combination. It's perfect for the heat of summer.
Easy peasy. Anyone can whip this up easily. You only need four simple ingredients. If you got 8 minutes and you have plenty of time to get this one whipped up.
Healthy and sugar-free. This beverage is really just a combination of fizzy water and fruit. You don't have any sugar added. It's a healthy refreshing drink full of vitamins and minerals.
⭐ When to Make This Drink
This is the perfect bright beverage to serve up at some of the following occasions:
Summer celebrations
Brunch
Picnics or barbecues
Pool parties
📖 Variations
One of the fantastic things about this mocktail is that it is super easy to customize. Check out these fun ingredient modifications and flavor variations to try:
Use flavored seltzer water. Instead of a plain club soda, you can capitalize on some additional flavors by using a flavored Seltzer water such as watermelon flavor or lime flavor.
Muddle the mint. Instead of using mint as a garnish, you can muddle the mint in the shaker as you get started making the drink. This will make it more of a watermelon mojito mocktail.
Add a flavored sweetener. Although one of the high points of this drink is there are no sweeteners added, If you do want to have a sweetener you can. Use .25 to .5 oz of a flavored simple syrup to give it extra flavor. This is where you can really have fun and try things like honey simple syrup, jalapeno simple syrup or just add more watermelon flavor with watermelon simple syrup.
Make it frozen. Freeze your watermelon and put everything into a blender and blend together. This will give you a frozen version.
Give it a little spice. Some of the flavors that work well with watermelon are spicy. To capitalize on this add some jalapeno or other spicy flavors into the watermelon as you muddle it.
Make it faster. Instead of modeling your watermelon to get the juice out, simply buy pre-made watermelon juice at the store.
Equipment
📋 Ingredients
1 cup Watermelon
5 Mint Leaves
.75 oz Lime juice
4 oz Club Soda
Ice
👩🏻‍🍳Instructions
Step one
Get everything you'll need for this mocktail including ice, glass, jigger, muddler, measuring cup, lime juice, club soda, watermelon and a sprig of mint.
Step two
Dice up one cup of watermelon and add it to the shaker.
Note: If You don't have a cocktail sugar you can certainly use any jar or glass.
Step three
Use your muddler to smash the watermelon until it is full of juice.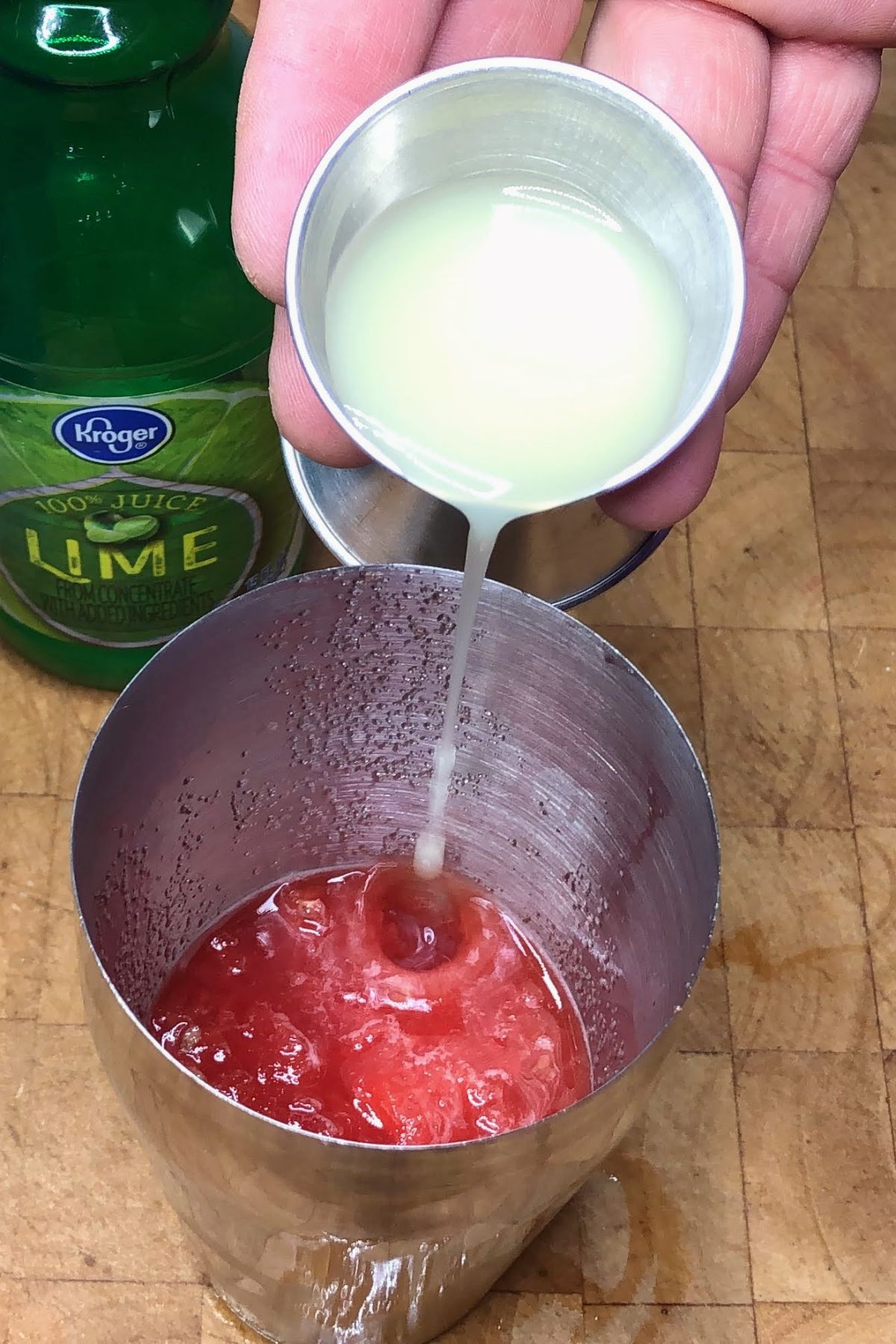 Step four
Measure out 0.75 oz of lime juice and add it to the muddled watermelon juice.
Note: If you'd like to measure in tablespoons in cups the recipe card below has the equivalents.
Step Five
Take a fine mesh strainer or a Hawthorne strainer and place it over top of the shaker. Then, stream the watermelon and lime liquid into your rocks glass.
Step Six
Grab up the club soda and pour directly into the glass. Pour enough to fill the glass to the top. This will usually be around 4 oz depending on the size of glass you use.
Step Seven
To make sure that you have everything well mixed, toss gently the contents of the glass into the shaker. Then, toss them back into the glass.
Add a spring of mint to the top of the beverage as a garnish.
Recipe
Print Recipe
Watermelon Mocktail
Equipment
jigger

Rocks glass

cocktail shaker

Hawthorne strainer

Muddler
Ingredients
1

cup

Diced Watermelon

5

Leaves

Mint

.75

oz

Lime Juice

4

oz

Club Soda
Instructions
Dice up 1 cup of Watermelon and toss it into the shaker.

Add .75 oz of lime juice to the shaker.

Take the muddler and muddle the watermelon and lime juice together.

Fill the rocks glass with ice.

Pour the liquid from the shaker, through a strainer into the glass.

Top the glass off with Club soda.

Add a spring of mint on top as garnish.
Notes
Variations:
If you have watermelon simple syrup, or if you want a sweeter drink.  Substitute the liquified watermelon for watermelon simple syrup.
Use a lemon lime soda instead of club soda.
Measurements in Tbs & Cups
1.5 tbs lime juice
¼ cup club soda