Occassional Cocktails may earn compensation from purchases made after clicking links on this page. Learn more Here.
The Malibu Sunrise is your gateway to tasting the tropics. This recipe is easy to make, beautiful to look at, and, most important of all, delicious to drink!
What is a Malibu Sunrise?
A Malibu Sunrise is similar to other drinks in the Sunrise family of cocktails, like the Vodka Sunrise, Tequila Sunrise, and Strawberry Sunrise. The key difference here is the use of Malibu, or coconut, rum. Another difference for our recipe is we use pineapple juice in addition to orange juice.
Pineapple juice is used in many different shots and cocktails such as the wet pussy shot and the scooby snack shot. It adds a very distinctive tropical flavor.
What Makes A Drink A "Sunrise" Cocktail?
The family of Sunrise cocktails got it's name from it's colorful appearance. The most famous of these drinks is probably the Tequila Sunrise. The drink is made with your chosen liquor and light colored fruit juice (OJ, pineapple, etc) and then a small amount, usually ½ to 1 oz or so, of grenadine or some other heavy, red, syrupy ingredient is floated on top.
The red syrup is heavier than the alcohol and juice and will slowly start to sink toward the bottom of the glass. This gives the drink the illusion of a very colorful sunset with many shades of oranges, yellows, pinks, and reds. Any of the drinks are tasty but they are also fun to look at and, when made by a skilled bartender, can be breathtakingly beautiful.
Let's learn how to make one!
How to make this drink:
The cocktail in general is simple to make. The grenadine float at the end is where the skill comes in. You may want to practice this one a lot (but not too too much).
Equipment
Ingredients
2 oz Malibu or coconut rum
1½ oz Orange juice
3 oz Pineapple juice
½ oz grenadine
2 Maraschino cherries
1 orange wedge
½ oz Peach Schnapps (optional)
Step One
Chill your highball glass in the freezer and fill your cocktail shaker with ice.
Step Two
Pour your Malibu or coconut rum, Orange juice, and Pineapple juice over the ice.
Step Three
Replace the lid and give a good couple of shakes.
Step Four
Place a maraschino cherry, an orange wedge, and the second cherry on an 8″ cocktail pick and place it in your glass
Step Five
Either, using a Hawthorner strainer, pour the drink slowly into the highball glass over fresh ice or skip the fresh ice and strainer and, again slowly, pour the drink with ice into the glass (in either situation, you may have to move the garnish around a bit to make sure the ice doesn't bottleneck and spill everywhere)
Step Six
Pour your grenadine over the back of a bar spoon into the drink for the sunset effect
Step Seven
Enjoy the show and then the drink!
A couple of notes
There are some modifications you can make that are simple but would muddle the above directions.
If you want to add Peach Schnapps, pour ½ oz in with everything else in Step 2.
We prefer a 1:1 of Pineapple juice and OJ but you can do a 3:1 or 3 oz and 1 oz; heavier on the juice your prefer. You can also remove one of them and just put 4 oz of either pineapple or OJ.
Recipe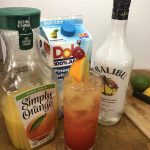 Print Recipe
Malibu Sunrise
Equipment
8" cocktail pick

bar spoon

highball glass

cocktail shaker

Hawthorne strainer

jigger
Ingredients
2

oz

Malibu or coconut rum

1½

oz

Orange juice

3

oz

Pineapple juice

½

oz

grenadine

2

Maraschino cherries

1

orange wedge

½

oz

Peach Schnapps

optional
Instructions
Stick a highball glass in the freezer to chill it and fill your cocktail shaker ¾ full with ice

Add in 2 oz Malibu or coconut rum

Add in 1½ oz Orange juice

Add in 3 oz Pineapple juice

Add in ½ oz Peach Schnapps (optional)

Put lid on shaker and shake for 10-15 seconds

Skewer a maraschino cherry, orange wedge, and a second maraschino cherry on an 8″ cocktail pick and slide them to the top

Place garnish inside highball glass, and fill empty space with fresh ice (you may have to move the cocktail pick around some to get all the ice in)

Use a Hawthorne strainer to pour drink into glass over fresh ice (you can pour drink with ice from the shaker into the glass without straining)

Float 1 oz Grenadine on top by slowly pouring over the back of a bar spoon just over the surface of the drink (float means to add the ingredient on top without mixing it in)

Sit back and enjoy the view!
For more great cocktails
[pt_view id="146b5bcwjk"]