Occassional Cocktails may earn compensation from purchases made after clicking links on this page. Learn more Here.
The Strawberry Sunrise cocktail is a sweeter and fruitier spin on the classic Sunrise cocktail norm. The addition of fresh fruit instead of a syrup like grenadine really sets this drink apart and into a class of it's own.
What is a Strawberry Sunrise?
A Strawberry Sunrise takes the classic Tequila Sunrise (or our very own Vodka Sunrise) and replaces the cherry flavored grenadine with fresh pureed strawberries. You still get the same beautiful sunset effect without the syrupy flavor of grenadine.
One thing that we really love about this drink is you can make it with either tequila or vodka. Tequila generally has a more robust and sweeter flavor, especially if you use gold tequila, while vodka generally is more mild and enhances the flavors of the mixers in the drink.
Other Strawberry Drink
If you haven't notice by now, we love drinks with strawberries in them. Fresh strawberries work well with so many different recipes from summery sipping drinks like the Strawberry Margarita or Strawberry Lemon Drop Martini to a more evening themed drink like the Strawberry Martini. Strawberries can even make delicious after dinner dessert drinks like the Chocolate Strawberry Martini (try this one on Valentine's Day and see if it doesn't put you in the mood for love).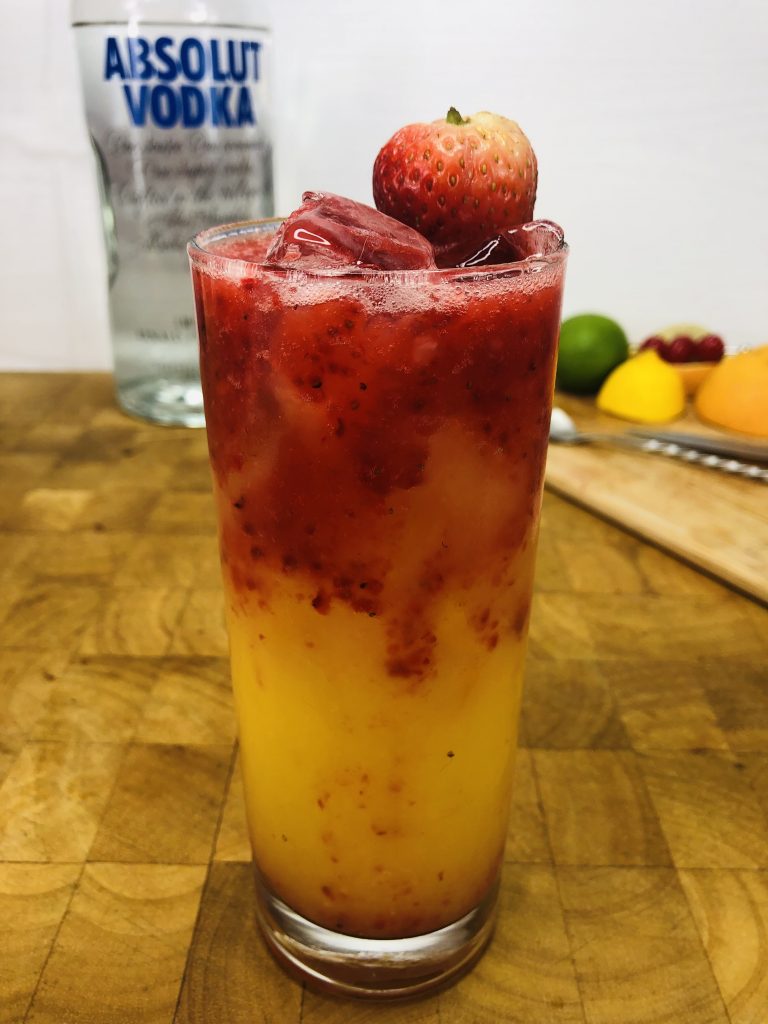 How to make this drink:
This is one of our favorite cocktails to make. It's fun to see the color spectrum in your glass.
Equipment
Ingredients
2 oz Tequila or Vodka
4 oz Orange juice
1 oz Strawberry puree*

1 small to medium whole strawberry
*Strawberry Puree
3-5 medium to large strawberries (green caps removed)
1 oz Simple syrup
Step One
Fill a highball glass with ice to the top.
Step Two
Pour 2 oz of your favorite tequila or vodka.
Step Three
Add in 3 oz of Orange juice
Step Four
Take your bar spoon and mix them together.
Step Five
Place 3-5 medium to large strawberries along with 1 oz of Simple syrup into a food processor and puree until you have a liquid.
Step Six
Slowly pour the strawberry puree over your drink and watch the sun set!
Step Seven
Garnish with a strawberry on the side of your drink
Recipe
Print Recipe
Strawberry Sunrise
Equipment
bar spoon

cocktail shaker

Food processor

Hawthorne strainer

highball glass

jigger
Ingredients
Ingredients
2

oz

Tequila or Vodka

4

oz

Orange juice

1

oz

Strawberry puree*

recipe below

1

small to medium whole strawberry
*Strawberry Puree
3-5

medium to large strawberries

green caps removed

1

oz

Simple syrup
Instructions
Fill highball glass with ice

Add in 2 oz of tequila or vodka

Add in 3 oz of orange juice

Puree 2 or 3 large strawberrie with ½ oz of simple syrup in a blender.

Float puree on top of your drink

Garnish with a strawberry

Enjoy!
For more great cocktails