Occassional Cocktails may earn compensation from purchases made after clicking links on this page. Learn more Here.
This sweet pumpkin simple syrup is the perfect addition for many different fall occasions. You can use it to add a little flavor to a variety of things from milk to coffee to pancakes. Make sure to whip up a batch for your next Halloween, Thanksgiving or fall get together.
Jump to:
🥂What is Pumpkin Simple Syrup?
Pumpkin simple syrup is a pumpkin flavored sweetener made from equal parts of pumpkin puree, water and granulated sugar. It is the perfect sweet addition to drinks and different foods.
This syrup is super easy to make as you only need three ingredients. It is made essentially the same as other flavored simple syrups such as cinnamon syrup, pumpkin pie syrup and sugar cookie syrup. You can simply toss them together in a saucepan and simmer for 10 minutes.
The sweet pumpkin flavor is a great addition for any type of fall holiday or get together. You can use it as a quick and easy addition to your morning coffee or you can use it as a centerpiece dessert at your next brunch.
Here are several reasons why you must try this recipe:
Easy to make. With only three ingredients needed, one of them being water, this is a super simple recipe. All you have to do is heat everything for 10 minutes.
Cheap. This is an inexpensive recipe to make. Sugar and pumpkin puree can be purchased for a couple of dollars and water is generally free.
It has many uses. You can use this in a wide variety of drinks and foods including coffee, tea, pancakes and cookies. Try it at your next holiday celebration or just to spice up your morning coffee.
🥄Equipment
Masher (optional)
Wooden Spoon (or any long handle spoon)
Mason jar or Small Pyrex
Measuring Cup
📋Ingredients
1 cup Sugar – You want to use granulated white sugar for this recipe.
1 cup Water
1 cup Pumpkin Puree – try to make sure to use pure pumpkin puree and not pumpkin pie filling that has extra sugar added in.
👩🏻‍🍳Instructions
Step one
Gather up everything you need including water, measuring cup, pumpkin puree, sugar, spoon and saucepan.
Step two
Measure one cup of sugar. Pour it into the pot.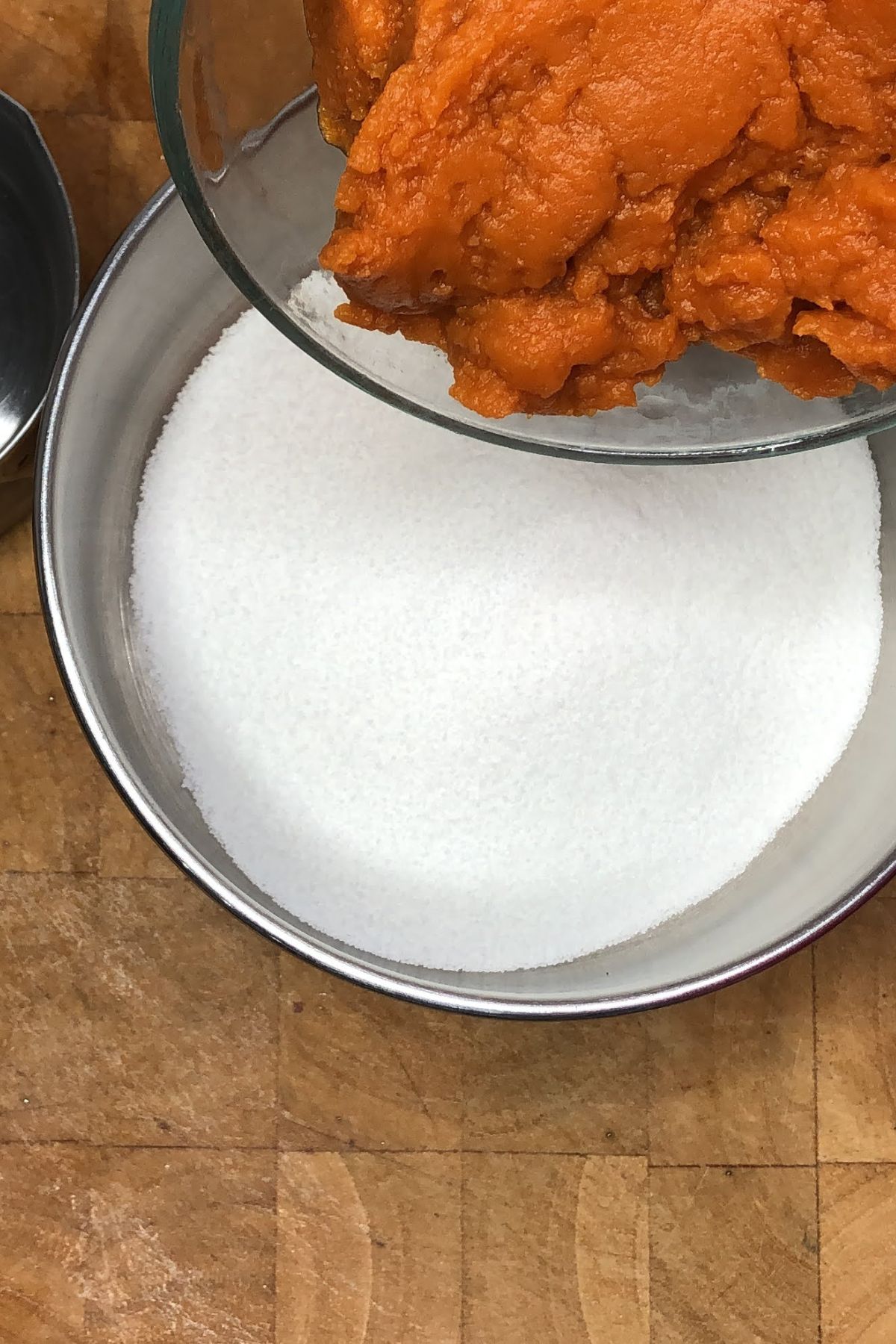 Step three
Measure one cup of pumpkin puree. Pour it into the pot.
Step four
Measure one cup of water. Pour it is the pot.
Step Five
Place your pot on medium heat on the stove top. Simmer your mixture for around 10 minutes while stirring frequently.
Step Six
Take the pot off the heat. Pour the syrup from the pot through a fine mesh strainer into a jar. The strainer will help to separate any of the thick pumpkin puree left.
Place the jar with the lid or a Pyrex with the lid into the refrigerator to cool for a couple of hours.
⭐How to Use
Check out all The different ways and varied uses for this syrup:
Pumpkin milk. Add 2 oz to a big glass of milk for some sweet and delicious pumpkin milk.
Breakfast topping. Substitute out your regular maple syrup and put this on waffles, cinnamon rolls or pancakes for a fall-themed breakfast.
Coffee or tea. Add a couple ounces to your favorite hot or iced coffee or even a glass of tea.
Make flavored hot chocolate. Add a little dash of this to your favorite hot chocolate recipe to make pumpkin flavored hot chocolate.
Add it to cocktails and mocktails. You can add this to any sweet pumpkin flavored cocktail or mocktail in place of regular simple syrup. Starting with this pumpkin pie martini would be a good place.
📖Variations
Here you'll find some ingredient substitutions and flavor variations that are nice to try:
Increase or decrease the amount. The current recipe we've shared makes a round a cup of syrup. However, if you need more or less you can simply increase or decrease the amount of ingredients as long as you keep the ratios the same.
Use brown sugar. Substitute the granulated white sugar for brown sugar for a more complex sweet flavor that will taste more like pumpkin pie.
Add some spices. Add a couple dashes of pumpkin pie spice to make this taste like pumpkin pie instead of regular pumpkin.
💭 Top Tips & Storage
Make sure to follow these top tips and storage tricks to get the most out of your syrups:
Simmer only. Try not to bring the mixture to a full rolling boil while heating. This will help to ensure that it does not burn.
Use a fine mesh strainer. When straining this syrup use the finest mesh strainer you can find to make sure to get any little lumps and bumps out of the syrup.
Store it well. Keep it in airtight container in the refrigerator for up to 4 weeks.
Freeze if necessary. If you won't use it within that 4 week time frame, go ahead and freeze it to keep it longer. It works well to pour it into an ice cube tray to freeze it. Then pop the frozen cubes out and place them in a freezer bag.
Recipe
Print Recipe
Pumpkin Simple Syrup
Equipment
Saucepan

measuring cups

Strainer

Wooden Spoon

Mason Jar or Small Pyrex
Ingredients
1

cup

Water

1

cup

Sugar

1

cup

Pumpkin Puree
Instructions
Measure 1 cup of pumpkin puree and add it to the pot.

Measure 1 cup of water and add it to the pot.

Measure 1 cup of sugar and add it to the pot.

Put the put on medium heat and simmer for about 10 minutes.

Remove it from the heat and pour mixture through the strainer to get out any thick puree left. You can use the masher to press the mixture in the strainer getting all bits of liquid out.

Place the syrup in a jar and put it in the refrigerator to cool down and thicken.
Notes
Tips
Use a fine mesh strainer to keep any thick puree out of the finished syrup.
Press the syrup with a masher or back of a spoon while in the strainer to get all the liquid out.
Stir frequently while heating to avoid scorching.
Simmer the syrup only; Do not boil.
Storage
Put the syrup in an airtight container in the refrigerator for 2 – 4 weeks.
If you need to keep it longer than 4 weeks you can freeze it in an ice cube tray.