Occassional Cocktails may earn compensation from purchases made after clicking links on this page. Learn more Here.
A strawberry martini is the perfect cocktail for sitting on your front porch or backyard patio. Follow this recipe and sip on this while watching a beautiful sunset.
How to Make a Strawberry Martini?
A Strawberry Martini is made similarly to any martini. You follow the basic steps of shaker, ice, ingredients, shake, pour. However, the strawberries require a bit of a different approach.
If you have made any of our fruit based cocktails like a Blueberry Margarita, Strawberry Margarita, pornstar martini, or a Strawberry Lemon Drop Martini, you will have no problem with this recipe. Unlike a typical martini, this recipe requires you to muddle strawberries before moving on to the standard martini making steps.
Do I have to muddle strawberries?
Yes. You want to muddle so you get the strawberry juice. If you blend you will just have smaller chunks of strawberry.
What is muddling?
Muddling is when you take a bar tool, called a muddler, and use it to bruise or mash fruit, spices, or garnishes. This is done to add flavor to a drink.
How do you muddle?
Its as easy as squishing fruit. You put what you want muddled into your tumble and use your muddler to smash it. Some drink, like a mojito, only require you to bruise mint leaves with a muddler. In this case you would be a bit more gentle.
Can I use frozen strawberries?
If you dont have access to fresh strawberries it is absolutely fine to use frozen strawberries. You will just need to sit them out on your counter or overnight in the fridge and allow them to thaw. Then you can muddle like normal.
Can I use strawberry vodka instead of fresh strawberries?
It depends on the type of strawberry vodka you use. Some are flavored with an artificial strawberry flavor and may not taste authentic. Others, like Absolut, are made with real strawberry juice.
Either way, at 70 proof potency, using strawberry vodka will make your drink much stronger.
Ingredients
This recipe only takes three simple ingredients. You will need:
Strawberries
Simple syrup
Vodka
Instructions
With only three ingredients, this recipe is a whiz to make.
Step 1:
Stick your martini glass in the freezer.
Step 2:
You will start with your strawberries in your shaker. Pour ½ oz of simple syrup on top of the strawberries.
Now use your muddler and smash the fruit and simple syrup together. You really want to do this aggressively to get as much of the strawberry juice as possible.
Step 3:
Now fill the shaker about ¾ full with ice. Top the ice off with 2 ½ oz of vodka.
Put the lid back on the shaker. Shake until the outside forms a thin layer of frost.
Step 4:
Take your martini glass out of the freezer. Dip the rim in simple syrup and then in sugar.
Step 5:
Pour your martini through a Hawthorne strainer into your glass. If you want to eliminate any strawberry pulp, you can use a finer mesh sieve strainer.
Stick a strawberry on the rim as a garnish and enjoy!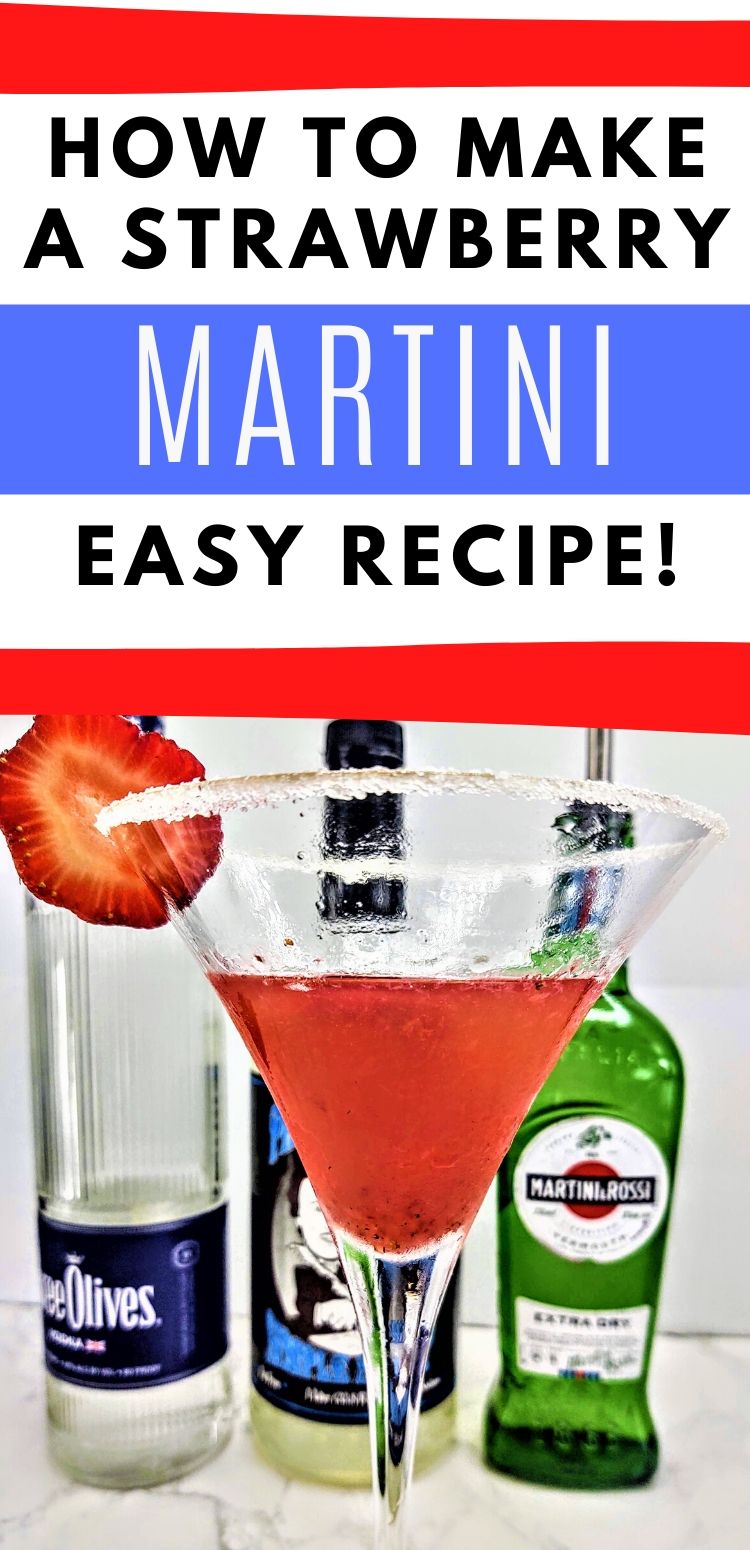 Recipe
Print Recipe
Strawberry Martini
Equipment
Martini glass

Mixing tumbler

Muddler

Hawthorne strainer
Ingredients
6

muddled strawberries

2

oz

vodka

½

oz

simple syrup

swirl of Dry Vermouth
Instructions
Place martini glass in freezer

put 6 whole strawberries in tumbler

Pour in ½ oz simple syrup

muddle strawberries with muddler

Fill tumbler with ice

top off with 2 oz vodka

place lid on tumbler and shake until outside of tumbler frosts over

pour a small amount of simple syrup on a saucer and dip the rim of your martini glass in it

on a separate saucer, sprinkle sugar and dip the rim of the martini glass in the sugar

Place Hawthorne strainer on tumbler

Pour drink into martini glass

Enjoy!
For more great cocktails
[pt_view id="146b5bcwjk"]