Occassional Cocktails may earn compensation from purchases made after clicking links on this page. Learn more Here.
If you love a classic easy to make cocktail in the vodka cranberry is for you. This cocktail is refreshing and only takes three ingredients.
What Do You Call a Vodka Cranberry?
This drink is also called commonly called A cape cod or cape coddler. It's very similar to a Sea Breeze, Bay Breeze and Sex on the Beach.
This cocktail is extremely light and refreshing. It's perfect for brunch, sipping in the summer, or get-togethers. Since it does not contain any liquors except for vodka, if you want to make it a little stronger you can certainly add a little more vodka to the mix.
If you love cranberry flavored refreshing cocktails you might also try a cosmopolitan or a cranberry martini.
What does it taste like?
Honestly, a this cocktail pretty much tastes just like cranberry juice. It's very similar in flavor to a Madras cocktail. The Madras is just a little sweeter with the addition of orange juice.
Vodka is a very lightly flavored liquor. Since vodka doesn't have a strong flavor, when it's mixed with other ingredients you typically cannot taste it very strongly.
The taste of this drink can vary if you add more vodka. Therefore, if you want a stronger drink, just add a little more vodka. If you prefer it to taste mostly like cranberry juice, stick with a lower amount of vodka. The amount of alcohol in this drink is really up to you and your taste.
Is it healthy?
Vodka can probably not be considered healthy per se. However, in small amounts it's not unhealthy.
Cranberry juice by itself is a very healthy juice. it contains several vitamins and minerals such as vitamin C and vitamin E. It's also high in antioxidants and has been used to treat certain infections.
So, are the two together considered healthy? At the very least, this drink is not laden with sugar and other items that some other cocktails are. Although it definitely has more calories and say a vodka soda.
Ingredients
It will come as no surprise that the ingredients for this simple cocktail are vodka and cranberry juice.
Since this is only two ingredients, I highly recommend to use a good quality vodka. You can definitely taste the difference especially with only one other flavor.
What kind of cranberry juice?
If you like a more tart tasting drink, you can use 100% cranberry juice. 100% cranberry juice is exactly what it sounds like only cranberries. If you prefer a little sweet with your tart that I recommend using a cranberry juice cocktail which will have sugar added in.
Instructions
Learning how to make a vodka cranberry is extraordinarily simple. It can be put together in a minute or so.
This is a very simple drink to make. You do not need to shake it, just add the ingredients to your glass and stir.
Step 1:
Fill a highball glass with ice.
Step 2:
Pour vodka into the glass over the ice.
Step 3:
Fill glass with cranberry juice. And give it a stir.
(Optional) Step 4:
Add a lime wedge to the rim of your glass. You can also squeeze lime over the top of your juice and then add to the wedge to your drink.
Recipe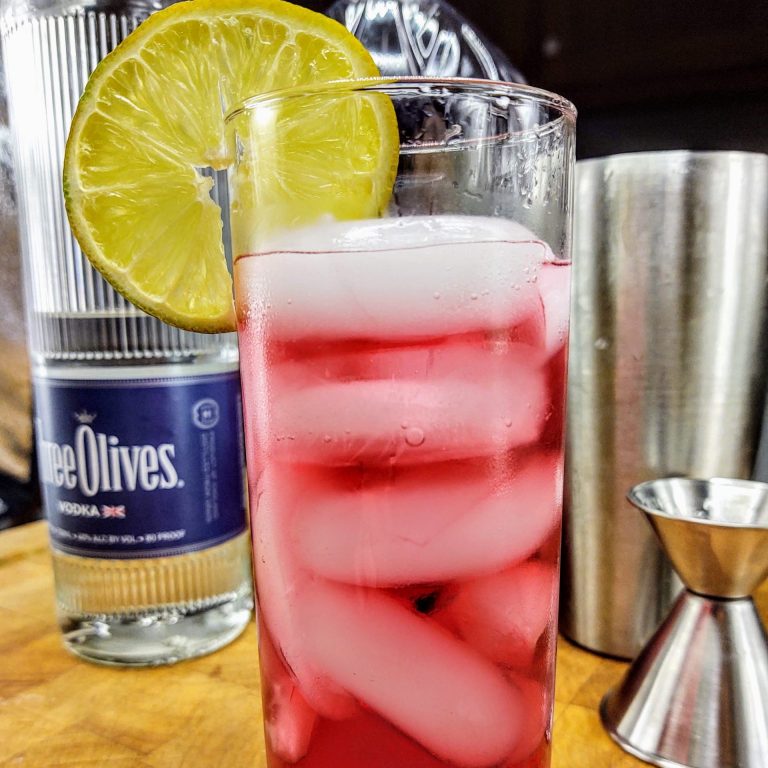 Print Recipe
Vodka Cranberry
Equipment
highball glass

bar spoon

(Optional) Mixing tumbler
Ingredients
1½

oz

vodka

4

oz

cranberry juice

1

lime wheel
Instructions
Fill highball glass with ice

Top off with cranberry juice (approximately 4 oz)

Stir gently with bar spoon

Garnish with lime wheel

Enjoy!
For more great cocktails
[pt_view id="146b5bcwjk"]