Occassional Cocktails may earn compensation from purchases made after clicking links on this page. Learn more Here.
Does Dr Pepper go well with vodka? Yes vodka and Dr Pepper is a delicious cocktail to try.
What is a vodka and dr pepper?
Avada and Dr Pepper is exactly what you probably think it is. It is a cocktail made of those two ingredients.
Vodka has a reputation of being easy to mix in with other ingredients and not really changing their taste. Vodka does not have a particularly strong taste except for the bite of the alcohol. Assuming you get a high quality vodka that bite tends to be a little smoother.
There are also flavored vodkas which you can also use to mix with Dr pepper. If you're going the flavored vodka route I would recommend a cherry or vanilla vodka as that will complement the flavors in the Dr Pepper well.
As you may or may not know Dr Pepper is a combination of 23 flavors in one drink. This can make the taste confusing to describe. However, some strong flavors that come out in the drink are spices, cherry, licorice, and vanilla.
As mentioned above, since vodka does not tend to have much of a taste, this drink basically tastes like Dr Pepper with a bite.
There are other liquors when mixed with alcohol that can get a similar flavor profile. Those are Tequila and Dr Pepper or Gin and Dr Pepper.
How to make this drink:
This cocktail is super easy to throw together. It's just a matter of combining your two ingredients.
Equipment:
Ingredients:
2 oz Vodka (plain or your favorite flavored vodka)
4 oz Dr Pepper
Lime wedge
Instructions:
Step one
As you are getting ready, first make sure that you have all of your ingredients and equipment.
Step two
Get your glass ready by filling it full of ice.
Step three
Now, let's prepare your lime wedge garnish.
First, take your lime and cut it into slices or wedges.
Then, take one wedge and carefully cut a small slice between the peel and the pulp of the lime. Place your wedge on the rim of your glass at the part where you cut between the pulp and peel.
Step four
Poor 2 oz of vodka into your highball glass over your ice. You should measure your 2 oz using your jigger.
Step Five
Use your jigger again to measure 4 oz of Dr pepper. And pour this into your highball glass as well.
Step Six
Stir your drink together using your bar spoon. Ensure that everything is thoroughly mixed.
Now you're finally ready to sit back and enjoy!
Recipe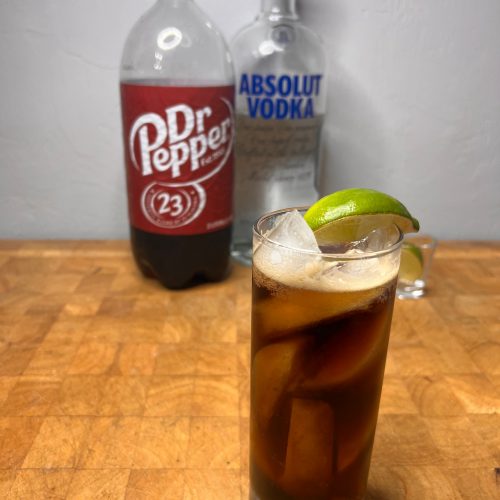 Print Recipe
Vodka and Dr. Pepper
Equipment
highball glass

bar spoon

jigger
Ingredients
2

oz

Vodka

4

oz

Dr. Pepper

Lime Wedge
Instructions
Cut a wedge of lime and place on rim of glass

Fill your highball glass with ice

Using jigger measure and pour 2 oz of vodka into glass

Measure 4 oz of Dr. Pepper and pour into Highball glass

Using bar spoon, stir drink to combine and enjoy!