Occassional Cocktails may earn compensation from purchases made after clicking links on this page. Learn more Here.
Gin and Dr pepper is an easy to make and flavorful cocktail. If you've ever wondered if Gin and Dr pepper go well together the answer is a resounding yes.
What is a gin and dr pepper?
This cocktail is exactly what it sounds like. A Gin and Dr pepper is simply a mix of these two ingredients.
Gin is an interesting liquor. It tastes kind of like biting into nature. It has a bit of a pine-like taste as well as a little bitterness.
Gin is made from juniper berries which is where the pine taste comes from. It has a distinct flavor of herbs with also a little citrus kick.
Dr pepper as you may or may not know is a mix of 23 different flavors. So, as you may guess, it can be a little hard to describe it's exact taste. If I were to give it a try, I would describe it as a spicy cherry mixed with cola, vanilla, and licorice.
When you mix these two flavors together you get a robust taste profile that is full of spice and bold flavors.
Other good liquor mixers for Dr pepper include Amaretto and Dr pepper and Tequila and Dr pepper.
How to make this drink:
This cocktail is a simple as tossing your two ingredients in a highball glass and giving them a whirl.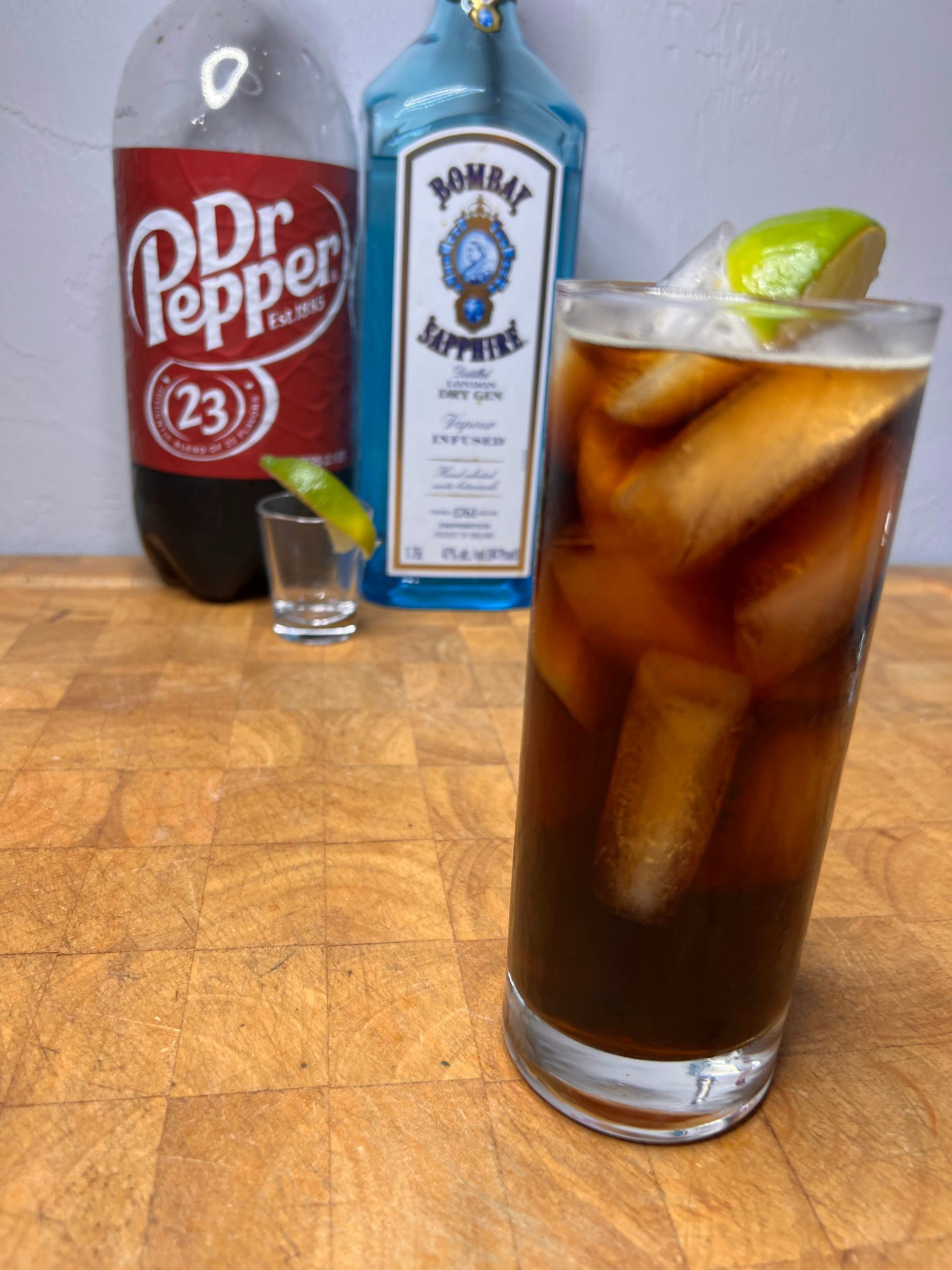 Equipment:
Ingredients:
2 oz Gin
4 oz Dr Pepper
Lime wedge
Instructions:
Step one
Before you actually start to make this cocktail, the first thing you want to do, is to get your garnish ready. We like to use a lime wedge.
To make a lime wedge, simply take your lime and cut it into wedges. You'll been want to make a small cut between the peel and the pulp of the lime and then place that on the rim of your glass.
Step two
Once your garnish is prepared, fill your highball glass to the top with ice.
Step three
Next, measure 2 oz of gin in your jigger. And dump the Gin from your jigger to your highball glass.
Step four
Again using your jigger, measure 4 oz of Dr Pepper. Dump that into your highball glass with your ice and Gin.
Feel free not to do an exact 4 oz of Dr pepper. You can add a little more to have a stronger Dr Pepper flavor. Or you can add a little less to have a stronger gin flavor.
Step Five
Grab your bar spoon and use it to thoroughly stir together your ingredients.
Your drink is ready. Take a sip and enjoy!
Print Recipe
Equipment
highball glass

bar spoon

jigger
Ingredients
2

oz

Gin

4

oz

Dr Pepper

Lime Wedge

ice
Instructions
Carefully cut lime into wedges and place one on rim of glass

Fill highball glass with ice

Using jigger measure 2 oz of brandy and pour over ice in glass

Using jigger measure 4 oz of dr pepper and pour over ice in glass

Take your bar spoon and gently stir drink together