Occassional Cocktails may earn compensation from purchases made after clicking links on this page. Learn more Here.
If you love your coffee with cream and sugar, but want a little alcohol added in, try out this sweet creamy Bailey's coffee. This one is only two simple ingredients and is so delicious.
What is a Bailey's Coffee?
A Bailey's coffee is a combination of Bailey's Irish cream, coffee and an optional whipped cream garnish. This warm drink tastes like coffee that has an extra sweet vanilla creamer added in.
Don't confuse it with an Irish coffee which has cream and sugar added in instead of Irish cream.
Irish cream is what adds the alcohol content to this drink. It Is a low alcohol liqueur at 17% alcohol by volume.
It is a combination of Irish whiskey, cream and sugar. It basically ends up adding that vanilla creamer flavor to the drink.
When you are selecting your coffee for this drink, it's best to brew a strong cup. Though, you can use any brewing method that is your favorite. We prefer to use a high quality unflavored coffee bean for the coffee.
When to Make This Drink:
The creamy sweetness and comforting warmth of this drink makes a perfect for serving at the following occasions:
Brunch
Winter holidays
after dinner drinks
Fall get togethers
Variations:
If you are looking for a few different ways to change this drink up, try these ideas out:
Use decaf coffee. Whether you are just trying to eliminate caffeine or maybe you want to use this as an after dinner drink, use decaf coffee instead of caffeinated.
Make it iced. Cool your coffee off and serve it in a glass over ice. Or, you could get extra fancy and blend it with the ice for a frozen drink.
Use a flavored coffee. The we like to use an unflavored coffee so that the Bailey's flavor really stands out. You could use a vanilla, chocolate or even cinnamon flavored coffee for a little extra oomph.
Add a little spice. To enhance the flavor, you can add a little dash of cinnamon or nutmeg. Or you can add a dash of vanilla extract.
Use a Bailey's variation. Bailey's actually comes in a few different flavors such as salted caramel. They even have a vegan version if you follow a vegan diet.
Some similar coffee cocktails are: Irish Coffee and Frangelico Coffee.
How to make this drink:
This drink is so easy to make it's simply brew a cup of coffee and toss some Baileys into it. The only thing that'll take a while is the actual coffee brewing, but you should be able to have it put together in 10 minutes or less.
Equipment:
Ingredients:
2 oz Bailey's
4 – 5 oz Coffee
Whipped Cream (optional garnish)
Instructions:
Step one
Gather up everything you need to make this cocktail including jigger, bar spoon (if desired), coffee mug, hot coffee, Irish cream and whipped cream.
Step two
Choose your favorite brewing method and your favorite type of coffee and bring yourself hot pot.
Step three
Take the Baileys and measure out 2 oz using the jigger. Then, pour the Baileys into your coffee mug.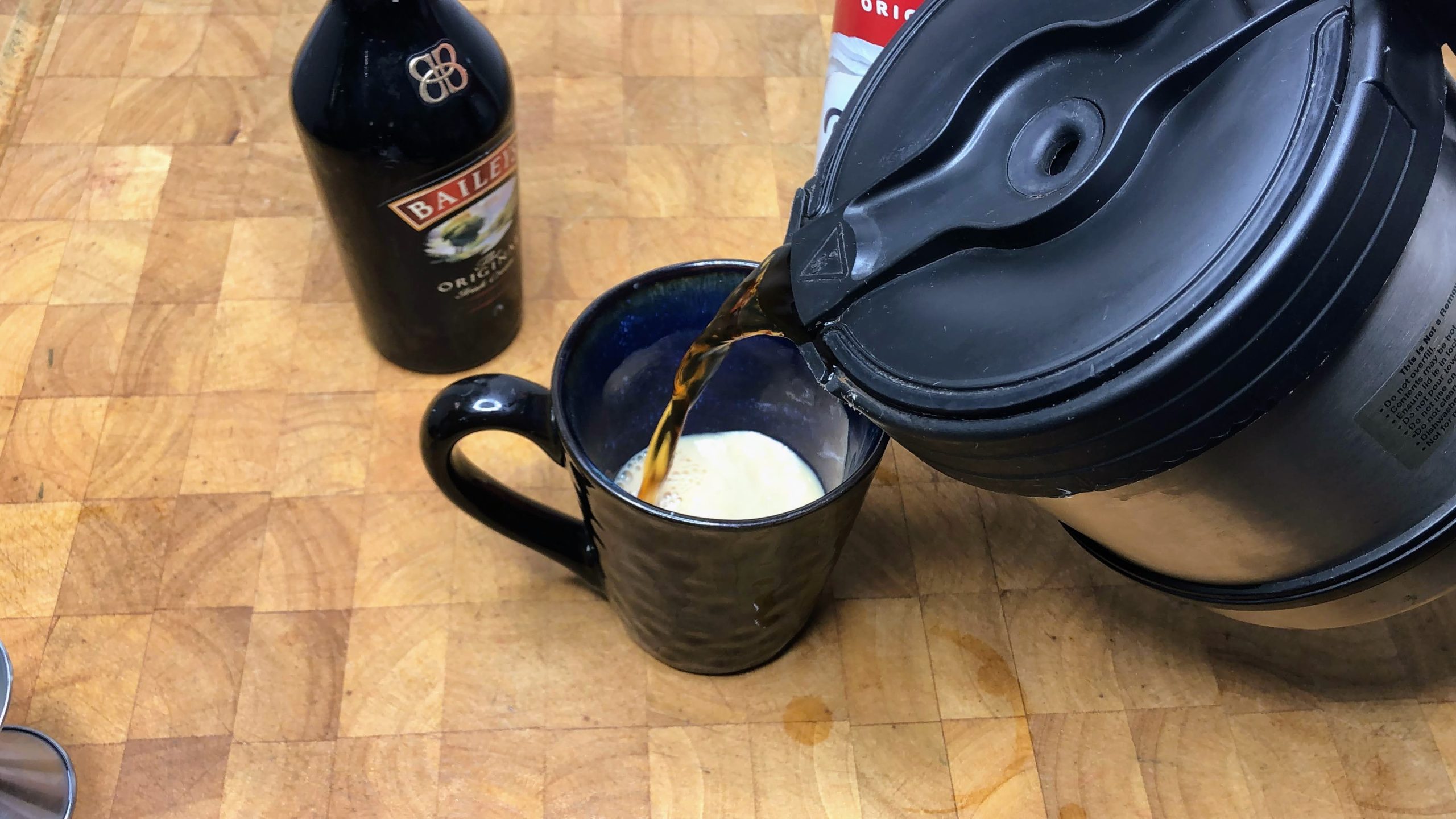 Step four
Take the coffee and measure out 45 oz using the jigger. Then, pour the coffee into your coffee mug.
Note: If you want to skip measuring the coffee you can. Simply pour the coffee directly into the mug filling it to the top.
Step Five
Grab your whipped cream and place a large dollop on top of your drink. Enjoy!
Recipe
Print Recipe
Bailey's Coffee
Equipment
jigger

Coffee Mug

Coffee Pot
Ingredients
2

oz

Bailey's Irish Cream

4 – 5

oz

Hot Coffee

Whipped Cream

(optional garnish)
Instructions
Whip up a pot of coffee using your preferred brewing method.

Grab the Baileys. Use the jigger to measure 2 oz of Baileys and pour it into the mug.

Grab the hot coffee Use the jigger to measure 4 – 5 oz of hot coffee and pour it into the mug.

Tip: as an alternative to measuring the coffee, you an pour it into the mug topping it off.

(optional) use a bar spoon to mix the drink well.

(optional) Add a large dollop of whipped cream on top.