Occassional Cocktails may earn compensation from purchases made after clicking links on this page. Learn more Here.
If you love mint and chocolate all swirled together then this peppermint patty drink is a must try. This warm sweet cocktail is super easy to make and perfect for sipping on cold winter or fall nights.
What is a Peppermint Patty Drink?
A peppermint patty drink is a combination of hot chocolate, peppermint schnapps, white cream de cacao and creme de menthe. Essentially this warm drink tastes like a sweet, smooth liquefied peppermint Patty. It's full of warm chocolate and refreshing peppermint flavor.
This cocktail is similar to a peppermint hot chocolate, but has a few extra ingredients added in. It's also similar to a peppermint martini in flavor, but this hot chocolate has a very intense chocolate flavor.
You can either use instant hot chocolate or make your own hot chocolate (such as this oat milk hot chocolate). We really like to use dark chocolate to add a more complex chocolate flavor.
Peppermint schnapps is a clear liqueur. It is simply schnapps which is a neutral spirit that has been infused with a sweet peppermint flavor.
The other peppermint flavor in this drink comes from the creme de menthe. We used green creme de menthe and this drink since the color isn't really affected much due to the dark color of the hot chocolate. However, you can certainly use clear creme de menthe if you wish.
White creme de cacao is a clear chocolate flavored liqueur. It has a sweet sort of milk chocolate flavor to it and really helps to ramp up the chocolate in this drink.
When to Make This Drink:
The sweet decadence and warmth of this drink makes it perfect to serve up for:
Winter holidays
fall celebrations
chilly nights
New Year's Eve
Variations:
There are whole slew of ways you can change this drink up, but maintain its chocolate peppermint flavor. Give a few of these ideas a try:
Use peppermint simple syrup. You can cut down on the liquor content in this drink by substituting either the peppermint schnapps or the creme de menthe for peppermint simple syrup.
Use dark creme de cacao. Since the color doesn't really matter in this drink, you could substitute the white cream de cacao for dark creme de cacao. Dark creme de cacao tends to have a more dark chocolate flavor.
Leave out the creme de menthe. If you don't have come to menth you could certainly leave it out if using the peppermint schnapps. Or, you could use a white creme de menthe instead of green creme de menthe.
Ramp up the liquor. If you want to add some extra alcohol to this drink you could use a chocolate vodka and place of the creme de cacao.
Get crazy with garnishes. We like a simple whipped cream dollop on top of the glass. However, if you want to go over the top you could add some crushed peppermint candies, a whole candy cane, some chocolate syrup or even a peppermint patty to the rim of the mug.
Make it a shot. Combine just the white creme de cacao and peppermint schnapps in equal parts in a shot glass for a peppermint patty shot.
How to make this drink:
If you're using instant hot chocolate for this one you only need about 5 minutes to get everything ready. Heat up your hot chocolate and toss in your liquors.
Equipment:
Ingredients:
6 oz Hot chocolate
1 oz Peppermint schnapps
.5 oz White creme de cacao
.5 oz Creme de menthe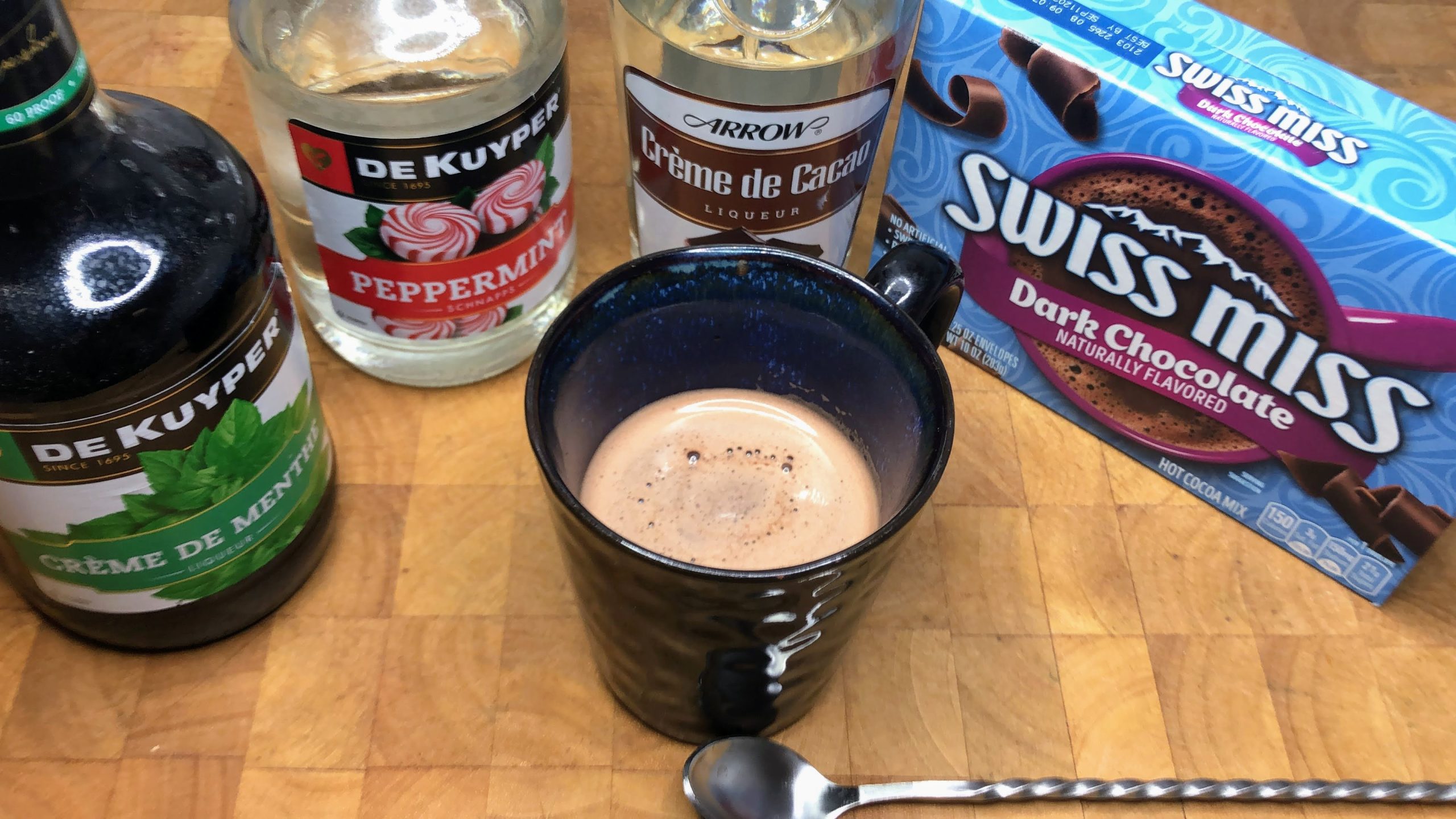 Instructions:
Step one
Gather everything up including creme de menthe, peppermint schnapps, cream de cacao, hot chocolate, mug, jigger and bar spoon.
Step two
Make your hot chocolate. If you're using instant hot chocolate make it straight in the mug so it'll be ready to go as soon as it's done.
The mug should be filled with about 6 oz of hot chocolate.
Step three
Measure out .5 oz of white creme de cacao. Pour that into the mug with the hot chocolate.
Step four
Measure out 1 oz of peppermint schnapps. Pour that into the mug with the hot chocolate as well.
Step Five
Measure out 0.5 oz of creme de menthe. Pour that into the mug with the hot chocolate.
Step Six
Get everything mixed well by placing the bar spoon in the mug and giving it a few good stirs.
Grab up your whipped cream and put a big dollop on top before starting to sip.
Recipe
Print Recipe
Peppermint Patty Drink
Ingredients
6

oz

Hot chocolate

1

oz

Peppermint Schnapps

.5

oz

White Creme de cacao

.5

oz

Creme de menthe
Instructions
Whip up a mug of hot chocolate – instant hot chocolate works just fine.

Take the peppermint schnapps and pour 1 oz into the jigger. Toss the peppermint schnapps into the mug.

Take the creme de menthe and pour .5 oz into the jigger. Toss the creme de menthe into the mug.

Take the creme de cacao and pour .5 oz into the jigger. Toss the creme de cacao into the mug.

Pop the bar spoon into the mug and give it a few good stirs.

Put a large dollop of whipped cream on top and enjoy!