Occassional Cocktails may earn compensation from purchases made after clicking links on this page. Learn more Here.
Tequila and 7up tastes similar to a margarita, but with not quite as robust of a flavor. This cocktail is an easy to mix up two ingredient drink that anyone is sure to enjoy.
What is a Tequila & 7up?
A Tequila and 7up is a fizzy lemon-lime flavored cocktail with a little tang of from the alcohol on the backend. This one takes only two ingredients, so it is super easy to whip up.
Tequila comes in two variations, silver tequila and gold tequila. Both types work fine for this drink, but we prefer silver tequila in this one. Tequila is made from the blue agave plant and it doesn't have a particularly strong flavor.
It has a little sweetness, a strong bite from the alcohol content and a hint of citrus and sometimes pepper in it. Gold tequila tends to be a little bit of a smoother flavor than silver tequila.
7up is a soda with a lemon-lime flavor which tends to be a little heavier on the lime than the lemon flavor. It is fizzy, like other sodas, due to carbonation. And it has a sweetness, but not quite as intensely sweet as some other sodas.
Due to the ease at which this cocktail is made, it is perfect for most anytime. It can be whipped up as just one drink or in bulk as a pitcher easily. The refreshing citrus taste of this one suits the springtime and summertime perfectly. From relaxing after a hard days work on your porch to celebrating with friends at a BBQ, this cocktail fits right in.
This cocktail tastes similar to a rum and 7up, Whiskey and 7up or gin and 7up.
How to make this drink:
Making this drink is pretty much as easy as 1, 2, 3. All you do is toss in two ingredients, give it a stir and get to sipping.
Equipment:
Ingredients:
2 oz Tequila
4 oz 7up
Ice
Lemon or Lime Wedge
Instructions:
Step one
Before you get to mixing things up, make sure you have everything that you need. Grab your jigger, bar spoon, glass, tequila, and 7up.
Step two
Take some ice and fill your glass almost to the top with it.
Step three
Using your jigger, go ahead and measure 2 oz of tequila. Then, pour your tequila into your glass.
Step four
Using your jigger, go ahead and measure 4 oz of 7up. Then, pour your tequila into your glass.
You can also skip using your jigger and just fill your glass up the rest of the way with your 7up. It may be a smidge more than 4 oz, but won't change the taste much.
Step Five
Using your bar spoon, stick it in your glass and give everything a good, but slow stir. You want to make sure everything is well mixed, but you also don't want to get your soda fizzing too much.
Your drink is now ready to go!
Recipe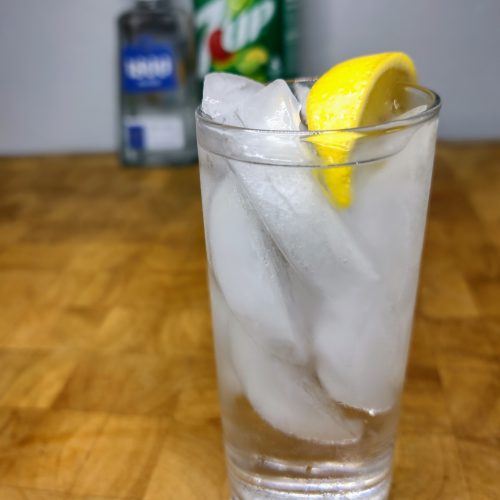 Print Recipe
Tequila and 7up
Equipment
jigger

bar spoon

highball glass
Instructions
Fill your highball glass to the top with ice.

Use your jigger to measure 2 oz of Tequila and add to your glass.

Use your jigger to measure 4 oz of 7up and add to your glass.

Use your bar spoon to stir your drink well.