Occassional Cocktails may earn compensation from purchases made after clicking links on this page. Learn more Here.
Vodka and fruit punch is a perfect sweet and fruity combination cocktail. This easy to toss together drink is perfect for all spring and summer occasions with his bright and sweet flavor.
What is a Vodka and Fruit Punch?
A vodka and fruit punch is a bright red sweet and fruity flavored drink that has the bite of vodka as it goes down. This simple two ingredient cocktail can easily be made in a single serving or an entire pitcher.
Vodka is a clear colored liquor. It is made by fermenting grains such as corn or rye or sometimes even potatoes. It is known to be a rather tasteless liquor that has a strong alcohol bite or burn as it goes down.
Fruit punch is very simply a combination of any type of fruit juice you want with sugar and water or soda. Store-bought fruit punch typically is combined with water while many homemade recipes call for a carbonated addition such as ginger ale or Sprite.
No matter what type of fruit or mixer you use to make your fruit punch the resulting drink tends to be extremely sweet and full of fruit flavor.
Possible variations
While regular vodka and store-bought fruit punch work perfectly fine for this cocktail there are several other variations you can try if you want to spice it up. Here are just a few options:
Make your own fruit punch. Making your own fruit punch allows you to use whatever fruit juices you prefer and you can either make it a sparkling punch or a regular punch.
use pineapple vodka – pineapple is one of the key fruit juices used in many fruit punches. So if you want to spike up the pineapple flavor try out a pineapple plant.
use strawberry lemonade vodka – what's a center time more than strawberry lemonade? Add in this delicious flavor that will mix well with your fruit punch.
use green apple vodka- Apple is usually one of the key juices used in fruit punch. Dial up the apple flavor with this green apple vodka.
When to try this drink
This cocktail fits for almost any occasion with its bright color and sweet flavor. Here are just a few occasions to try it at:
large gatherings
pool parties
barbecues
summer or springtime sipping
4th of July celebrations
Some similar cocktails with fruit punch to try are: Rum and fruit punch, tequila and fruit punch, or whiskey and fruit punch.
How to make this drink:
This cocktail is so easy to stir up as it only takes two ingredients. You can also easily make a whole pitcher or punch bowl just by multiplying the ingredients by 4 to 6.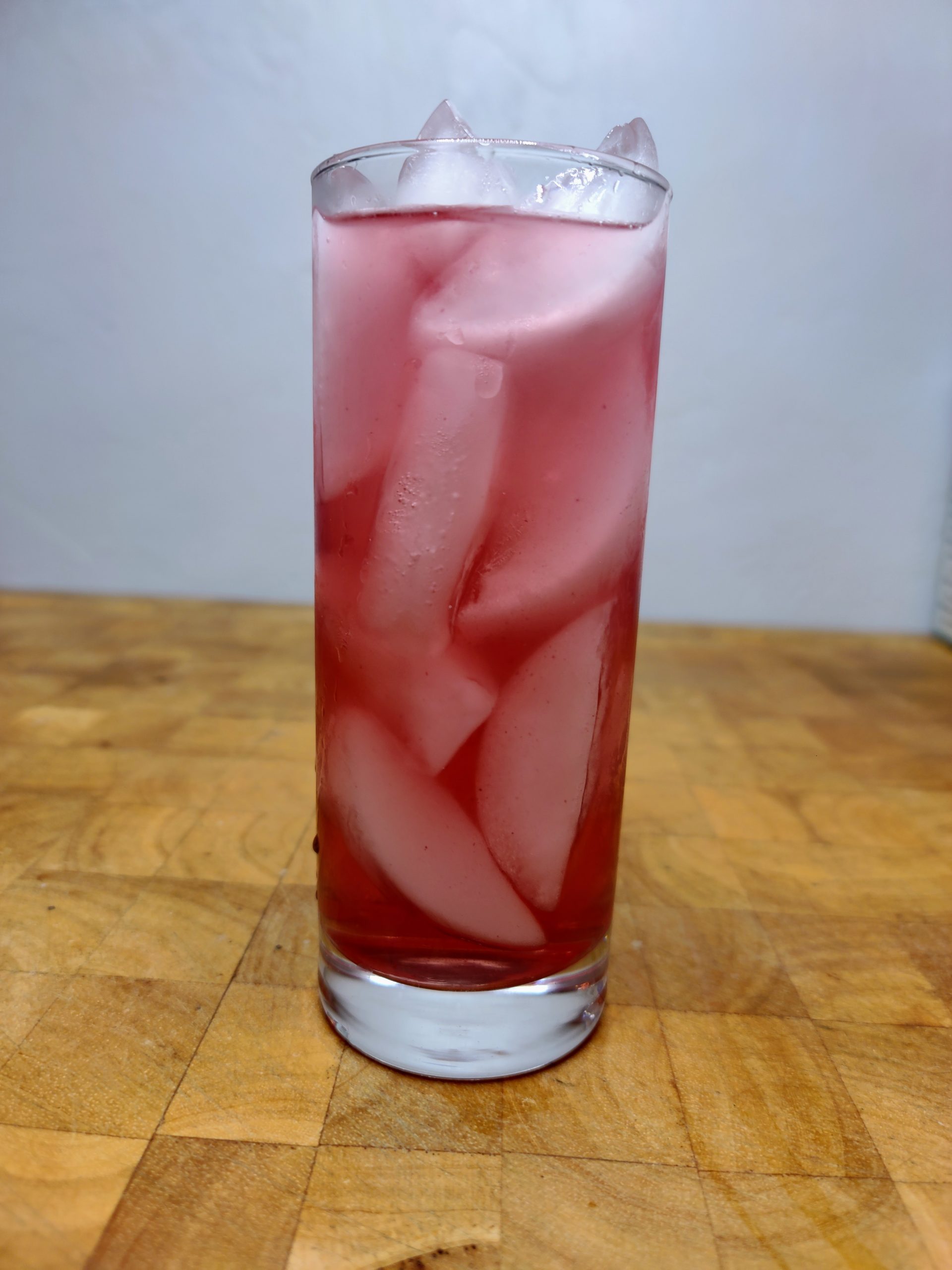 Equipment:
Ingredients:
2 oz Vodka
4 oz Fruit Punch
Ice
Instructions:
Step one
Make sure you have everything you need including your glass, jigger, bar spoon, vodka and fruit punch.
Fill your glass to the top with ice.
Note: this cocktail can be made by mixing it straight in the glass or by mixing it in a cocktail shaker. The step-by-step directions below will detail mixing it in a glass.
If you want to choose using a cocktail shaker to mix this drink, simply fill your cocktail shaker full of ice. Next, add your vodka and fruit punch to your cocktail shaker and shake well. Then, remove the top add your Hawthorne strainer and pour your drink into your glass.
Step two
You'll want to get your jigger as well as your vodka. Use your jigger to measure 2 oz of vodka. Then, slowly pour your vodka into your glass with your ice.
Step three
Next, you'll want to get your jigger as well as your fruit punch. Use your jigger to measure 4 oz of fruit punch. Then, slowly pour your fruit punch into your glass over your ice and vodka.
Step four
Get your bar spoon and place it into your glass. Use the spoon to thoroughly mix your drink together so that everything is well combined.
Step Five
Garnishes for this drink are optional. If you choose to use one pick one of the fruits that you use from the fruit punch and cut a slice to place on the rim of your glass.
Enjoy!
Recipe
Print Recipe
Vodka and Fruit Punch
Equipment
jigger

bar spoon

highball glass

cocktail shaker (optional)

Hawthorne strainer (optional)
Ingredients
2

oz

vodka

4

oz

fruit punch

ice

slice or wedge of fruit

(optional garnish)
Instructions
Get your supplies and ingredients gathered together.

Note: to mix this cocktail you can use a cocktail shaker or you can mix it in your glass. Directions to mix in your glass are in the step by step below.

Using a cocktail shaker:

Fill shaker up with ice.

Measure ingredients and add them to the shaker.

Cover the shaker with the top and shake well.

Remove top and replace with hawthorne strainer, then pour drink into glass.

Pick up your glass and fill it with ice.

Pick up your vodka and jigger. Measure 2 oz of vodka and pour it into your glass.

Pick up your fruit punch and jigger. Measure 4 oz of fruit punch and pour it into your glass.

Note: if you want a little more fruit punch flavor, you can skip measuring and just top the glass off with fruit punch.

Pick up your bar spoon and use it to completely mix your drink together.