Occassional Cocktails may earn compensation from purchases made after clicking links on this page. Learn more Here.
Bailey's Hot Chocolate can't be beat when it's cold outside. The creamy texture of Bailey's Irish Cream give your normal Winter treat a smooth extra kick.
What is a Bailey's Hot Chocolate?
Who is this Bailey person and why do I want their hot chocolate?!?!
Maybe I wasn't clear enough. Bailey's Hot Chocolate is made using hot chocolate and Bailey's Irish Cream. It's similar to a Rumchata Hot Chocolate, but without the cinnamon spice.
If you like chocolate, you may also try this chocolate old fashioned.
What else mixes well with Bailey's Irish Cream?
Bailey's Irish Cream mixes best with milder and less acidic mixers like hot chocolate and coffee. With some mixers, especially citrus, Bailey's can curdle. But when mixed with drinks like coffee or hot chocolate it is very smooth and delicious.
In fact, it is so good and delicious that it's easy to forget that Bailey's Irish Cream contains whiskey and is around 17% alcohol. That's higher than most wines and beer. So be careful because too much (less than you'd think) Bailey's can get you drunk before you realize it.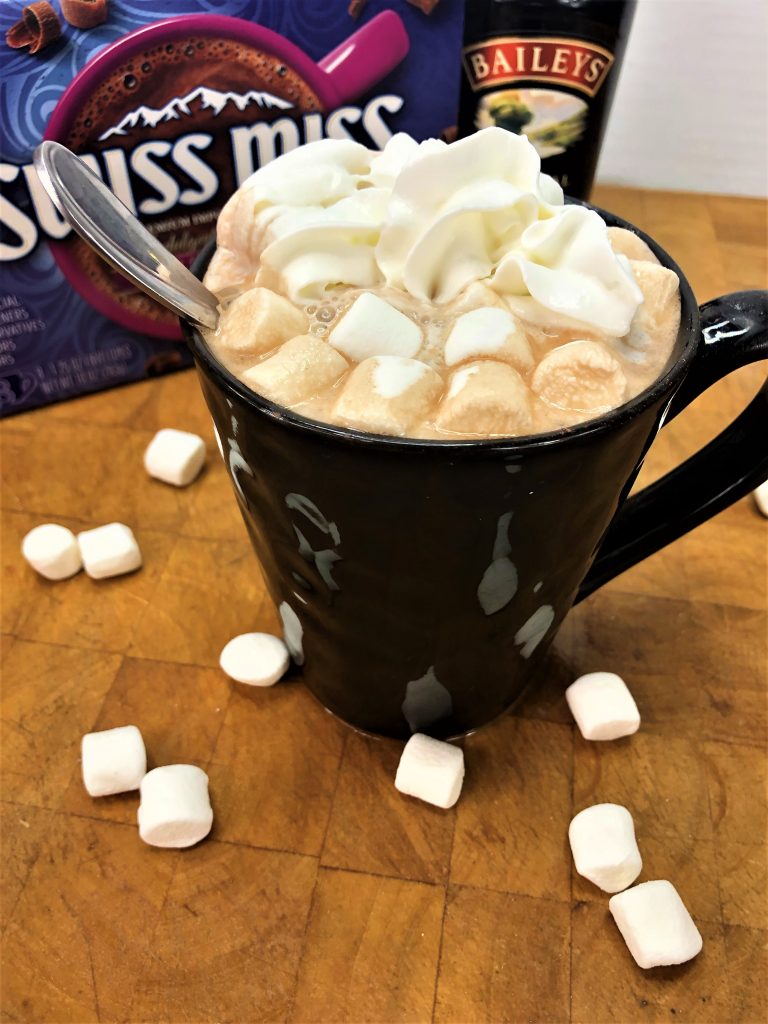 How to make this drink:
We will show you how to make your own hot chocolate if you want to. However, this recipe works just as well with prepackaged hot chocolate (we like Swiss Miss).
Equipment
2 coffee mugs
sauce pan
ladle
slow cooker/crockpot/Instantpot/Ninja Foodi (optional)
Ingredients
Here are the ingredients for both hot chocolate and the cocktail.
Hot Chocolate
2½ cups milk
¼ cup sugar
2 TBS cocoa powder
6 oz chocolate chips
Rumchata Hot Chocolate
4 oz Bailey's Irish Cream (split into two 2 oz portions)
whipped cream
miniature marshmallows
Note: If you are using hot chocolate packets, skip to step 4
Step One
Heat your milk to a simmer in a sauce pan.
Step Two
Once simmering, add in your sugar, cocoa powder, and chocolate chips to the milk.
Step Three
Keep stirring until the chocolate chips are all melted.
Step Four
Pour your Bailey's according to the split measurements above into your coffee mugs.
Step Five
Carefully fill your mugs with hot chocolate using a ladle.
Step Six
Add a dollop of whipped cream, some miniature marshmallows, and sprinkle some cocoa powder on top.
Recipe
Print Recipe
Bailey's Hot Chocolate
Equipment
2 coffee mugs

sauce pan

jigger

ladle
Ingredients
Hot Chocolate (Homemade)
2½

cups

milk

¼

cup

sugar

2

TBS

cocoa powder

6

oz

chocolate chips
Hot Chocolate (Packet)
2

packets hot chocolate mix
Bailey's Hot Chocolate
4

oz

Bailey's Irish Cream

split into two 2 oz portions

whipped cream

miniature marshmallows
Instructions
Note: If you are using hot chocolate packets, skip to step 4
Simmer 2½ cups of milk in a sauce pan

Add in ¼ cup sugar, 2 TBS cocoa powder, and 6 oz chocolate chips

Stir until chocolate chips have melted

Add 2 oz of Bailey's into each coffee mug (4 oz total)

Ladle hot chocolate into each mug

Add whipped cream on top with some miniature marshmallows and a sprinkle of cocoa powder
For more great cocktails
[pt_view id="146b5bcwjk"]