Occassional Cocktails may earn compensation from purchases made after clicking links on this page. Learn more Here.
Does Jager and Coke taste good? The answer is astounding yes. This cocktail is super easy to make and have a complex and fizzy yet refreshing flavor that you're sure to love.
What is a Jager and Coke?
Jager and Coke is a simple two ingredient cocktail that has a fizzy, herbal and licorice taste to it. It is simple to make as you only need coke and jagermeister.
Jager is a liqueur that has a very complex taste profile. It is a high alcohol content liqueur at around 35% alcohol.
Originally from germany, Jager has a rather thick taste of black licorice. It also has several complex herbal flavors and notes in a taste.
When you mix Jager with Coca-Cola you get a sweet, fizzy and licorice tasting cocktail. The Jager flavor really stands out in this drink.
Coke is a commonly used mixer for cocktails. You can also try a whiskey and coke or Rum and coke.
Variations
This cocktail is delicious just with Jager and regular coke. However, you can spice up the flavor a little bit by trying different variations of coke such as:
Diet Coke
Coke Zero
Cherry Coke
Vanilla Coke
When to make it
This drink is super simple to make and that makes it perfect for really any occasion. You can whip it up after a long day at work or make it as a cocktail for your parties.
Just a few occasions you might want to serve this cocktail at are:
Drinks after work
Casual afternoon get together
College Parties
Drinks with a friend
How to make this drink:
This cocktail is as easy as mixing your ingredients together and taking a sip. You're sure to be able to stir this one up in 2 minutes or less.
Equipment:
Ingredients:
2 oz Jager
4 oz Coke
Ice
(optional) cherry garnish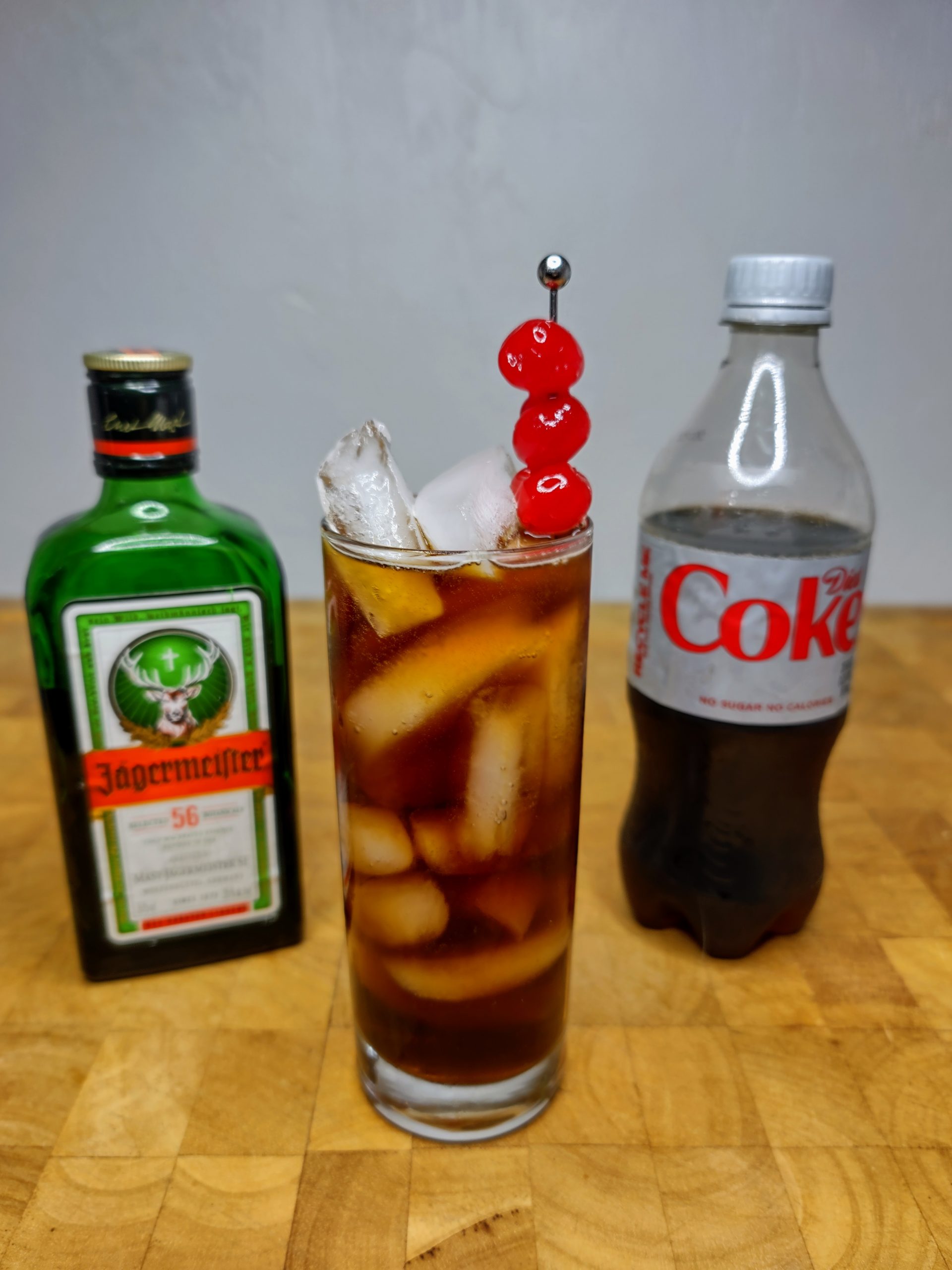 Instructions:
Step one
Start out making a strength by gathering together your a Jager, coke, highball glass, jigger and bar spoon.
Step two
Then, you want to make sure you have ice in your glass. Fill your highball glass almost to the top with ice.
If you want to add a garnish, stick three cherries onto a cocktail pick. Then, put that cocktail pick in the side of your glass.
Step three
Next, you want to add your Jager to your drink. You will do this by using your jigger to measure 2 oz of jager. Then, pour your Jager into your highball glass over your ice.
Step four
Now, you want to add your Coke to your drink. You will do this by using your jigger to measure 4 oz of coke. Then, pour your Coke into your highball glass over your ice.
Pro tip: you can certainly use more than 4 oz of Coke in this cocktail. If you want, you can simply top your glass off with Coke instead of measuring it with your jigger.
Step Five
Now, to get everything stirred up. Use your bar spoon, place it in your glass and then stir your ingredients together for a few seconds.
You do want to make sure not to stir too hard or fast or the coke may fizz out of the glass.
Recipe
Print Recipe
Jager and Coke
Equipment
jigger

bar spoon

highball glass
Instructions
Make sure you have everything you need. Get your jager, coke, glass, bar spoon and jigger.

Fill up your glass with ice – it should be filled almost totally with ice.

Get your jager and your jigger. Use your jigger to measure and pour 2 oz of Jager into your glass.

Get your coke and jigger. Use your jigger to measure and pour 4 oz of Coke into your glass.

Note: If you want to skip measuring the coke, you can just top the glass off with it instead of using your jigger.

Now mix everything together slowly with your bar spoon.