Occassional Cocktails may earn compensation from purchases made after clicking links on this page. Learn more Here.
Is jagermeister good with orange juice? Yes, jagermeister and orange juice are very good together. With only two ingredients it can be whipped up and just a few minutes and it's perfect for sipping most any time.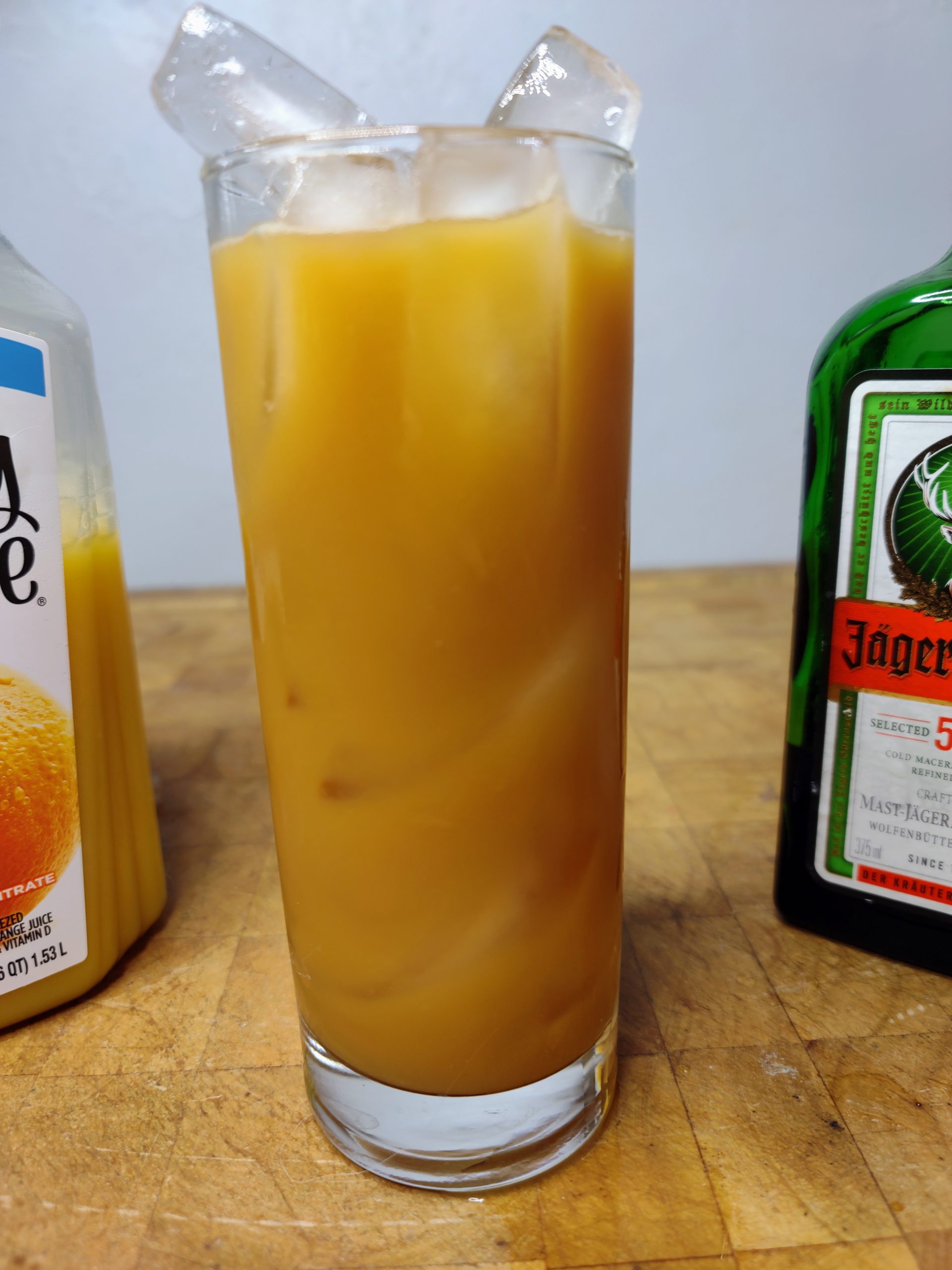 What is a Jager and Orange Juice?
A Jager and orange juice is a very similarly tasting cocktail to a screwdriver which is heavy on the orange juice flavor. However this drink has a strong hit of licorice on the back end.
Orange juice of course has a sweet and slightly tangy citrus flavor. It's best to use poultry orange juice for the drink so that it has a smooth texture. Also, fresh orange juice that is not from concentrate and it's not an orange juice cocktail is best as well.
jägermeister which originated in Germany is an herbal-based liqueur or digestif. It actually is made from 56 different arms and therefore has quite a complex flavor profile.
It actually is made from 56 different arms and therefore has quite a complex flavor profile. It is a rather thick liqueur and the strongest flavor is probably that of licorice.
Occasions to make this drink
This drink is super easy to make and is delicious tasting. Therefore, there are several occasions that fits well at such as:
brunch drinks
afternoon sipping
informal get togethers
summer and spring celebrations
Some similar drinks are the: hairy navel cocktail, the screw up drink and a amaretto and orange juice.
How to make this drink:
With only two ingredients to drink can be whipped up and 2 minutes or less. All you need to do is toss your ingredients together and give them a stir.
Equipment:
Ingredients:
2 oz Jägermeister
4 oz Orange Juice
Ice
Instructions:
Step one
Start out by gathering all the ingredients and equipment needed for the drink including jagermeister, orange juice, ice, a highball glass, a jigger, cocktail shaker and a Hawthorne strainer.
Step two
Grab your ice and fill your highball glass almost to the top with it.
note: there are two distinct ways to mix this drink. You can either do it in your glass or you can do it in a cocktail shaker.
The directions below are for mixing in the glass. However, if you want to mix in the shaker, also fill your shaker with ice and then pour your ingredients into the shaker instead of the glass.
Step three
Take your jigger and your jagermeister. Measure out 2 oz of Jager into your jigger and then dump that into your highball glass over the ice.
Step four
Next, add your orange juice. You can do this by taking your jigger and measuring 4 oz and then pouring that into your glass.
Or, you can simply take the orange juice and pour it directly into the glass topping it off. This method usually results in a slightly more orange juice which will temper the Jager flavor a little.
Step Five
Next, you'll need to stir your drink together. To do this you can either carefully dump the contents of the glass into your shaker and then from the shaker back to the glass.
Alternatively, you can leave everything in the highball glass and take a bar spoon. Then use the bar spoon to gently stir your drink together.
Recipe
Print Recipe
Jager and Orange Juice
Equipment
jigger

bar spoon

highball glass

cocktail shaker
Ingredients
2

oz

Jagermeister

4

oz

Orange Juice

ice
Instructions
Grab up your equipment and ingredients so you can get started.

Fill your highball glass up to the top with ice.

Grab up your jigger and measure out 2 oz of Jager. Dump that Jager into your highball glass.

Grab up your orange juice. You can add it in two ways:

1) Measure out 4 oz with your jigger and dump it into your highball glass.

2) Simply top off the glass with orange juice.

Next get your drink mixed together. Two ways to mix it:

1) Stick a bar spoon in the glass and stir well.

2) Toss the contents from the glass into your cocktail shaker and then back into the glass.
Notes
Note:  If you want to mix the whole drink in your cocktail shaker, you can.  To do this, you would:
fill the shaker with ice also. 
Then add the jager and OJ straight to the shaker. 
Put the top on the shaker, shake for 15 – 20 seconds. 
Then replace the shaker top with the strainer and pour into the highball glass