Occassional Cocktails may earn compensation from purchases made after clicking links on this page. Learn more Here.
This sundowners drink is a full body citrusy sipper. If you like Courvoisier and citrus flavors that you are sure to enjoy this one.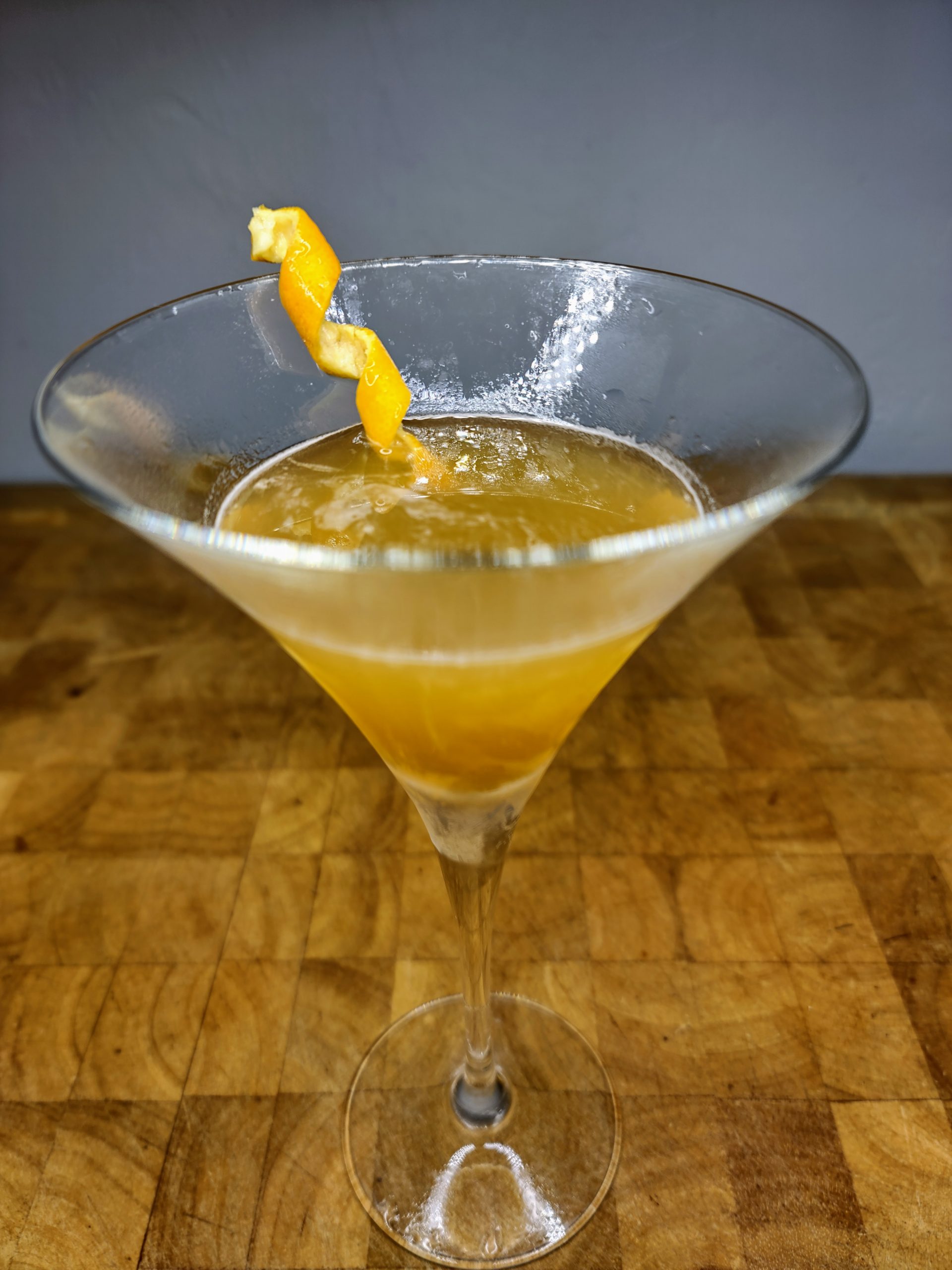 What is a Sundowners Drink?
This sundowners drink tastes strongly like Courvoisier which has a spicy, sweet stone fruit (like an apricot or a peach) flavor. It also has a strong zing of citrus from the Grand Marnier and orange juice on the back end. It is a combination of courvoisier, orange juice, Grand Marnier and lemon juice.
There is not a standard for a sundowner's drink, in fact there are many different versions of this cocktail. It was originally coined as a term for the cocktail that people in South Africa would drink around sundown. Over time and in a different countries it has come to become different mixes of different liquors.
Some Similar Orange Juice cocktails are: Uppercut shot, Amaretto and Orange Juice
How to make this drink:
This drink is relatively easy to make. You just need your four ingredients and a couple of shakes.
Equipment:
Ingredients:
2 oz Courvoisier
.5 oz Grand Marnier
.5 oz Orange Juice
.5 oz Lemon Juice
Lemon or Orange Twist
Ice
Instructions:
Step one
First make sure that you have your shaker, Hawthorne strainer, glass, and jigger together. Also make sure you have all your ingredients including your courvoisier, grand marnier, Orange juice, lemon juice and garnish.
Step two
To get started, chill your martini glass if you're choosing to use one or fill your rocks glass with ice.
Also make sure that your cocktail shaker is filled with ice as well.
Step three
Use your jigger to measure 2 oz of Courvoisier and pour it into a cocktail shaker over the ice.
Step four
Next, use your jigger to measure half an ounce of Grand Marnier and pour that into your Shaker with the ice and courvoisier.
Step Five
Now, use your jigger again. This time use it to measure half an ounce of orange juice and add that to your shaker.
Step Six
Use your jigger once more. This time measure half an ounce of lemon juice and add that in your Shaker with your other ingredients.
Step Seven
Place the top of your cocktail shaker on it. And then shake it well. This should take around 15 to 20 seconds or until the outside is cold to touch.
Step Eight
Remove your cocktail shaker top. Place your Hawthorne strainer on top of your cocktail shaker. Then, strain the liquid from your shaker into your glass.
Step nine
To make your garnish, start with a lemon or an orange whichever you prefer. Use a knife and cut slices off of both ends.
Then, using your knife separate the peel from the pulp with the bulk section that you have left of the fruit. Remove all of the pulp so you're just left with the peel.
Use a cocktail pick and coil the peel around it. Then keeping it coiled, use your knife to cut it into three or four sections. Take one section and twist it around your cocktail pic so that it does not overlap. Hold it there for a second or two and then slide it off of your pick and you will have a twist.
Step Ten
Place your orange or lemon twist on the side or the rim of your martini glass.
Now take a sip of your drinks and start to enjoy.
Recipe
Print Recipe
Sundowners Drink
Equipment
jigger

Hawthorne strainer

cocktail shaker

Martini glass

cocktail pick

Knife
Ingredients
2

oz

Courvoisier

2

oz

Grand Marnier

.5

oz

Orange Juice

.5

oz

Lemon Juice

Lemon or Orange Twist

(Optional garnish)

Ice
Instructions
Start by chilling your martini glass in the freezer.

Fill your cocktail shaker up with ice. It should be almost full to the top with ice

(optional garnish) choose an Orange or Lemon twist.

Slice the ends off your fruit.

cut the bulk part of the fruit open in one spot and use your knife to remove all of the pulp from the peel.

Take the peel and wrap it like a cinnamon roll around your cocktail pick.

Pull it off the pick and slice it into four or so pieces.

Then, take one piece and wrap it around the pick again, but not overlapping the peel at all.

Pull it off the pick and it should stay twisted.

Start measuring out your ingredients with your jigger.

Add 2 oz of Courvoisier to your shaker after measuring it with your jigger.

Add .5 oz of Grand Marnier to your shaker after measuring it with your jigger.

Add .5 oz of Orange Juice to your shaker after measuring it with your jigger.

Add .5 oz of Lemon Juice to your shaker after measuring it with your jigger.

Pop the lid onto your shaker and shake well. Shake it until the outside of the shaker is cold to touch.

Remove the lid from your shaker. Add the strainer to the top of your shaker.

Remove your martini glass from the freezer and pour your drink into your glass.