Occassional Cocktails may earn compensation from purchases made after clicking links on this page. Learn more Here.
Sit back and enjoy this warm and delicious crispity, crunchity Butterfinger hot chocolate. If you are looking for an easy to make chocolate-filled dessert drink, then this one is for you. It's an easy combination of regular hot chocolate with melted butterfingers.
Jump to:
☕ What is a Butterfinger Hot Chocolate?
Butterfinger hot chocolate is a flavored hot chocolate made from cocoa powder, dark chocolate chips, crumbled Butterfingers, granulated sugar and milk. The resulting worm drink is creamy, sweet and full of a chocolate and peanut butter flavor.
If you love Butterfinger candy then you may already know this, but they are a chocolate covered candy with a hard crunchy wafer inside that is peanut butter flavor (source). Of course, peanut butter and chocolate is a classic flavor combination that you cannot beat.
Flavored hot chocolates are always a fun twist to add to this warm classic drink. Some other easy flavors you can try are Biscoff hot chocolate, orange hot chocolate and Oreo hot chocolate. Typically all you have to do is use a standard hot chocolate recipe and add in your single ingredient that is the additional flavor.
And, if the words Butterfinger and chocolate didn't draw you all the way in, here are some of the reasons this recipe works so well:
Rich and decadent. Combining candy and chocolate all melted together into one mug results in the most rich and decadent drink.
Make it in 10 minutes. You only need five ingredients and 10 minutes for this drink. Simply dump all of your ingredients together and heat them up.
It's fancy. This one looks over the top and super fancy even though it's easy to make. You can serve it as a centerpiece drink at celebrations and other get togethers.
When to Make This Drink:
Whip up this warm and cozy beverage at a few of these different occasions:
Birthdays
Holidays
Cozy nights
Celebrations
Variations:
Substitute some ingredients and create flavor variations easily in this beverage by following some of these ideas:
Go all Cocoa powder or all chocolate chip. Instead of using ⅛ of a cup of each, you can use one quarter cup of just one of these ingredients. Going full-on chocolate chips will make a slightly thicker and richer drink.
Go dairy-free. Use a dairy-free alternative for the milk and make something like an oat milk hot chocolate or an almond milk hot chocolate. It will have a similar flavor, just be sure to use an unsweetened and unflavored dairy-free milk.
Make it creamier. Substitute half the amount of milk for heavy cream or half and half for a creamier and thicker beverage.
Control your chocolate. Although chocolate is fantastic, sometimes we should dial it back a little. Leave out the chocolate chips since the Butterfinger already has chocolate in it if you want a slightly lighter drink.
Chill out. Make it a frozen hot chocolate by letting it cool off, then blending it all together with some ice.
🥄 Equipment
Mug
Measuring Cups
Saucepan
Whisk
📋 Ingredients
1 cup Milk – We used 2% milk for this, but you can use any type of milk you prefer.
⅛ cup Dark chocolate – We like to use chocolate chip so you don't have to do any prep work on them. But, you can use a dark chocolate bar and chop it up.
⅛ cup Cocoa powder – our preferences to use dark cocoa powder so that your drink is a little richer.
⅛ cup Sugar
1 Butterfinger – one regular sized bar or three to four fun size bars works.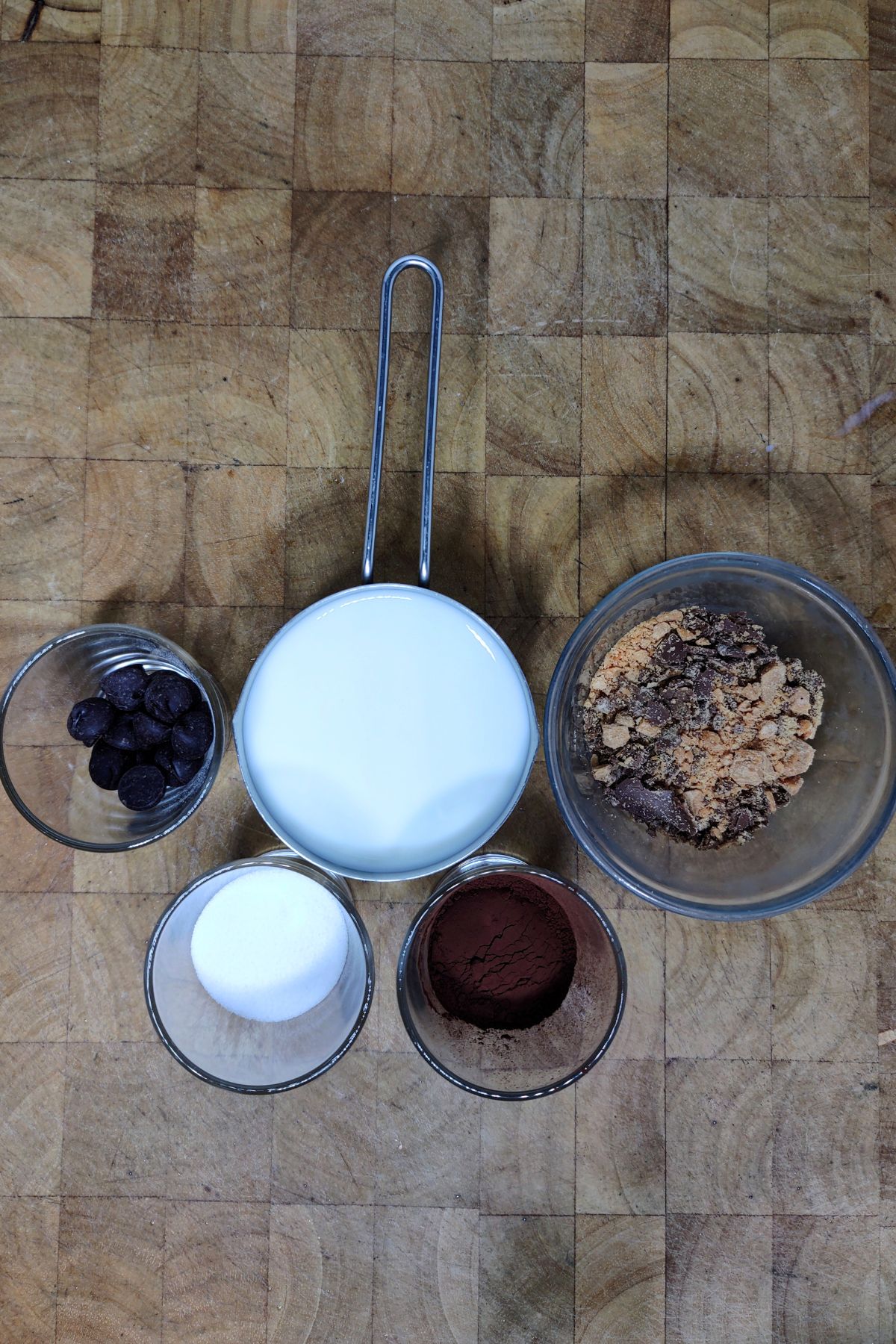 👩🏻‍🍳Instructions
Step one
Gather up everything you need for this recipe including chocolate chips, sugar, cocoa powder, Butterfingers, milk, whisk, measuring cup, mug and saucepan.
Step two
Grab one cup of milk and dump it into the saucepan.
Step three
Grab ⅛ of a cup of cocoa powder and dump it into the saucepan.
Step four
Grab ⅛ of a cup of sugar and dump it into the saucepan.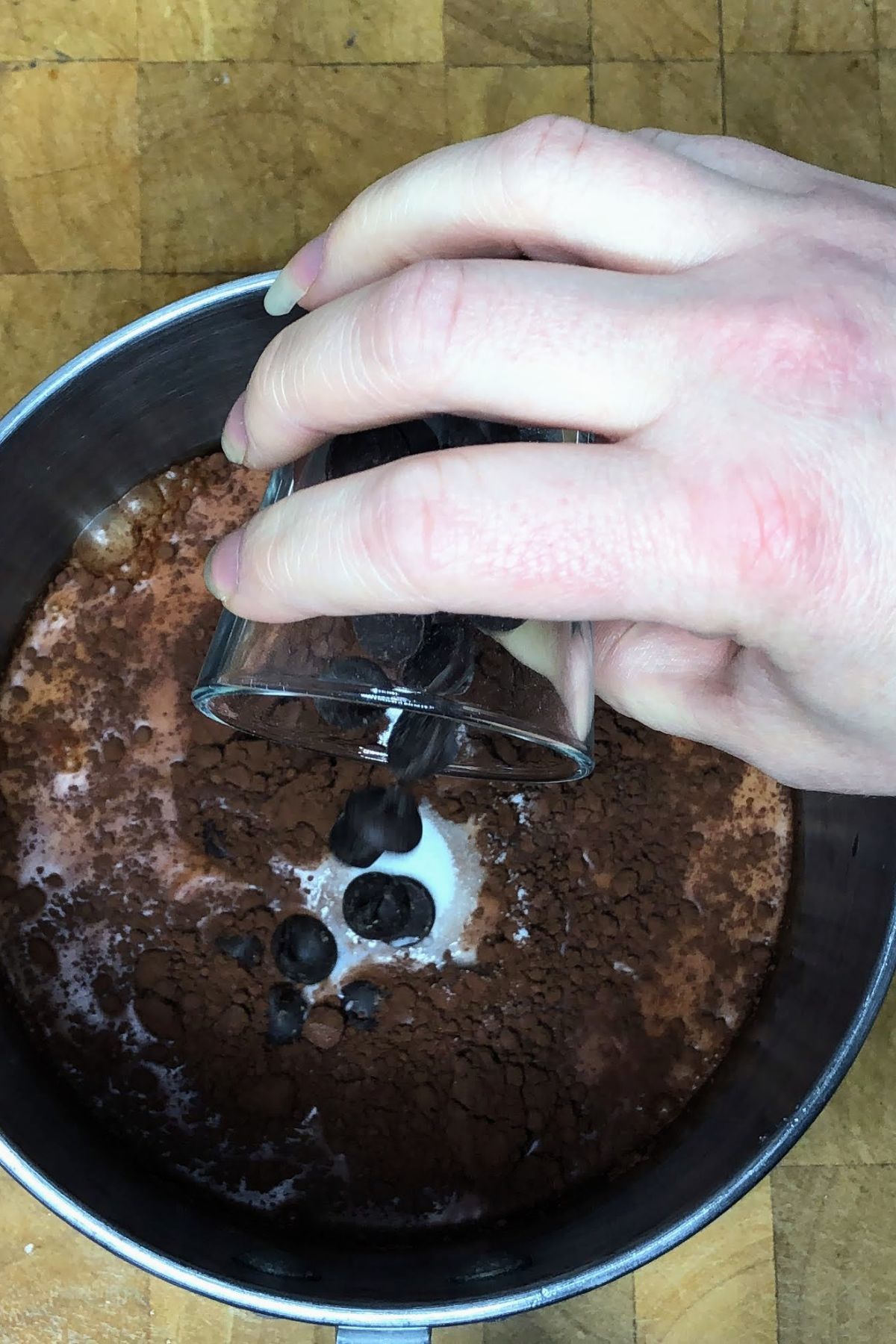 Step Five
Grab ⅛ of a cup of chocolate chips and dump it into the saucepan.
Step Six
Take your Butterfinger. Leave it in the wrapper and crumble it up by pounding it with the back of a wooden spoon or other kitchen utensil.
Then, open it up and add almost all of the crumbles into your mixture. You want to leave a little pinch or two out to top the drink off when you're finished.
Step Seven
Place your saucepan with all the ingredients on the stove top at medium heat. Heat it while whisking frequently.
The Butterfinger takes a little while to melt especially the candy wafer. It took upwards of the full 8 minutes as we made this for the candy wafer pieces to melt.
Once everything is melted, remove it from the heat and pour your drink into the mug. Then, top it with a large amount of whipped cream, the reserved crumbled Butterfingers and a piece of a full Butterfinger bar in the side.
Recipe
Print Recipe
Butterfinger Hot Chocolate
Equipment
Whisk

Mug

Saucepan

measuring cups
Ingredients
1

cup

Milk

⅛

cup

Dark Chocolate Chips

⅛

cup

Cocoa Powder

⅛

cup

Sugar

1

bar

Butterfinger

Whipped Cream

optional garnish
Instructions
Take the saucepan and add 1 cup of milk.

Add in ⅛ cup of cocoa powder and sugar.

Heat the mixture on medium heat while stirring with a whisk. After a few minutes, it will be warm.

Once warm, add in 1 crushed butter finger (leave a few crumbles out to top the drink as a garnish).

Add in ⅛ cup of dark chocolate chips.

Continue heating on medium and stirring with the whisk.

After a few minutes, the chocolate should all be melted.

Remove it from the heat and pour into a mug.

If desired, add a large dollop of whipped cream and the left over butterfinger crumbles on top.
Notes
Tips:
Make sure not to fully boil the mixture.  Just keep it hot enough to melt everything together.
Stir frequently while heating so that it heats evenly.
Substitutions and Variations:
You can use dairy free milk.
Add a little heavy cream to make it richer and creamier.
You can do ¼ chocolate chips and leave out cocoa powder or vice versa.