Occassional Cocktails may earn compensation from purchases made after clicking links on this page. Learn more Here.
If you're looking for a fruity, sweet and tropical cocktail try out the fat hooker drink. This easy sipping cocktail is perfect for spring and summertime with its bright color and sweet flavor.
What is a Fat Hooker Drink?
A fat hooker drink is a combination of coconut rum, peach schnapps, vodka and orange juice. The resulting bright orange yellow drink is a mix of fruit cocktail flavors with a strong bite of coconut.
Orange juice, of course, has a sweet and somewhat tangy, tart flavor. For this cocktail is best to use pulp free orange juice so that the drink is a smooth texture. Additionally, fresh pure orange juice not one from concentrate or any orange juice cocktail is best.
Peach schnapps is a strongly peach flavored liqueur. Schnapps itself is almost like a type of brandy. The sweet strong flavor in peach schnapps really goes a long way in any drink you add it to. It has a 15% alcohol by volume.
Coconut rum is a clear liqueur. It is made from Caribbean or white rum and has coconut flavorings added. The resulting taste is very sweet, rather smooth and bursting with coconut flavor. It clocks in at 21% alcohol by volume.
Vodka is another clear colored liquor. It is made from distilling and fermenting grains or potatoes. It is known for being rather neutral or tasteless except for it's slight spicy bite as it goes down.
When to mix this drink
This drink is easy to make and suitable for many different occasions. Some top occasions you might want to try it at are:
poolside get togethers
Days at the beach
Backyard barbecues
drinks with brunch
spring or summer celebrations
Some similar orange juice flavored cocktails are: The Brass Monkey Drink, The Hairy Navel Cocktail, a Georgia Peach Cocktail.
How to make this drink:
With four simple and easy to get ingredients this drink can be whipped up in 5 minutes or less. All you need to do is toss your ingredients together and give them a stir.
Equipment:
Ingredients:
.5 oz coconut rum
.5 oz Peach Schnapps
1 oz Vodka
top off with Orange Juice
Ice
Instructions:
Step one
Gather up everything you need to make your drink including orange juice, vodka, peach schnapps, coconut rum, ice, highball glass, jigger and bar spoon or cocktail shaker and Hawthorne strainer.
Step two
Take your ice and fill your highball glass almost to the top with it.
note: in the instructions below we are going to make the drink in our highball glass. However, you can make and mix the drink in a shaker. To do this, fill the shaker with ice as well at this point and measure all of your ingredients straight into the shaker, shake it then pour into the glass.
Step three
Grab your coconut rum and jigger. Measure out 0.5 oz of coconut rum and then pour it into your highball glass with the ice.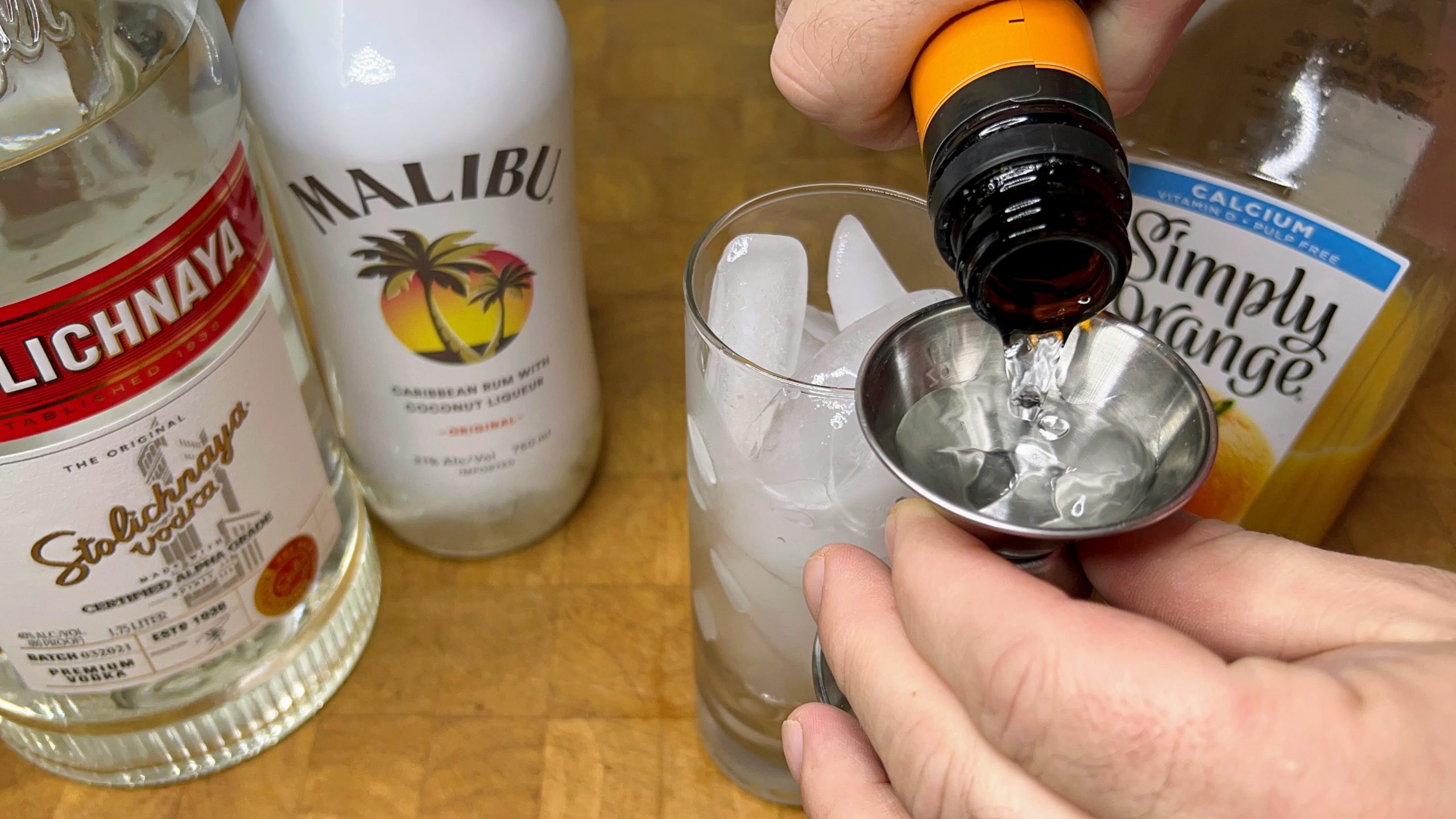 Step four
Grab your peach schnapps and jigger. Measure out 0.5 ounces of peach schnapps and then pour it into the highball glass with the coconut rum and ice.
Step Five
Grab your vodka and jigger. Measure out 1 oz of vodka and pour that into the glass with the peach schnapps, coconut rum and ice.
Step Six
Next, use your jigger to measure out 4 oz of orange juice. Then, pour the orange juice into your glass.
Alternatively, instead of measuring the orange juice, you can simply pour it into the glass and top the glass off with it.
Step Seven
Finally, it's time to mix your drink up. To do this there are two methods.
The first method is with a bar spoon. Simply insert the spoon into the glass and give it a few good stirs.
The other method is with a shaker. Carefully dump all the contents of your glass into the shaker. Then, dump it from the shaker back into the glass.
Recipe
Print Recipe
Fat Hooker Drink
Equipment
jigger

bar spoon

highball glass

cocktail shaker
Ingredients
.5

oz

Peach Schnapps

1

oz

Vodka

.5

oz

Coconut Rum

Orange Juice

Top off the glass – around 4 oz

Ice
Instructions
Collect all of your ingredients and equipment.

Fill your highball glass up with ice.

Take the jigger and use it to measure .5 oz of coconut rum. Toss that into the highball glass.

Take the jigger and use it to measure .5 oz of peach schnapps. Toss that into the highball glass.

Take the jigger and use it to measure 1 oz of vodka. Toss that into the highball glass.

Take the orange juice and top the glass off with it. It will be around 4 – 5 ounces.

To stir your drink, you have two options:

1) take the bar spoon, insert it into the glass and give a good stir.

2) Dump all the contents of the glass into your cocktail shaker and then back into your glass