Occassional Cocktails may earn compensation from purchases made after clicking links on this page. Learn more Here.
If you like sweet and fruity drinks, this hairy navel cocktail might be one to try. With its bright yellowish orange color and refreshing sweet flavor it's perfect for many different occasions.
What is a Hairy Navel Cocktail?
A hairy navel cocktail is a combination of vodka, peach schnapps and orange juice. It's very similar to a fuzzy navel, but has the addition of vodka.
This easy three ingredient highball drink is full of sweet peach and orange flavor that really smooth out the bite of the vodka. It is a refreshing and fruity cocktail.
Orange juice, of course, is a sweet and slightly tart or tangy citrus fruit juice. The best type of orange juice to use for this cocktail is fresh and pulp free. Orange juice with pulp in it can lead to a slightly grainy texture in the cocktail.
Vodka is a clear liquor. It is made from distilling fermented grains or even potatoes. It is known for being rather tasteless, but having a strong alcoholic bite.
Peach schnapps Is a clear flavored liqueur. It is quite sweet and has an extremely strong peach flavor. It has a lower alcohol content at usually around 15% alcohol by volume.
Occasions to make this drink
With its bright color and sweet yet refreshing taste, this cocktail is well suited for many different occasions such as:
brunch
afternoon get togethers
poolside parties
Spring or summer celebrations
Variations for this drink
This drink is already delicious as is, but there are few ways you can change it up if desired.
Fresh squeezed orange juice. Instead of buying your orange juice at the store, squeeze your own at home so that it is as fresh and sweet as possible.
Change up the vodka. While playing vodka works perfectly fine in this drink, if you want to enhance some flavors you can use a flavored vodka. Some good choices might be vodka citron, peach flavored vodka or even vanilla or whipped cream vodka.
Add some fruit. Garnishes for this cocktail are totally optional. But if you want to ramp up the flavor and look of the drink, you can add an orange wheel or wedge. Some cherries on a cocktail pic also work well.
Trade vodka for Blue Curacao. this will result in a bright green fuzzy leprechaun drink.
Some similar cocktails full of orange juice flavor are: the fat hooker cocktail, the brass monkey cocktail, jager and orange juice and the georgia peach cocktail.
How to make this drink:
This drink is so easy to make with only three simple ingredients. All you have to do is toss them together and stir them up.
Equipment:
Ingredients:
1.5 oz Vodka
1 oz Peach Schnapps
4 oz Orange Juice
Ice
Instructions:
Step one
Gather up everything you need for your drink including highball glass, jigger, bar spoon or shaker, ice, vodka, peach schnapps and orange juice.
note: You can build this drink either directly in the glass or in a cocktail shaker. The step-by-step instructions below are for building it in the glass.
If you'd prefer to build it in the cocktail shaker, make sure to fill your shaker with ice. Then, measure all of your ingredients directly into the shaker. Place a top on your shaker and shake well. Then strain the drink from your shaker into your glass.
Step two
Grab your glass and fill it almost to the top with ice.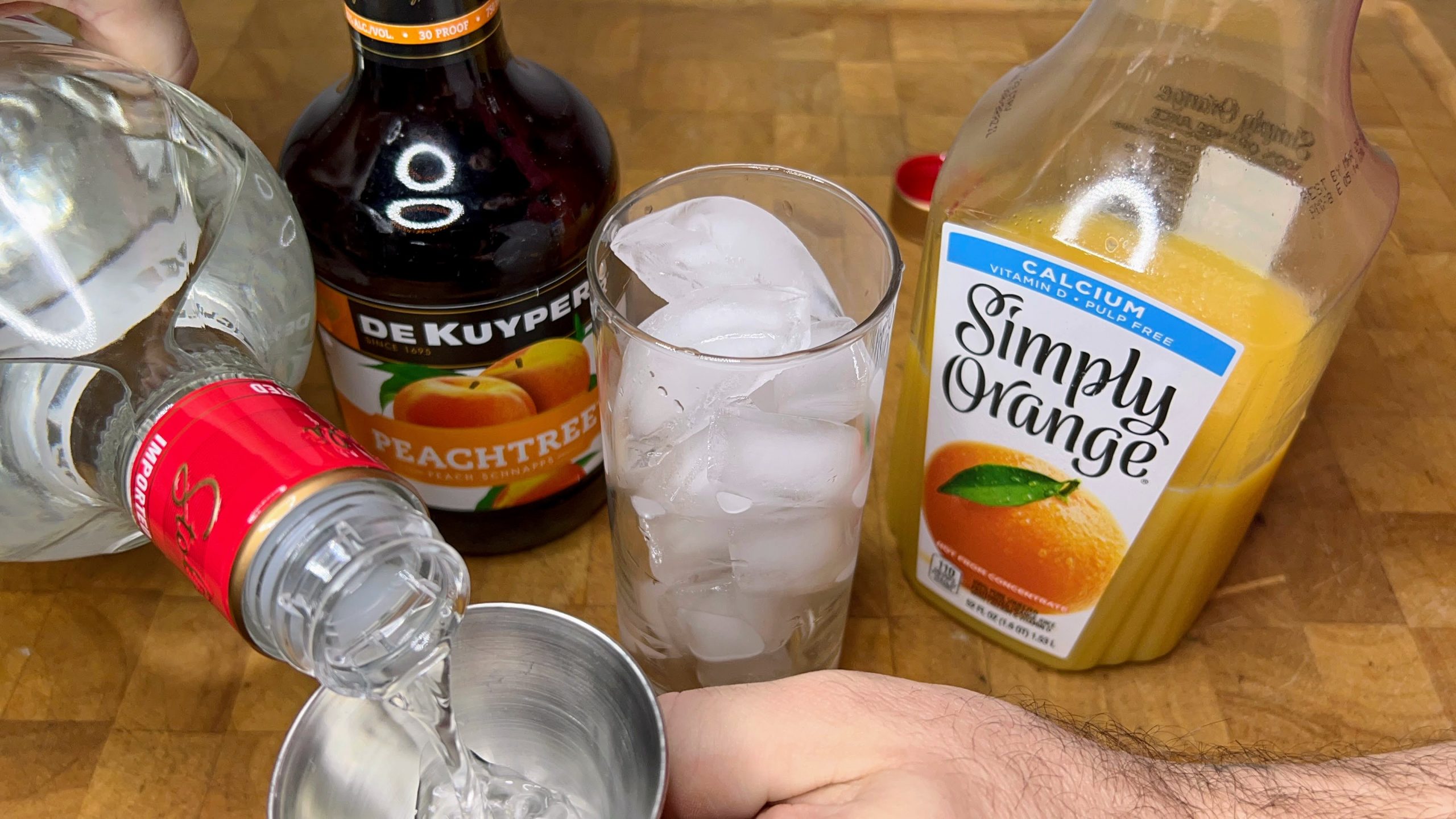 Step three
Grab your vodka in your jigger. Use your jigger to measure 1 and ½ oz of vodka and place it into your highball glass.
Step four
Grab your peach knobs and your jigger. Use your jigger to measure 1 oz of peach schnapps and toss it in your glass with the vodka.
Step Five
Grab your orange juice in your jigger. Use your jigger to measure 4 oz of orange juice and toss it into your glass.
Alternatively, if you'd like to skip measuring the orange juice you can. Simply use the orange juice to top the glass off. This may lend to a slightly sweeter stronger orange flavor.
Step Six
Finally, you need to get your drink mixed up. There are two methods to do this when you have built it in the glass.
The first option is to toss all the contents from the glass into your shaker and then from your shaker back into your glass.
The second option is to stick a bar spoon in your glass and give it a couple good stirs.
Recipe
Print Recipe
Hairy Navel Cocktail
Equipment
jigger

bar spoon

highball glass

cocktail shaker

Hawthorne strainer
Ingredients
1.5

oz

Vodka

1

oz

Peach Schnapps

4

oz

Orange Juice

ice
Instructions
Get all the items needed to make this drink gathered up.

Fill your highball glass full of ice.

Grab your vodka and use the jigger to measure 1.5 oz. Dump that vodka into your glass.

Grab your peach schnapps and use the jigger to measure 1 oz. Dump that peach schnapps into your glass.

Grab your orange juice and use the jigger to measure 4 oz. Dump that orange juice into your glass.

note: if you want to just top the glass off with OJ instead of measuring it, you can do that.

Mix your drink up with one of these two methods:

1) Use a bar spoon to stir it well.

2) Toss the contents of your glass into the cocktail shaker and then back into your glass.

Garnishes are totally optional. If desired, an orange wheel placed on the glass rim works well.
Notes
As an alternative way to mix this drink:
also fill cocktail shaker with ice.
Measure your ingredients into the shaker instead of in the glass.
Put the top on the shaker and shake well.
Put the hawthorne strainer on top of the shaker, and pour it into your highball glass.