Occassional Cocktails may earn compensation from purchases made after clicking links on this page. Learn more Here.
Embark on a tasty tropical adventure with this mango mojito mocktail. With its light orange color and sweet and minty flavors it is a delightful drink that will whisk you away to paradise. Perfect for sitting back, sipping and relaxing anytime it's a warm summer day.
Jump to:
🍹 What is a Mango Mojito Mocktail?
A mango mojito mocktail Is it refreshing and easy to make combination of mango simple syrup, lime juice, mint leaves and club soda. The resulting beverage is a pretty light orange flavor and has a refreshing fizzy mint zing mixed with a tropical, sweet mango flavor.
This drink is a easy to make non-alcoholic tropical twist on the classic mojito cocktail which is typically a combination of rum, mint, lime juice and simple syrup. Turning classic cocktails into mocktails is actually quite easy. Typically you just remove the liquor and add an additional amount of juice or some club soda.
This tropical fruity flavor twist is not the only flavored virgin mojito you can make. There are many other variations including a strawberry flavored mojito mocktail in a raspberry flavored mojito mocktail.
If you're still on the fence, here are a few reasons you are sure to love this recipe:
Tasty and tropical. This tasty and tropical drink is full of sweet mango and refreshing mint and will certainly have you feel as if you're sipping away on a sunny beach.
Refreshing and light. This is an ultimate thirst quencher with a little bit of bubble and a little bit of sweetness mixed together with invigorating mint you will be refreshed and energized after sipping on this drink.
Serve it up anywhere. Since this is a non-alcoholic or a virgin drink it is well suited for any crowd from toddlers to adults and everyone in between.
⭐ When to Make This Drink
This is perfect for serving up anytime you're looking for a refreshing beverage. Here are a few suggestions on times you might consider it:
Beach days
Brunch
Pool parties
Barbecues
📖 Variations
Looking for a few possible ingredient modifications or flavor variations, here are a few to try:
Make it frozen. Toss all your ingredients as well as half a cup of ice into the blender and blend everything together. Then, you'll have the perfect frozen drink.
Use fresh or frozen mango. Instead of or in addition to the mango simple syrup, you can use half a cup of fresh or frozen mango. Simply blend it together with your ingredients or muddle it in the shaker.
Use flavored soda water. Instead of using plain club soda, you can use a flavored Seltzer water. Mango flavored or lime flavored would be good options.
Make it in a pitcher. If you're serving at a large gathering for a large crowd, you can multiply your ingredients by 5 or 6 times. Stir it all together in a pitcher and serve that way.
🥄 Equipment
📋 Ingredients
5 to 10 Mint leaves
1 oz Mango simple syrup
1 oz Lime juice
6 oz Club soda.
Ice
👩🏻‍🍳 Instructions
Step one
Make sure you got everything you need for this mocktail. This should include mint leaves, mango simple syrup, muddler, shaker, jigger, glass, ice, lime juice and club soda.
Step two
Fill your glass up to the top with ice.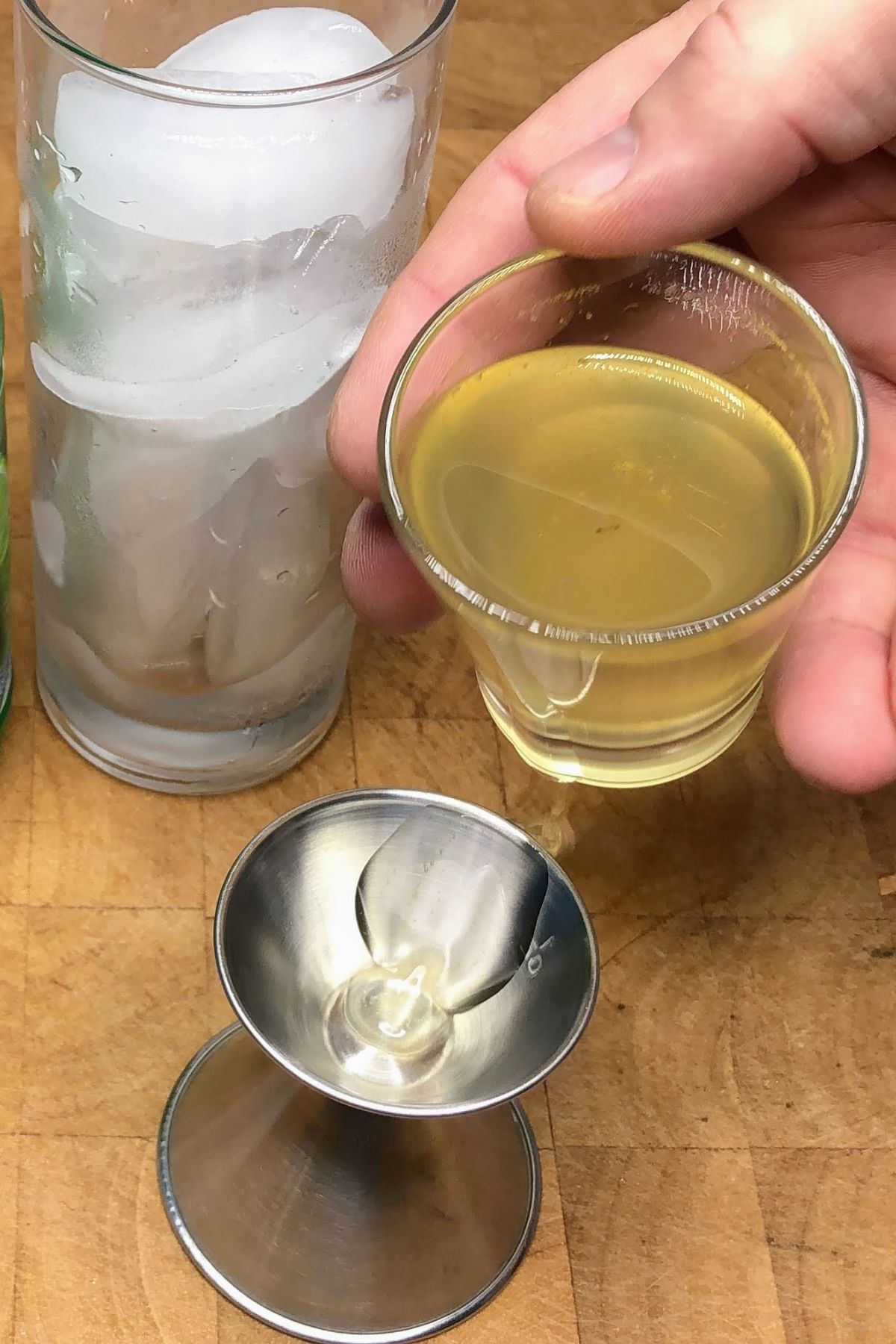 Step three
Pour 1 oz of mango simple syrup into the jigger and add that to the cocktail shaker.
Step four
Toss five or so mint leaves into the shaker with the mango simple syrup. Then, use the muddler to muddle them together.
The key to muddling is to ensure that you press the leaves enough to release their juices and flavor, but don't pulverize them to the point where they're torn apart.
Step Five
Measure 1 oz of lime juice with a jigger. Then pour that into the shaker.
Step Six
Add a handful of ice cubes to the shaker. Then, place the lid on the shaker and shake for 15 to 20 seconds. Once the shaker is icy on the outside you can stop shaking.
Take off the lid to the shaker and place the Hawthorne strainer over top of it. Then, strain your drink into the glass.
Step Seven
Grab up the club soda and pour it directly into your glass. It should take about 5 oz or so, you want the glass to be completely filled.
Step Eight
Finally, take the bar spoon and put it into the glass. Stir everything together so that it is thoroughly mixed.
Recipe
Print Recipe
Mango Mojito Mocktail
Equipment
jigger

cocktail shaker

Hawthorne strainer

highball glass

Muddler
Ingredients
5 – 10

Leaves

Mint

1

oz

Mango Simple Syrup

if you need to make from scratch, instructions are below. Use: 1 cup mango, 1 cup sugar, 1 cup water

1

oz

Lime Juice

6

oz

Club Soda

Ice
Instructions
Mango Simple Syrup
Dice up 1 cup of mango. Mango pieces should be relatively small – about the size of blueberries.

Toss 1 cup of diced mango into a saucepan.

Add 1 cup of water to the saucepan.

Add 1 cup of sugar to the saucepan.

Heat the mixture on medium high for around 10 minutes. It should simmer, but not do a rolling boil.

Stir and smash the mixture while heating.

Remove from the heat and strain the mixture with a strainer to remove and large mango pieces.

Place syrup in the refrigerator to cool.
Mango Mojito Mocktail
Toss enough ice into the highball glass to fill it up.

Take 5 or so mint leaves and add them to the shaker.

Measure 1 oz of cooled mango simple syrup with the jigger and add it to the shaker.

*see notes below if you don't have a jigger and need to measure with cups and tbs.

Take the muddler and muddle the mint and mango simple syrup. The mint leaves should be partially broken up, but not pulverized.

Take some ice and add it to the shaker.

Measure 1 oz of lime juice with the jigger and add the lime juice to the shaker.

Put on the shaker lid and shake well until the shaker is cold.

Take off the shaker lid and put on the hawthorne strainer.

Pour the liquid from the shaker into the highball glass.

Measure out 6 oz of club soda with the jigger and add the club soda to the glass.

Pro tip: skip the measuring and just pour the club soda directly into the glass to top it off.

Take a few mint leaves and toss on top of the drink as garnish.

If desired, use the bar spoon to mix the drink together.
Notes
Alternative Measurements:
If you want to measure in cups and tbs instead of ounces, use the following amounts.
2 tbs mango simple syrup
2 tbs lime juice
¾ cup club soda
Variations:
Don't have a shaker?  You can use any jar with a lid.  A mason jar works great.
Don't want to spend the time making mango simple syrup?  Muddle a few slices of mango in with simple syrup in the shaker as the first step in your drink.