Occassional Cocktails may earn compensation from purchases made after clicking links on this page. Learn more Here.
Great, beautiful and bursting with summer vibes try out this watermelon agua fresca when you're looking for a refreshing and thirst quenching drink. With its vibrant red color and sweet summer flavor your taste buds are sure to love you if you try this recipe. So, take a sip, dive in and stay hydrated during the warm weather.
Jump to:
🍉 What is a Watermelon Agua Fresca?
A watermelon agua fresca is a blended combination of watermelon, lime juice, sugar and water. The resulting beverage is a vibrant red color and packed full of sweet watermelon flavor with a little hint of citrus.
Agua fresca itself is essentially a combination of a fruit, water, lime juice in a little sweetener. It translates to fresh water. Another water based drink includes this cucumber lemon water.
It can be made in a variety of different flavors such as strawberry, mango and cantaloupe. It's a great way to get a little sweetness and a little hydration in.
Other easy to make comma refreshing beverages include homemade sparkling lemonade, raspberry lemonade and this watermelon mocktail.
Check out these reasons why you are sure to love this recipe:
Hydrating and refreshing. This drink is super hydrating and extra refreshing with the sweet watermelon and extra water added in.
Easy to make. With only four ingredients, one of which is water, this recipe is really easy to make. It does take about 8 minutes since you have to do a little blending and straining.
Perfect for summer. Not only is it refreshing, it's also sweet and bright colored. It's the ideal summer drink.
⭐ When to Make This Drink
This drink is perfect for any warm weather occasion including:
Picnics
Barbecues
Pool parties
Beach days
📖 Variations
If you're looking for a few ways to change this one up, try these ideas out:
Use a different sweetener. Instead of using sugar, you can use simple syrup, honey, agave or whatever your preferred sweetener is.
Make it more tart. Add a little extra lime juice if you want some more tartness added into this drink.
Rim the glass. Add a sugar or salt rim to the glass to capitalize on the watermelon flavor.
Make it in a large batch. Make this for a large party or crowd by multiplying the ingredients by five or six times and serving it in a pitcher.
Adjust the sweetness. You can scale up or down the amount of simple sugar you use to determine how sweet you want your drink.
🥄 Equipment
📋 Ingredients
1 cup Diced watermelon
1 teaspoon Lime juice
1 teaspoon Sugar
.75 cup Water
Ice
👩🏻‍🍳Instructions
Step one
Make sure you've got everything you need including blender, glass, watermelon, measuring cup, measuring spoons, lime juice, sugar and water.
Step two
Take your glass and fill it up with ice. It should be filled to the top.
Step three
Dice up some watermelon. Then, take a cup and place it into the blender.
Step four
Measure out 0.75 cups of water and add it to the blender.
Step Five
Measure one teaspoon of sugar and add it to the blender.
Step Six
Measure one teaspoon of lime juice and add it to the blender.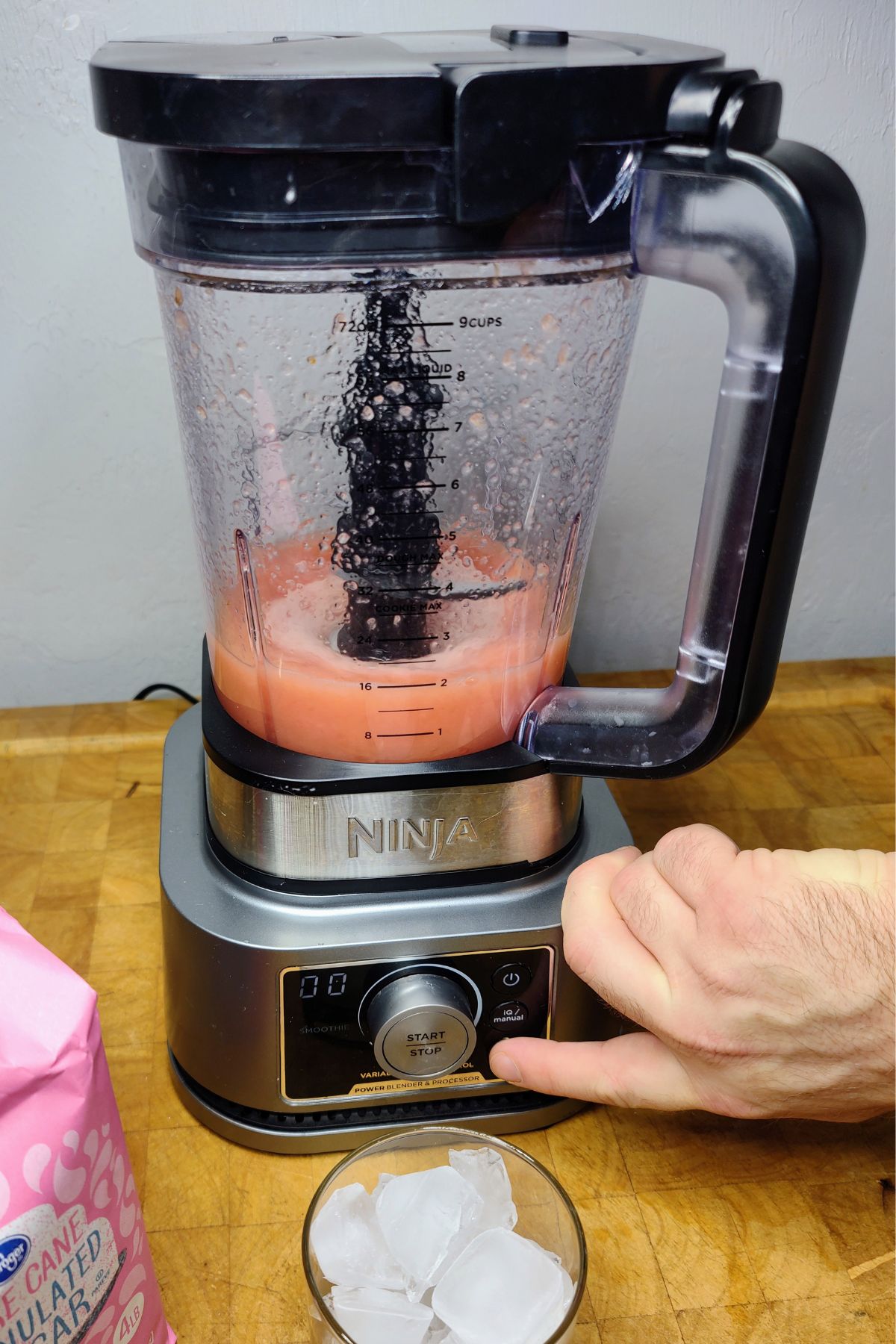 Step Seven
Next, you need to get everything blended together. Blender speeds and settings can vary. We like to use the smoothie setting on our blender for a few minutes.
You want to ensure that the watermelon is well chopped and blended with the other ingredients.
When you're finished blending, turn the blender off. Then, use a fine mesh strainer and pour the mixture from the blender through the strainer into the glass. You want to ensure that you're getting out any pieces or particles of watermelon.
Add a nice garnish the glass by cutting a small slice of watermelon with some rind still on it and place it on the rim.
Recipe
Print Recipe
Watermelon Agua Fresca
Equipment
jigger

Rocks glass

bar spoon

Blender
Ingredients
1

cup

Diced Watermelon

1

teaspoon

Lime Juice

1

teaspoon

Sugar

¾

cup

Water

Ice
Instructions
Start out by dicing up some watermelon. It should be in small square chunks.

Toss 1 cup of diced watermelon into the blender.

Add ¾ cup of water to the blender.

Add 1 teaspoon of sugar to the blender.

Turn the blender on high speed. Usually takes a minute or two, but blenders will vary. The mix should be well blended.

Turn the blender off and strain the liquid through a strainer to ensure no chunks of watermelon are left in it.

Add a handful of ice to your rocks glass.

Pour your strained liquid into the glass.

Measure out 1 teaspoon of lime juice and it to the glass.

Take the barspoon and stir your drink. Enjoy!
Notes
Variations:
Add a garnish – add a lime wedge or some mint leaves to the top of the drink.
Skip the sugar if you don't want an extra sweetener.
Use an alternative sweetener – honey, stevia, simple syrup are just a few options if you want to skip the sugar.