Occassional Cocktails may earn compensation from purchases made after clicking links on this page. Learn more Here.
Looking for a fruity twist on a minty classic? This strawberry mojito mocktail is just what you're looking for. It's a fruity and sweet blend mixed with minty goodness that will send you a way to a sunny paradise.
Jump to:
🍹 What is a Strawberry Mojito Mocktail?
A strawberry mojito mocktail is a pretty, pink combination of strawberry simple syrup, sparkling club soda mint leaves and lime juice. It's a refreshing and vibrant mocktail that is full of sweet strawberry flavor mingled with a fizzy mint.
This fun and easy mocktail is a flavored, non-alcoholic or virgin twist on the classic mojito cocktail. Mojitos are usually made with rum, lime juice, simple syrup and muddled mint leaves.
Like many other classic cocktails, mojitos can easily be turned into mocktails by removing the rum and adding club soda. This variation of the mojito mocktail ramps the flavor up even more by using a strawberry flavored simple syrup. There are other easy to make flavor variations such as a raspberry mojito mocktail or a mango mojito mocktail.
Need more reasons why you should try this recipe? Here are just a few:
It's refreshing. With its light and fizzy flavors, this is a refreshing mocktail perfect for sipping on warm days. It is flavorful yet not overpowering.
Pretty pink color. The strawberry syrup in this mocktail really lends to a beautiful pink color. Which makes it a nice eye catching drink to serve at events or even better for themed events that have pink as the color theme.
Anyone can drink it. Since this is a mocktail, it Is suitable for most anyone to consume. It can allow adults to have a fancy drink without any alcohol and it can allow kids to feel like they're getting a fancy drink too.
⭐ When to Make This Drink
This is a versatile drink perfect for serving at a wide range of different events. Here are just a few suggestions to consider:
Brunch
Afternoon sipping
Summer get togethers
Baby showers
📖 Variations
If you're interested in creating a few flavor modifications or, need some ingredient substitutions, here are a few things to try:
Use a flavored seltzer water. Instead of plain club soda, use a flavored seltzer water. Some flavors that might work well for this drink include lime or strawberry.
Use fresh strawberries. Instead of using strawberry simple syrup or in addition to, you can slice up one or two strawberries and muddle them together with the mint leaves. This will lead to a drink with little pieces of fresh strawberry in it creating an even more fresh fruit flavor.
Make it a slushie. For those extra warm or hot days, you can turn this into a frozen treat. Simply add some ice to your ingredients and blend them all together.
Make it for a crowd. Multiply your ingredients by six times and mix this one together in a pitcher or punch bowl.
Add more garnishes. Add a little more color to your drink and a little more garnish flavor by adding some fresh strawberries and/or a lime wedge to the rim as well.
Use a flavored soda. You can replace the club soda with a lemon lime soda or even ginger ale to add a little extra sweetness and spice.
🥄 Equipment
📋 Ingredients
5 to 10 Mint leaves
1 oz Lime juice
4 to 5 oz of Club soda
Ice
👩🏻‍🍳 Instructions
Step one
You want to start out by gathering everything together. This should include shaker and strainer, jigger, bars being, muddler, strawberry syrup, ice, highball glass, club soda, mint leaves and lime juice.
Step two
Fill the highball glass up to the brim with ice.
Step three
Take about 5 mint leaves and toss it into the bottom of the shaker.
Step four
Take 1 oz of strawberry syrup and toss it into the shaker with the mint.
Step Five
Take your muddler and carefully muddle them mint leaves together with the strawberry syrup. The key to muddling is to make sure that you press hard enough to release the juices in the mint leaves, but do not completely rip them apart.
Step Six
Take one ounce of lime juice and toss it into the shaker.
Then, grab a handful of ice and add it to the shaker as well.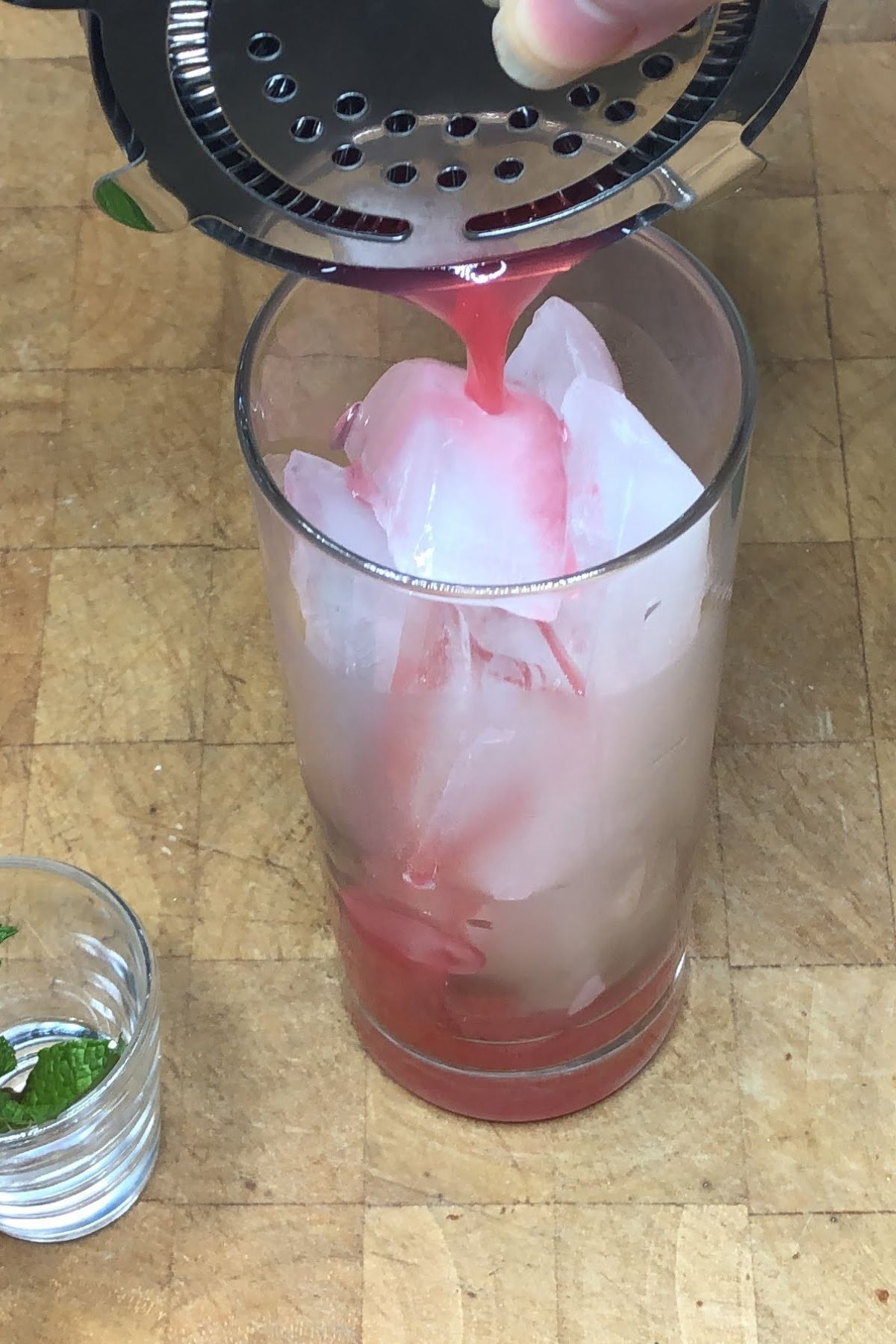 Step Seven
Pop the top over the shaker to cover it up. Then, shake it well. You should spend about 15 to 20 seconds shaking it or until it becomes cold to touch.
Remove the shaker top and place the Hawthorne strainer over top of the shaker to cover it. Then, strain your liquid from the shaker into the highball glass.
Step Eight
Take your club soda and pour it directly into the highball glass. You should top the glass off with the club soda. This will usually be around 4 to 5 oz.
Step Nine
Use the bar spoon to stir everything together well. Then, take a sprig of mint and add it to the top of the drink.
Recipe
Print Recipe
Strawberry Mojito Mocktail
Equipment
jigger

Hawthorne strainer

cocktail shaker

highball glass

Muddler
Ingredients
5 – 10

leaves

Mint

1

oz

Strawberry Simple Syrup

instructions below if you need to make it from scratch.

1

oz

Lime Juice

5

oz

Club Soda

Ice
Instructions
Strawberry simple syrup
*if you don't want to make this from scratch, see notes below for an alternate option.

Put a saucepan onto the stovetop at medium heat.

Add 1 cup of sliced strawberries to the pot.

Add 1 cup of sugar and 1 cup of water to the pot.

Heat for around 10 minutes, stirring occasionally.

Pull the mixture off the heat and strain it through a strainer to get the strawberry chunks out.
Strawberry Mojito Mocktail
Fill the highball glass to the top with ice.

Toss 5 – 10 mint leaves into a cocktail shaker.

Add 1 oz of strawberry simple syrup into the shaker.

Use the muddler to smush the mint leaves gently. They should not be completely torn apart. However, they should be smashed enough to release their juices.

Toss ice into the shaker.

Add 1 oz of lime juice to the shaker.

Put the shaker lid on and shake for about 15 seconds.

Take the shaker lid off and put the hawthorne strainer on the shaker.

Strain the mixture into the highball glass.

Take the jigger and measure 5 – 6 oz of club soda into the highball glass.

Pro tip: if you want to skip measuring the club soda, you can. Simply pour it straight into the glass topping the glass off.

Use the bar spoon, if desired, to give the drink a few good stirs.

Toss a few mint leaves on top as an optional garnish.
Notes
Strawberry simple syrup – if you don't have this already made, or don't have time to make it.  You can simply add 3 – 4 sliced strawberries and 1 oz of simple syrup into the shaker and muddle with the mint leaves.