Occassional Cocktails may earn compensation from purchases made after clicking links on this page. Learn more Here.
Does Gin and apple juice work? The short answer is yes! Gin and apple juice is an easy sipper that's perfect for any time of year.
What is a Gin and Apple Juice?
Gin and apple juice is a super easy cocktail to make. All you have to do is mix together apple juice and gin.
It's a great cocktail with its refreshing taste for the summer. And, with its Apple flavor it's also great for fall holidays.
Gin is a complex flavored liquor made from juniper berries. The juniper berries create a pine-like taste in the Gin. Other flavors that are afflicted in Gin tend to be a little bit of citrus a little bit of herbs and a little bitterness in the aftertaste.
Apple juice, of course, tastes well like apples. Some apple juice will have additional sugar added and some won't but essentially it's just a Sweet Apple flavor created from pressing the juice out of apples and removing their pulp.
When mixing gin and apple juice the resulting cocktail is crisp and sweet with a little bit of tang.
Apple juice actually makes a great mixer for other liquors as well. If you're looking for similarly tasting cocktails you can check out a vodka and apple juice or a rum and apple juice.
How to make this drink:
This cocktail is super simple to make. It just takes a couple of minutes to throw your ingredients together.
Equipment:
Ingredients:
2 oz Gin
4 oz Apple Juice
Cinnamon Stick
Ice
Lime Wedge
Instructions:
Step one
As you get started, you want to gather together your ingredients as well as your supplies.
Step two
Make sure that you have filled your highball glass completely to almost the top with ice.
Step three
There are a couple garnish choices for this cocktail. You can keep it simple with a lime wedge. Or you can add a few cinnamon sticks.
When doing cinnamon sticks all you have to do is simply place them in the side of your glass.
When doing a lime wedge you'll need to create the wedges. To do this, cut slices from your lime.
Then create a little divot between the peel and the pulp. Finally place the lime on the rim of your glass using the cut divot to hold it in place.
Step four
You can mix this drink in a cocktail shaker or straight in your highball glass. The instructions were providing here will be for a highball glass.
However, if you wish to use a cocktail shaker you do the measuring the same and simply dump your ingredients in the Shaker instead of the glass. Shake it well in your Shaker and then pour it into your glass.
Step Five
Grab your jigger and measure 2 oz of gin. Then, for your gym over your ice in your highball glass.
Now do the same with your Apple juice. Only, this time measure 4 oz of apple juice with your jigger and then add that to your gin and ice in your highball glass.
Step Six
Take your bar spoon and insert it into your glass. Carefully and gently stir your liquid together until it is thoroughly mixed.
Your cocktail is ready to enjoy!
Recipe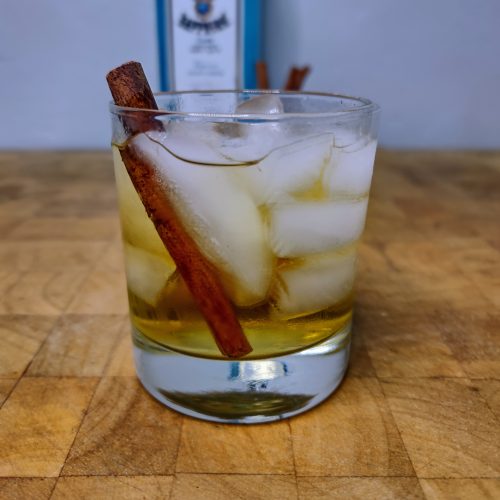 Print Recipe
Gin and Apple Juice
Equipment
Hawthorne strainer

cocktail shaker

Rocks glass or Highball Glass

bar spoon

jigger
Ingredients
2

oz

Gin

4

oz

Apple Juice

ice
Instructions
You can use either Rocks or Highball glass for this drink. Either one you use, fill it with ice.

You can mix this drink either with a bar spoon straight in the glass or with a cocktail shaker. If using a cocktail shaker, also fill that with ice.

Measure 2 oz of Gin and pour either into glass or cocktail shaker.

Measure 4 oz of apple juice and pour into same container as gin.

If using cocktail shaker: Place top on shaker, shake well (15 – 20 seconds). Remove top and cover shaker with Hawthorne strainer. Pour liquid into glass

If mixing straight in glass: use bar spoon to slowly and thoroughly mix the drink together.

Add a cinnamon stick or two as a garnish in the side of the glass – give them a swirl to get some cinnamon flavor into your drink.