Occassional Cocktails may earn compensation from purchases made after clicking links on this page. Learn more Here.
The snake bite drink is an easy to drink beer themed layered cocktail. If you are a beer fan this one is for you!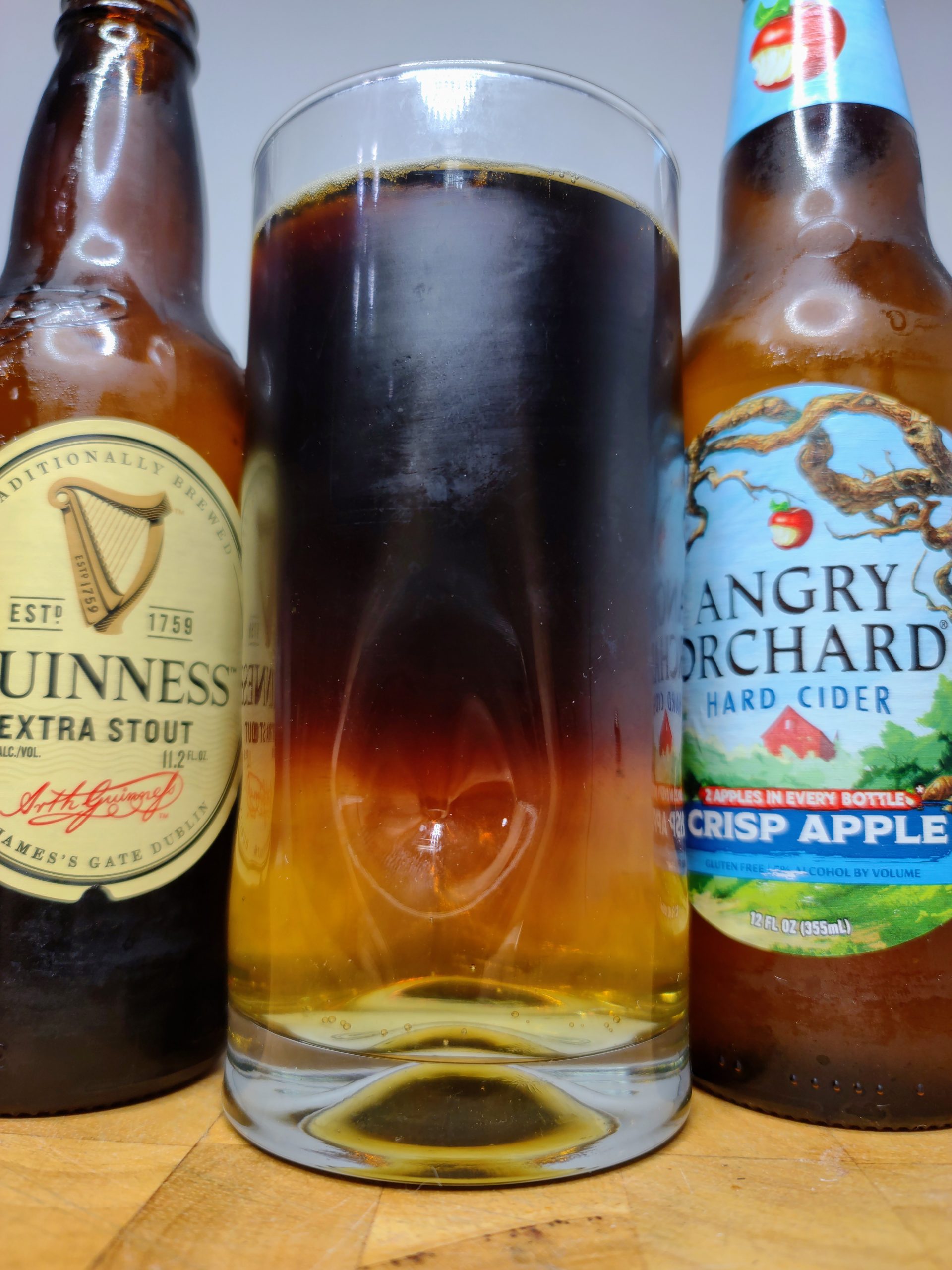 What is a snakebite drink?
A snake bite drink is a combination of lager or sometimes stout with hard apple cider. It has a strong yeasty beer flavor from the longest out combined with crisp apple note from the cider.
Honestly this drink is a super delicious, smooth easy sipper – even if you aren't usually a beer fan.
This cocktail is a layered cocktail meaning that one ingredient is smoothie poured on top of the other so you can clearly see each ingredient separate.
Layering is possible due to different densities in the liquids. But it must be done slowly so that you have a clear line between the two liquids.
This drink originated in the UK where they typically use lager in the drink. In the US, stout is often used in place of lager.
If you like ciders or stouts, you may like this lager and lime, applesauce shot, the redeye cocktail or the irish car bomb.
How to make this drink:
This drink is super easy to make it literally involves just pouring half a beer in a glass and then topping it up with another half a beer.
Equipment:
Ingredients:
4 – 6 oz hard apple cider
4 – 6 oz lager
Instructions:
Step one
As you get started you just want to make sure you have your pint glass your bar spoon your longer and your hard cider ready to go.
Step two
The first step is to pour half a bottle of hard Apple cider into your pint glass this is usually around 6 oz of liquid.
Step three
Next you want to take your bar spoon place it into the glass with the edge just above the hard apple cider and slowly pour around 6 oz of lager or Stout over the back of the bar spoon so that it layers on top of the side.
The best way to get a good layer is to make sure that you pour slowly and slowly raise your bar spoon as you go so that it does not mix.
Step four
Now your drink is ready to enjoy sit back and take a sip!
Recipe
Print Recipe
Snakebite Drink
Ingredients
4 – 6

oz

lager

(you can also use stout)

4 – 6

oz

hard apple cider
Instructions
Pour half a bottle of hard apple cider into your pint glass

Place your bar spoon upside down into the glass with it just above the top of the cider

Slowly pour half a bottle of lager (or stout) over the back of the bar spoon letting it sit on top of the cider.