Occassional Cocktails may earn compensation from purchases made after clicking links on this page. Learn more Here.
Layered shots are fun and colorful edible works of art that are full of vibrant colors and flavors. From patriotic red, white and blue to swampy greens and yellows. You will be able to find a colorful shot that will fit for any event or occasion.
Jump to:
🥄 How to Layer a Shot (or Cocktail)
Layering a shot (or full cocktail) is relatively easy once you know a few basics and get a little practice in. A layered shot usually looks super fancy as you can see each individual ingredient sitting one on top of the other. It creates a really stunning visual that looks like it is probably really difficult to do.
There are definitely a few tips and tricks that you should follow to get really crisp and cleanly layered shots. But with a little practice, you should be able to layer them super well.
Liquid Densities
Before you get started layering any shots, you need to understand how the layering works. Layering is made possible by the fact that liquids have different densities.
The heavier, or more dense, a liquid is it will sit at the bottom of a glass or sink to the bottom of the other liquids. The lighter, or less dense, a liquid is it will tend to float on top of other more dense liquids.
So, you should get a general idea of different densities of commonly used liquors and liqueurs. Do note that differences in brands and flavorings can change the densities. So, these are just some general guidelines. And, usually, you will be following a recipe that tells you what order to layer anyway.
| Liquor/Liqueur | Approximate Density |
| --- | --- |
| Grenadine | 1.18 |
| Kahlua/Coffee Liqueur | 1.13-1.16 |
| Blue curacao | 1.10 |
| Frangelico & Amaretto | 1.08 |
| Peach Schnapps | 1.06 |
| Midori & Baileys | 1.05 |
| Cointreau & Triple Sec | 1.03-1.04 |
| Jager | 1.01 |
| Vodka/Whiskey/Rum/Tequila | .94 – .97 |
| 151 Rum | .94 |
Step-by-Step Instructions
Now that you have a general understanding of what layered shots are and how they work, we can review the step-by-step instructions to get the perfect layer.
Determine the liquid densities. Make sure you are either following a proven recipe using the same ingredients, or that you know the specific gravity/liquid densities of the ingredients you want to use. Make sure they will be going in the glass heaviest to lightest.
Measure and Pour. The first layer is the easiest as you just have to measure the ingredient and toss it into the bottom of the shot or cocktail glass.
Slowly layer. As you add second, third or additional ingredients you need to go slowly so that they don't mix with the ingredients already in the glass. There are a few tips to help them to go into the glass as slowly as possible:

Use a bar spoon. Place a bar spoon upside down in the glass just above the last liquid added. Pour your next ingredient in over the back of the bar spoon. This will help to break the fall of the liquid into the glass allowing it to sit lightly on top of the ingredients already in the glass.
Make sure to move the spoon up as the liquid fills up the glass, if the spoon is actually touching, or into the prior liquid it can cause the ingredients to mix.
Use pour spouts. Pour spouts can take a little time to get used to using. But, once you have them down pat, they can really help when it comes to layering. They create a steady, but slow stream of liquid that's much easier to control that pour straight from the bottle.
🥃 Layered Shot Recipes
Here are some of the very best, most colorful and delicious layered shot recipes.
Minderaser
This fun layered shot is simply vodka, kahlua and club soda stacked on top of one another. It can be made as a shot or cocktail and it typically taken by drinking it through a straw.
Check out this recipe
Quick Fuck Shot
This shot is an interesting mix of bright green, brown and creamy colors. It is sweet and creamy with a little touch of melon flavor.
Check out this recipe
Traffic Light Shot
This fun layered shot is pretty easy to make. It consists of a bottom layer of grenadine, a middle layer of creme de banana and a top layer of midori.
The shot is a pretty red, yellow and green color and is sweet, creamy and fruity in flavor.
Check out this recipe
Squashed Frog Shot
This one is bright green and bright red with a blob of cream floating it it which resembles a squashed frog. It is made from Midori, Advocaat and Grenadine.
Check out this recipe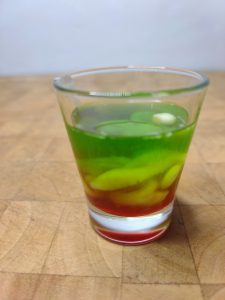 b-52 Shot
One of the less brightly colored drinks on this list, but super delicious. This is a bottom layer of Kahlua, middle layer of Irish cream and top layer of Grand Marnier. It has a sweet, creamy orange flavor.
Check out this recipe
Duck Fart Shot
This is another kind of dark colored shot as it is varying colors of brown. However, the flavor makes up for the lack of color. It is sweet with hints of chocolate, caramel and coffee.
It is a bottom layer of Kahlua, middle layer of Irish cream and top layer of Crown Royal.
Check out this recipe
Sexy Alligator Shot
This one kind of resembles swamp water with various shades of greens and browns. Despite it's darker colors it is sweet and tropical in flavor with some thick herbal tones.
You need jager, midori and chambord for this one.
Check out this recipe
Bazooka Joe Shot
Blue, yellow and creamy grey colors in this shot. When combined tastes just like the bubble gum of the same name. You'll need blue curacao, banana cream liqueur and irish cream for this one.
Check out this recipe
Alien Brain Hemorrhage
Whip this one up for your next Halloween party or thriller movie watching party. Its bright blue and bright red with a creamy blob floating around that resembles a brain in a jar.
Check out this recipe
Mini Beer Shot
This super cute shot doesn't actually have any beer in it at all. But it sure does like like a crisp, cool beer with a nice head of foam on top. Just a little cream and Licor 43 and you'll have this one ready.
Check out this recipe
Rattlesnake Shot
Kahlua, Irish Cream and White Creme de Cacao leaves you with a drink that looks kind of like a rattler. But this one is nice instead of deadly as it is filled with sweet, creamy chocolate and coffee flavors.
Check out this recipe
Layered Cocktails
Flaming Lamborghini Drink
Layered and Lit on fire?! This one has a little of everything. You'll need Kahlua and Sambuca for the layered drink and then shots of irish cream and blue curacao to chase it down.
Check out this recipe
Pineapple Upside Down Cake Martini
Need a dessert drink? This one fits the bill. With pretty yellow and red colors. This one tastes just like cake in a martini glass.
Check out this recipe
Snakebite Drink
Another snake themed drink on the list. This one is actually just lager and apple cider in a collins glass. It's a nice way to fancy up your standard beer.
Check out this recipe
💭 Layered Shot FAQ
What is a layered shot?
A layered shot is essentially just a shot that has the liquor or liqueurs layered one on top of the other.
What is the basic rule to layering drinks?
The basic rule to layering drinks is that you have to put the heaviest or most dense liquid on the bottom and the lightest one on top.
Are you supposed to stir layered drinks?
No, layered drinks should not be stirred or shaken.