Occassional Cocktails may earn compensation from purchases made after clicking links on this page. Learn more Here.
The Irish Car Bomb is a bomb cocktail that tastes similar to a light chocolate milkshake. But do make sure to chug this one fast or the Irish Cream can start to curdle!
What is an Irish Car Bomb?
An Irish Car Bomb is made from Irish Whiskey, Irish Cream and Guinness, hence the Irish name. However, the cocktail name can be taken offensively due to the actual car bombings that were experienced in Ireland. So, you may want to refer to it as one of it's other names like the Irish Slammer.
This bomb shot, like the cherry bomb, chuck norris shot, cactus cooler and other bombs, is made by dropping a shot glass of liquor into a highball glass which also has liquid in it. In this case, the shot glass contains Irish Whiskey layered with Irish Cream. And, the highball glass contains Guinness Stout.
Go crazy and combine this with a Jager bomb for a bear claw cocktail.
Irish Whiskey is a smooth and flavorful type of Whiskey. Jameson's is our favorite. It is a triple distilled liquor which takes away practically all the bite of the alcohol and just leaves a smooth drink. It is made from barley and has a light flavor with hints of vanilla.
Irish cream is, as you may expect from its name, a creamy liqueur. It has hints of chocolate in it's flavor as well.
Guinness is a thick stout. It is easy to drink, but heavy at the same time. It has a slightly sweet, yet yeasty flavor – it is kind of like drinking a delicious slice of bread. If you like Guinness, you might also like the Snakebite Drink.
When you combine all of these flavors together, you get almost a chocolate milkshake type flavor.
Looking for other Drinks with Irish Names? Try the Irish Trash Can, Irish Wake Drink or the Irish Breakfast shot.
How to make this drink:
This bomb drink like most bomb drinks is fairly easy to make. You do have to do a little bit of layering, but it's not too difficult to do.
Equipment:
Ingredients:
.5 oz Irish cream
.5 oz Irish whiskey (we like Jameson's)
6 oz of Guinness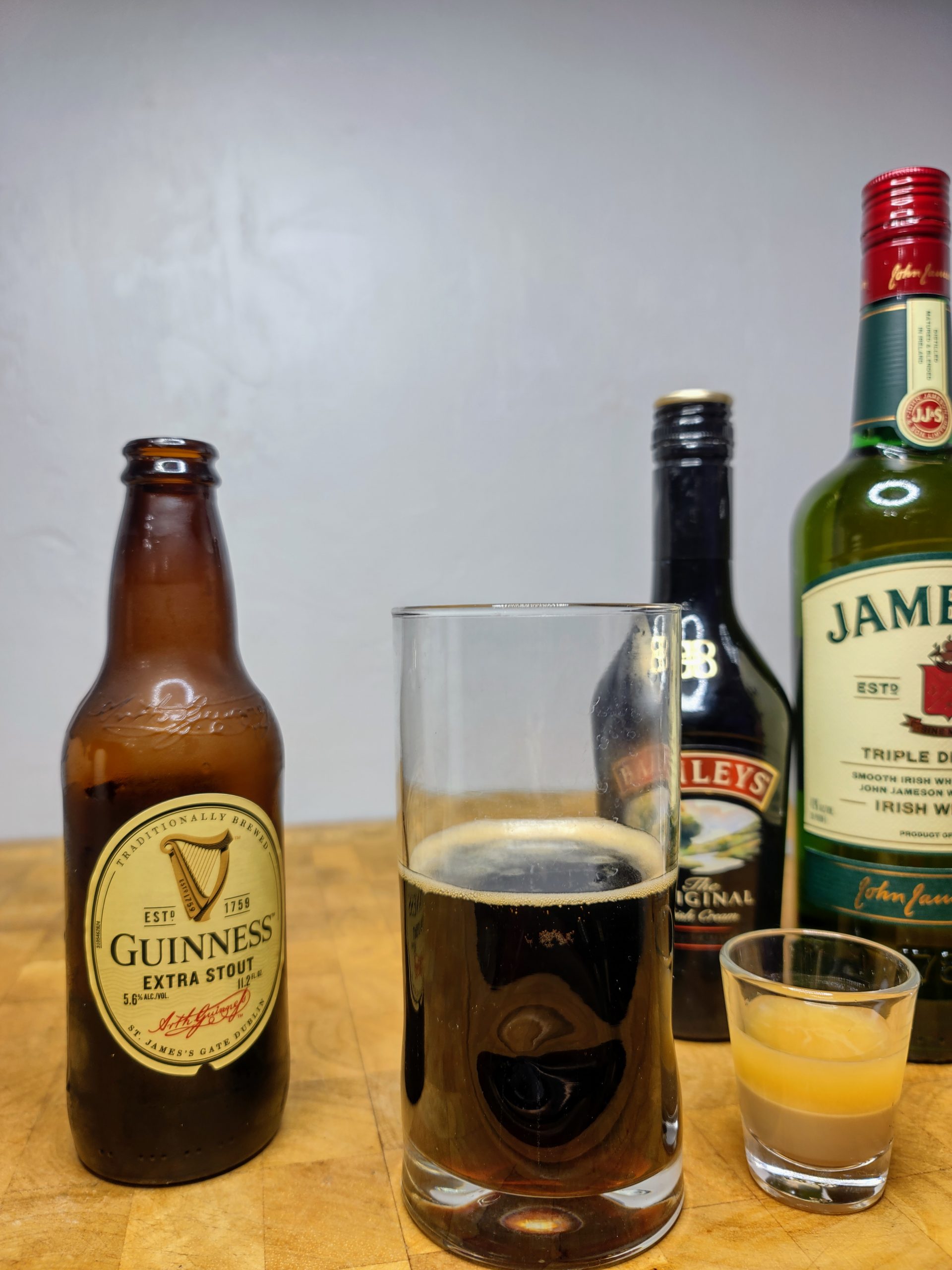 Instructions:
Step one
Before you get started gather together your highball glass, shot glass, bar spoon and ingredients.
Step two
Grab your Irish cream and measure out half an ounce into your shot glass with your jigger.
Step three
Next, you're going to layer your Irish whiskey on top of your Irish cream in your shot glass.
To do this, measure half an ounce of the Irish whiskey into your jigger.
Then, take your bar spoon and place it in your shot glass upside down just above the top of the Irish cream.
Very slowly pour the Irish whiskey over the back of the bar spoon so that it layers on top of the Irish cream.
Step four
Now, pour half a bottle of Guinness into your pint glass. This should be around 5 to 6 oz.
Step Five
Next we're going to be the bomb part of the shot. Take your shot glass full of layered Irish cream and Irish whiskey drop it into your pint glass with your Guinness grab your glass and quickly chug all of the liquid.
You have to make sure to take this shot quickly or the Irish Cream can curdle when it mixes with the Guinness.
Recipe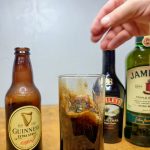 Print Recipe
Irish Car Bomb
Equipment
pint glass

jigger

bar spoon

shot glass
Ingredients
.5

oz

.5 oz Irish cream .5 oz Irish whiskey (we like Jameson's)Ice6 oz of Guinness

.5

oz

Irish Whiskey

(we like Jameson's)

6

oz

Guinness
Instructions
Grab your pint glass and pour around 6 oz of Guinness into it.

Grab your shot glass, jigger and Irish Whiskey. Use your jigger to measure .5 oz of Whiskey and pour into your shot glass.

Use your jigger to measure .5 oz of Irish Cream.

Place your bar spoon upside down just above the whiskey in the shot glass and slowly pour the Irish cream over the back of the spoon. It should sit on top of the whiskey.

Take your shot glass and drop it into the pint glass with the Guinness

Quickly drink all of the liquid.