Occassional Cocktails may earn compensation from purchases made after clicking links on this page. Learn more Here.
This vibrant red and refreshing drink is full of sweet cherry and tangy lime. Stir up a cherry limeade next time you're looking for a refreshing sipper perfect for warm weather. Grab your glass kick back and enjoy the flavors of the sweet and tangy goodness.
Jump to:
🍹 What is a Cherry Limeade?
A cherry limeade is a brilliant red beverage that is a combination of lime juice, water and cherry simple syrup. This easy to make drink has a light and refreshing citrus tang that is melted into a burst of sweet cherry.
There's nothing quite more refreshing than easy to make flavored limeades or flavored lemonades. Some some are favorites include sparkling lemonade, pickle lemonade, raspberry lemonade and strawberry lemonade. And now you can add this super sweet and delicious cherry limeade to the list.
Here are just a handful of reasons why this recipe should be added to your must make list:
It's refreshing. This is a super refreshing drink with its citrus tang and sweet cherry flavor. It's perfect to serve as a thirst quencher on hot summer days.
Super customizable. There are a lot of different small changes you can make to this drink to customize it to the exactly how you want. Including making it as a sonic copycat drink just by adding lemon lime soda.
Super quick. Since you only need three ingredients to make this you can make it super fast. Simply pour your ingredients into a glass and stir them all together. If you have 3 minutes that's more than enough time.
⭐ When to Make This Drink
This is a versatile drink that can be served at most any occasion. Here are a few times you might think about serving it up:
Barbecues and cookouts
Brunch
Birthday parties
4th of July
📖 Variations
There's almost an endless list of ways to have slight flavor variations or ingredient changes for this drink. Here are just a few you might try:
Make a Sonic copycat cherry limeade. Substitute lemon lime soda for the water and you will have a copycat drink for much cheaper than going through the drive-thru.
Make it frozen. Add your ice and all the other ingredients into your blender and blend it up. Then you'll have a slushy version of this drink which is extra refreshing and cold.
Use limeade concentrate. Substitute in limeade concentrate for the lime juice for an extra tart lime flavor.
Use maraschino cherry syrup. Substitute the actual syrup out of the jar of maraschino cherries for the cherry simple syrup.
Make it bubbly. Substitute in club soda for the regular water if you want a fizzy beverage. You could even use a flavored Seltzer water such as cherry flavored or lime-flavored.
Make it for a crowd. Multiply your ingredients by five or six times and stir this together in a pitcher to serve it at a large gathering.
Use fresh cherries. Instead of using a pre-made cherry syrup you can use fresh cherries. Simply take a half a cup to a cup and blend them together in the blender to make it a puree. Then, strain the puree to get out any chunks and add that to your drink.
🥄 Equipment
📋 Ingredients
1.5 oz Lime juice
5 oz Water
2 oz Cherry simple syrup (1 cup of cherries, 1 cup of water, 1 cup of sugar)
(optional garnish) maraschino cherry and/or lime wedge
Ice
👩🏻‍🍳 Instructions
Step one
Gather everything up including water, lime juice, cherry syrup, highball glass, bar spoon, ice and jigger.
Step two
Take the ice and use it to fill the glass all the way up to the top.
Step three
Take 2 oz of cherry simple syrup and pour it directly into the glass over the ice.
Note: for measurement amounts in tablespoons in cups see the recipe card below.
If you're planning to make your own cherry syrup we have a full detailed post. Or, you can see an overview in the recipe card below.
Step four
Take 1.5 oz of lime juice and pour directly into the glass with the ice and cherry syrup.
Step Five
Take the water and pour it directly into the glass until the glass is filled to the top. Depending on your glass this will usually be around 5 oz.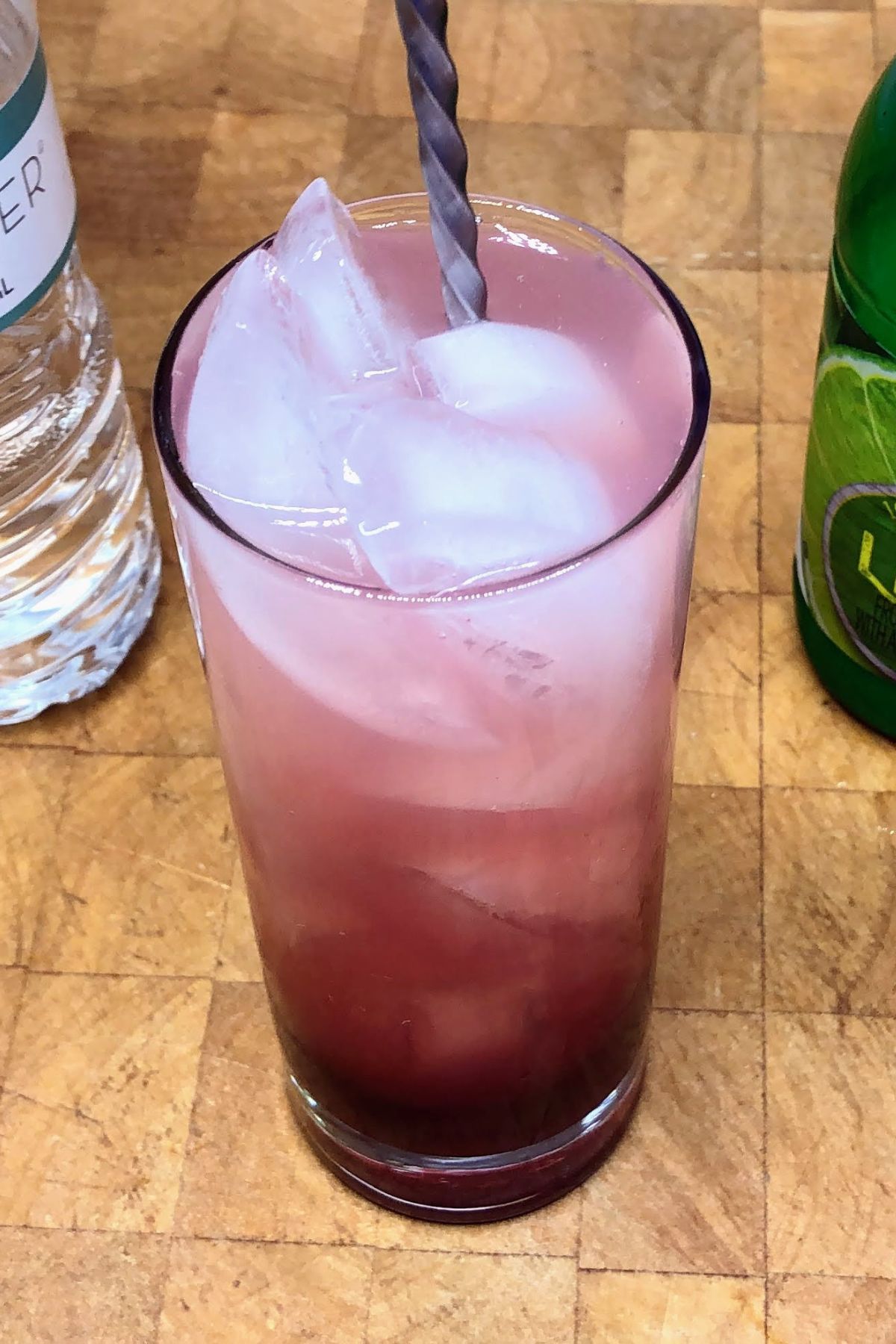 Step Six
Use the bar spoon to stir everything well. You want to make sure everything is thoroughly mixed together.
Recipe
Print Recipe
Cherry Limeade
Equipment
jigger

bar spoon

Hawthorne strainer

optional

highball glass
Ingredients
1.5

oz

Lime Juice

5

oz

Water

2

oz

Cherry simple syrup

instructions below if you need to make from scratch: 1 cup cherries, 1 cup water, 1 cup sugar

Ice
Instructions
Cherry Simple Syrup
Add 1 cup of cherries to the pot.

Add 1 cup of sugar to the pot.

Add 1 cup of water to the pot.

Place the pot on medium high heat on the stovetop and simmer for 5 – 10 minutes.

You should stir frequently while heating.

Take the pot off the heat and strain the syrup through a strainer to remove any large cherry pieces left.

Place the syrup in the refrigerator to chill.
Cherry Limeade
Fill up a highball glass with ice.

Use the jigger to measure 1.5 oz of lime juice. Toss that into the glass.

*see notes below for amounts in tbs and cups if you want to use those measurements instead of ounces.

Use the jigger to measure 2 oz of cherry simple syrup. Toss that into the glass.

Use the jigger to measure 5 – 6 oz of water. Toss that into the glass.

Pro tip: instead of using a jigger to measure this out, you can just pour the water straight into the glass to top it off if wanted.

Grab the bar spoon and give everything a few good stirs to mix it all together.

If you want to add an optional garnish – toss a maraschino cherry and/or lime wedge on the top of the drink.
Notes
Alternative measurements:
If you don't have a jigger to easily measure in ounces, use the following – 
2.75 tbs of lime juice
.6 cups of water
3 tbs of cherry simple syrup
Variations:
If you don't want to make the cherry simple syrup, then you can muddle a few cherries in with simple syrup (without heating) in a cocktail shaker before adding other ingredients.
Add some lemon-lime soda for a Sonic copycat cherry limeade.
Instead of building it in the glass, build the whole drink in a cocktail shaker and shake it instead of stirring it.