Occassional Cocktails may earn compensation from purchases made after clicking links on this page. Learn more Here.
If you love Chocolate and Peppermint then you don't want to miss this chocolate peppermint martini. Really could anything be more decadent?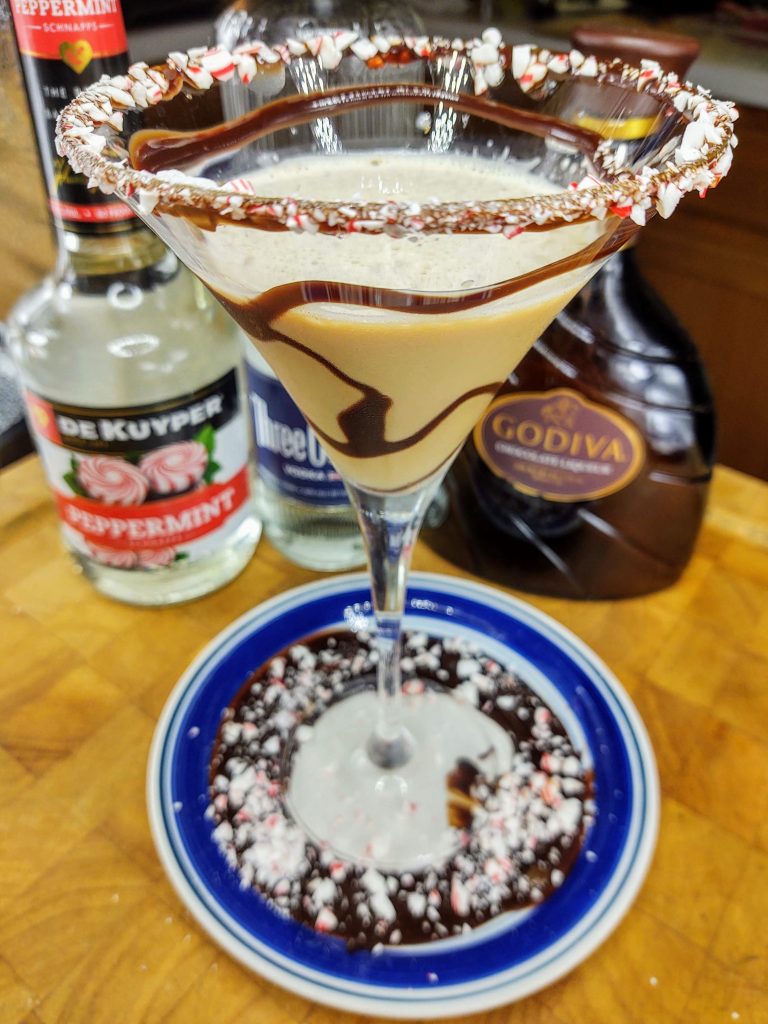 Sometimes you want a simple cocktail like a vodka soda, and sometimes you want your cocktail to basically be your dessert. That's where this chocolate peppermint Martini comes into play.
What is a Chocolate Peppermint Martini?
This cocktail is super sweet and delicious. It is a thick and creamy dessert drink. It is made with creamy chocolate liqueur and peppermint liqueur for the perfect combination of chocolate and minty flavor.
In addition to the two liqueur's used, vodka is also in this cocktail. Vodka is a light and neutral tasting liquor. That makes it perfect for these creative cocktails like this and also the chocolate martini. Since the vodka is not an overwhelming flavor, the other flavors can really dominate the drink.
Unlike some of the lighter martinis, like the lemon drop martini, this drink is thick and heavy. It is definitely a dessert drink.
It's perfect for the holidays. Although it is a little more detailed of a drink to make, it's definitely worth the work to serve at any get-together or party as it will be the center of attention and the talk of your guests. You could serve this cocktail instead of dessert, in fact!
Want to leave the chocolate out? Try this peppermint martini instead.
Ingredients & Instructions
Although this is an elaborate drink, it is not difficult to make at all. Three ingredients and you're good to go!
Step One
Take your martini glass and place it in the freezer to chill.
Step Two
Add vodka, Godiva chocolate liqueur and peppermint schnapps to your shaker that is filled with ice.
Step Three
Shake all the liquid ingredients in your shaker until the outside of the shaker is cold to the touch.
Step Four
Get the chilled martini glass out of the freezer. Take your chocolate syrup and squeeze it in circles into the inside of your glass.
Step Five
Squirt chocolate syrup onto a saucer. Place the martini glass upside down so that the rim is in the chocolate syrup and move back and forth until the rim is coated.
Step Six
Now place the glass upside down on a saucer filled with crumbled candy cane. Again move it around until the rim is coated in the candy cane crumbles.
Step Seven
Open your shaker, place a Hawthorn strainer on top and pour your drink into your garnished martini glass and enjoy.
Recipe
Print Recipe
Chocolate Peppermint Martini
Equipment
Martini glass

Mixing tumbler

Martini/bar strainer
Ingredients
2

oz

Godiva Chocolate Liqueur

1 ½

Peppermint Schnapps

¾

Vodka

1

candy cane

Chocolate syrup
Instructions
Place martini glass in freezer

Fill tumbler with ice

Pour in 2 oz Godiva Chocolate Liqueur

1 ⅓ oz Peppermint Schnapps

place lid on tumbler and shake until outside of tumbler frosts over

Put chocolate syrup on small saucer and dip the rim of your martini glass in it

Crush candy cane into small pieces on a second saucer

dip chocolate rimmed glass in crunched candy cane

Take chocolate syrup bottle and squirt along inside of martini glass. Twirl glass to get an even spread.

Place martini/bar strainer in tumbler

Pour drink into martini glass

Enjoy!
For more great cocktails
[pt_view id="146b5bcwjk"]