Occassional Cocktails may earn compensation from purchases made after clicking links on this page. Learn more Here.
If you love donuts and especially jelly filled donuts and you'll love this jam donut shot. This one is so easy to make. It's a layered dessert shot that is super sweet and fruity.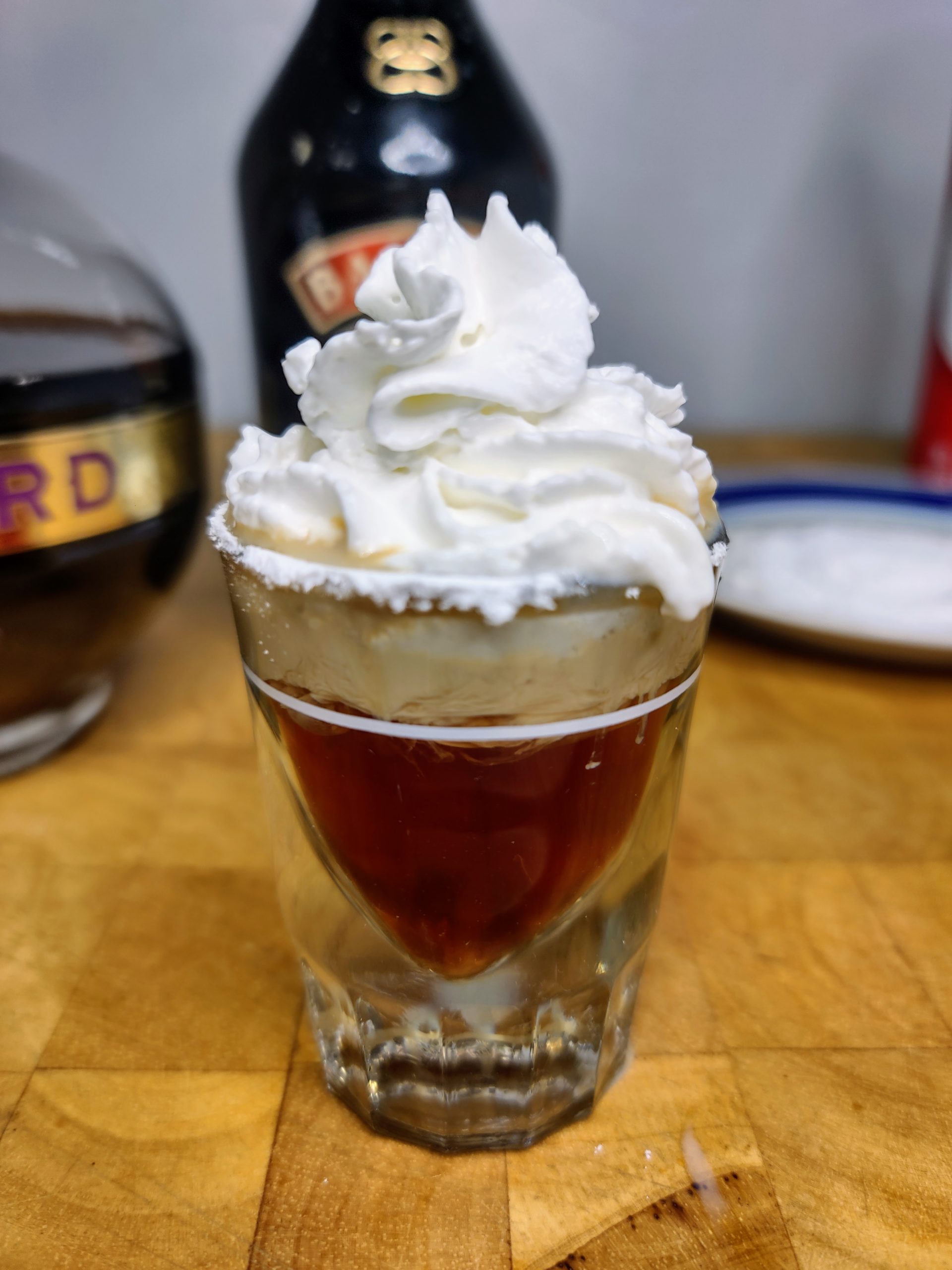 What is a Jam Donut Shot?
A jam donut shop literally tastes like a jelly donut turned into liquid. It is sweet, decadent and fruity. You only need two ingredients for this cocktail, Chambord and Bailey's Irish cream. The garnish is whipped cream and powdered sugar and does help to add to the Sweet creamy taste.
Chambord is a raspberry flavored liqueur. It's syrupy and sweet and very fruity. If you don't love chambord, then you could use another fruity liqueur for this one like a strawberry liqueur.
Baileys Irish cream is a super creamy whiskey combination. It has notes of vanilla and chocolate in it.
Chambord or any alcohol for that matter can have a bit of a bitter aftertaste. The garnish of whipped cream and powdered sugar helps to smooth that out and add to sweet dessert flavor in the shot.
Due to the decadence in this shot it is considered a dessert shot. It makes for a great after dinner shot at any get together. It sure to be hit with your guests with its layered, colorful appearance.
Layering shots can seem a little bit difficult, however, it's really not bad once you get the hang of it. All you need is a steady hand.
A few other layered dessert shots you may like are the French Kiss shot or the screaming orgasm shot
How to make this drink:
With two ingredients and two garnishes the shot will be ready to go. You do have to take a little extra time to get the layering just right but it'll be worth it.
Equipment:
Ingredients:
1 oz Chambord
1 oz Irish Cream
Powdered sugar
Whipped cream
Instructions:
Step one
Grab up your shot glass, bar spoon, jigger, whipped cream, powdered sugar, saucer, Chambord and Irish cream.
Step two
We're going to start by doing the rim of the shot glass in powdered sugar. In order to get the sugar to stick you'll need to get the rim of the glass wet. The best way to do this is to take a little bit of ice and rub it around the rim of the glass.
Next put a thin layer of powdered sugar on your saucer. Then take your wet rimmed glass and place it rim down on the sugar in the saucer and roll it back and forth until the rim is covered with powdered sugar.
Step three
Next, grab your jigger and your chambord. Measure out 1 oz of Chambord and pour that into the bottom of your shot glass.
Step four
Now, take your jigger and measure 1 oz of Baileys Irish cream. We're going to layer the Irish cream on top of the chambord.
To do this, take your bar spoon and turn it upside down in your shot glass just above the top of the chambord. Then, slowly for the Irish cream over the back of the bar spoon into the shot glass. It should lay on top of the chambord.
The key to getting a good layer is to make sure that you don't touch the liquid with your shot glass and also make sure that you keep a slow steady hand so that none of the Irish cream pours too fast or hard into the glass.
Step Five
Now we want to top this off with some whipped cream. Take your whipped cream and slowly add a large dollop to the top of your shot. Make sure to not put it in too fast or hard or you may disrupt your layering.
Your shot is ready to go. Kick it back and enjoy!
Recipe
Print Recipe
Jam Donut Shot
Equipment
jigger

bar spoon

shot glass

Saucer
Ingredients
1

oz

Chambord

1

oz

Irish Cream

Powdered Sugar

Whipped Cream
Instructions
Grab your saucer and add a little layer of powdered sugar to it.

Grab your shot glass and wet the rim by running a wet cloth or piece of ice on it.

Take the shot glass and place it rim down into the powdered sugar. Roll it back and forth until the rim is coated in sugar.

Grab your jigger and Chambord. Measure 1 oz os Chambord and pour that into the bottom of your shot glass.

Grab your Irish cream. Measure 1 oz of Irish cream.

Grab your bar spoon and place it upside down in your shot glass above the Chambord. Slowly pour the Irish cream over the bar spoon and it should lay on top of the Chambord.

Slowly add a large dollop of whipped cream on top of the Irish Cream.

Knock your shot back and enjoy!