Occassional Cocktails may earn compensation from purchases made after clicking links on this page. Learn more Here.
Get ready to ignite your taste buds with an explosion of flavor as we dive right into the best bomb shots. These explosive flavor fusions are the perfect drink to serve up at your next raucous celebration or festivity. Get ready to drop, drink and delight with these fun shots.
Jump to:
What are Bomb Shot Cocktails?
Bomb shots are also sometimes called drop shots. They basically consist of a shot glass filled with a liquor (or sometimes liqueur) that is then dropped into a highball or Collins glass that is filled halfway with beer or energy drink. If it is dropped into a pint glass, then it is called a Depth Charge instead.
Occasionally the shot glass or the Collins glass will have more than one ingredient added into it. But the shot glass is almost always just liquor and/or liqueur. While the Collins glass is almost always a beer, energy drink, soda or juice (known as a mixer).
Once you have dropped the shot glass in, you chug the entire drink all together as fast as you can. These make great additions to parties if you are looking for an action packed shot.
The Best Bomb Shots
There are a ton of different bomb shots. Some are super easy with only two ingredients, while others are more complex with multiple ingredients and layering required. Here are some of the very best ones you will definitely want to try.
Gladiator Shot
Citrus, caramel and a little touch of nuttiness. This shot has a light and delicious flavor. Simply add southern comfort and amaretto into a shot glass and drop it into a collins glass with OJ and Sprite.
Check out this recipe
Glitter Bomb Drink
Glittery and delicious. This one has a cinnamon flavor combined with a little citrus tang. It's just an easy combination of Goldschlager and red bull.
Check out this recipe
Florida Tracksuit
Raspberry liqueur, orange vodka and red bull all smashed together into a glass. This one is a little sweet, a little tart, a little fizzy and a lot yummy.
Check out this recipe
Dr. Pepper Bomb Shot
If you'd like to have a drink that tastes just like Dr. Pepper, but somehow doesn't have any in it check this one out. A super easy combination of just three ingredients: Amaretto , beer and Coke.
Check out this recipe
Chuck Norris Shot
This is certainly a kick butt shot. It is an unique mixture of sweet cherry and a kick of spice. Just combine cherry vodka, grenadine, red bull and some hot sauce.
Check out this recipe
Cactus Cooler Shot
This one, as the name may imply, is refreshing lightly fruity and sweet. It's a nice change to some of the other heavier bomb shots.
You'll need mandarin vodka, peach schnapps, OJ and red bull.
Check out this recipe
Irish Car Bomb
Sort of like a light chocolate milkshake, this thick and flavorful shot is easy to make and super yummy. Its a combination of Irish whiskey, irish cream and guiness.
Check out this recipe
Skittle Bomb
You wouldn't think these ingredients together would taste like Skittles, but they sure do! You only need two ingredients for this one. Cointreau and red bull and you're good to go.
Check out this recipe
Cherry Bomb Shot
This is a sweet kind of cherry flavored drink. You'll add red bull and a dash of grenadine into a collins glass. Then, toss a shot glass of cherry vodka into it.
Check out this recipe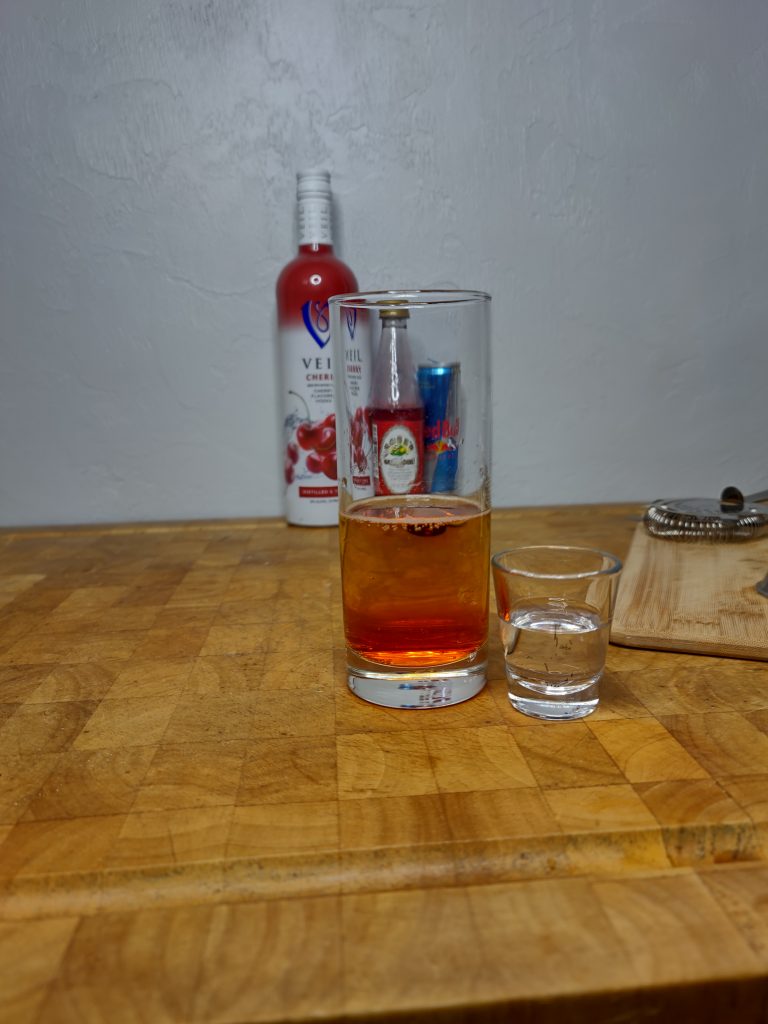 Vegas Bomb
What happens in vegas stays in vegas, or so they say. This one actually has quite a few ingredients in the shot glass: cranberry juice, peach schnapps, coconut rum and crown royal.
Check out this recipe
Uppercut Shot
This is a bit different from the other shots on the list as you don't drop the shot into a collins or highball glass. It is a little more tame. This is a half or a rocks glass worth of orange juice with a shot glass of amaretto and vodka set inside of it.
Check out this recipe