Occassional Cocktails may earn compensation from purchases made after clicking links on this page. Learn more Here.
The purple rain drink is a deep bright purple color which makes it perfect for halloween. However, the dark color has a surprisingly refreshing flavor which also makes it great as a summertime sipper.
What is a Purple Rain drink?
A purple rain cocktail is a bright purple colored drink that has a refreshing taste almost identical to pink or strawberry lemonade. This cocktail just needs a few simple ingredients like grenadine, Blue Curacao, vodka and lemonade.
The sweet, citrusy lemon flavor from the lemonade is definitely the highlight of this drink. Blue Curacao has a little taste of orange and sweet citrus as well and that blends perfectly with lemonade.
Grenadine is a bright red sweet syrup made from pomegranates. Though most people feel it has almost a cherry flavor.
Vodka which is known to be a virtually tasteless alcohol except for the bite of the alcohol on the tail end combines almost flawlessly in this drink simply contributing a little bit of a spiked bite as it goes down.
A few similar drinks are: Grape Ape Shot, Purple Motherfucker Shot, Vodka and Lemonade and the drunk witch cocktail.
How to make this drink:
With four simple ingredients and a super simple lemon wedge with garnish this cocktail is easy to whip up anytime. It's also equally easy to make in bulk just by multiplying the ingredient amounts by three or four times.
Equipment:
Ingredients:
1.5 oz Vodka
1 oz Blue Curacao
2.5 oz Lemonade
.5 oz Grenadine
Ice
Lemon Slice
Instructions:
Step one
As you get started make sure you have all your equipment gathered. Get together you are Hawthorne strainer, shaker, jigger and rocks glass.
Also gather your ingredients which are vodka, lemonade, Blue Curacao and grenadine.
Step two
If you choose to add a lemon wedge or slice as your garnish. Go ahead and grab a lemon. Cut it into slices or wedges. And then use your knife to cut a small notch between the pulp and the peel and use that notch to secure your lemon on the rim of your glass.
Step three
Grab up some ice and fill both your glass as well as your Shaker to the top with it.
Step four
Measure out 2.5 oz of lemonade with your jigger and add that into your shaker.
Step Five
Measure out 1 and ½ oz of vodka with your jigger and add that into your Shaker with your ice and lemonade.
Step Six
Measure out 1 oz of blue Curacao with your jigger and add that to your Shaker with your ice, vodka and lemonade.
Step Seven
Finally, measure half an ounce of grenadine and add that into your Shaker with all your other ingredients.
Cover your Shaker with its top. And then shake well for 15 or 20 seconds.
Step Eight
Take the top from your Shaker and then put the Hawthorne strainer over your shaker. Then pour your drink from your Shaker into your glass.
Your drink is ready. Go ahead and enjoy.
Recipe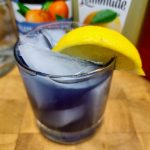 Print Recipe
Purple Rain Drink
Equipment
jigger

Hawthorne strainer

cocktail shaker

Rocks glass
Ingredients
1.5

oz

Vodka

1

oz

Blue Curacao

2.5

oz

Lemonade

.5

oz

Grenadine

Ice

Lemon Slice or Wedge

(optional)
Instructions
Fill up your cocktail shaker with ice.

Fill up your rocks glass with ice.

If you want to add a lemon slice or wedge as garnish. Take a lemon and cut it into wedges or slices. Then take one piece and cut a small notch in the pulp with your knife. Use the notch to put the lemon on the rim of your glass.

Using your jigger, measure and add 1.5 oz of Vodka to the cocktail shaker.

Using your jigger, measure and add 1 oz of Blue Curacao to the cocktail shaker.

Using your jigger, measure and add 2.5 oz of Lemonade to the cocktail shaker.

Using your jigger, measure and add .5 oz of Grenadine to the cocktail shaker.

Cover the shaker with its lid. Shake well until shaker is cold to touch or about 15 seconds.

Remove shaker lid. Re-cover shaker with hawthorne strainer.

Pour drink into rocks glass from shaker.