Occassional Cocktails may earn compensation from purchases made after clicking links on this page. Learn more Here.
Check out this uniquely named and uniquely flavorful salty nut shot. This fun shot creation is a harmonious blend of sweet cinnamon and rich peanut butter flavors. Get ready to embark on a nutty adventure of as you saver the sweet and delicious flavor of this shot.
Jump to:
🥃 What is a Salty Nuts Shot?
A salty nut shot is a combination of frangelico, RumChata and peanut butter whiskey shaken together and served in a shot glass that is rimmed with crushed peanuts. This creamy looking shot has a little bit of a sweet cinnamon flavor that quickly smooths into a salty peanut butter flavor. It tastes sort of like the milk after eating Reese's peanut butter puff cereal.
This shot is sometimes called a salted nut roll as it tastes similar to the candy with the same name. Creamy, sweet and full of peanut butter flavor.
Here are just a few reasons why you should give this recipe a try:
Tastes like candy. What's better than eating candy? Drinking it with a little alcohol! This sweet and salty shot tastes just like a piece of candy with the same name.
Easy to make. With only three ingredients You should be able to make this one in about 3 or 4 minutes. It's super easy to make when all you have to do is shake everything together.
Fancy rim. This shot looks decadent and elaborate with its fancy crushed peanut rim. But, it's still super easy to make Even though it looks fancy.
⭐ When to Make This Drink
There's a whole wide array of different times and events that would be good to serve this shot up. Try it out a few of these:
Birthday parties
After dinner drinks
Celebrations
Dessert drinks
📖 Variations
If you're looking to get a little creative or just change things up, here are a few ingredient changes and flavor variations you can try:
Substitute the RumChata. Instead of using RumChata, you can use clean heavy cream or half and half. This still in parts a nice sweet creamy flavor, but takes a little of the cinnamon kick out.
Add in butterscotch schnapps. Some recipes for this drink call for butterscotch schnapps instead of peanut butter whiskey. This drink will have a sweeter butterscotch flavor if you do this substitution and less of the peanut flavor.
Substitute the peanut butter whiskey. Keep the peanut butter flavor and alcohol content, but use peanut butter vodka instead of the whiskey.
Use actual peanut butter. Add a teaspoon of peanut butter to this drink. If you choose to do this, make sure to choose creamy peanut butter and you will have to shake vigorously in the shaker to make sure that it gets broken up.
Some other yummy Frangelico drinks include: Frangelico sour and the Nutty Irishman.
🥄 Equipment
📋 Ingredients
2 oz Frangelico
.5 oz Peanut Butter whiskey
.5 oz Rumchata
(optional garnish) Peanuts on rim
Ice
👩🏻‍🍳 Instructions
Step one
Start out by gathering everything up including saucer, crushed peanuts, simple syrup, jigger, ice, shot glass, cocktail shaker, Hawthorne strainer, frangelico, RumChata and peanut butter whiskey.
Step two
Toss ice into the cocktail shaker so that it is partially filled.
Step three
Get your shot glass rimmed. Do this by first laying a thin layer of simple syrup on one side of this saucer. Then, crushing peanuts and laying a thin layer of them on the other side of the saucer.
Place the rim of your shot glass first in a simple syrup. Roll it around until it is covered on the rim. Then, do the same in the crushed peanuts so that the rim is coated with crushed peanuts.
Step four
Using the jigger, measure out 0.5 oz of frangelico and toss that in the shaker.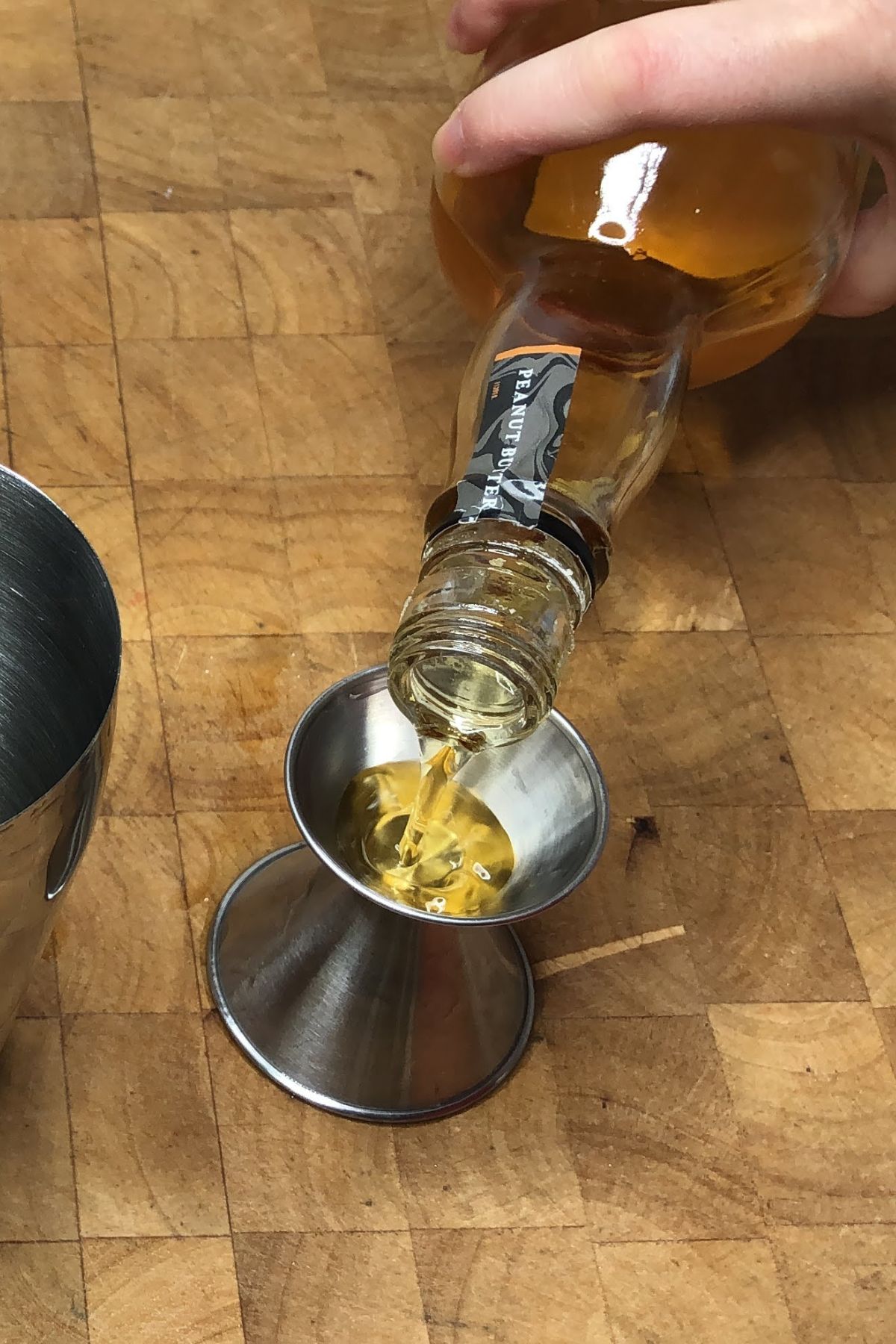 Step Five
Using the jigger measure at 1.5 oz of peanut butter whiskey and toss that in the shaker.
Step Six
Using the jigger measure out 0.5 oz of RumChata and toss that in the shaker.
Step Seven
Cover the shaker up with its lid. Then, shake for around 15 to 20 seconds and the shaker will become cold on the outside.
Step Eight
Pop off the shaker top and strain your drink from the shaker into the shot glass.
Recipe
Print Recipe
Salty Nuts Shot
Equipment
jigger

Hawthorne strainer

cocktail shaker

shot glass

Saucer
Ingredients
2

oz

Frangelico

.5

oz

Peanut Butter Whiskey

.5

oz

Rumchata

Crushed peanuts
Instructions
Fill the cocktail shaker up to the top with ice.

Using the jigger, measure 2 oz of Frangelico. Toss the frangelico into the shaker.

Using the jigger, measure .5 oz of Peanut butter whiskey. Toss the peanut butter whiskey into the shaker.

Using the jigger, measure .5 oz of rumchata. Toss the rumchata into the shaker.

Cover the shaker with the lid and shake until it gets cold. Typically this will take around 15 seconds.

If you want to rim the glass, do so now:

1) Use either an ice cube or a little simple syrup and spread it around the shot glass rim.

2) Crush up a few peanuts and lay them in a thin layer on the saucer.

3) Place the shot glass rim down into the crushed peanuts and rock it back and forth until it is coated.

Replace the shaker lid with the strainer.

Pour the shot from the cocktail shaker into the shot glass.