Occassional Cocktails may earn compensation from purchases made after clicking links on this page. Learn more Here.
Easy Thanksgiving cocktails are perfect because you can quickly mix up the flavors of the season to serve at your next fall get together. These recipes range in flavor from pumpkin to cranberry to apples.
Jump to:
From dessert martinis to easy shot recipes, these drinks are all perfect to make during the Thanksgiving holiday. We have carefully chosen the following drinks specifically based on: ease of making, ability to scale up for a crowd, fall flavor profile.
Keep scrolling to find your new favorite Thanksgiving drink.
Cranberry Flavored Thanksgiving Drinks
From mules to sours, you'll find some of the very best cranberry flavored cocktails that are perfect for serving up at your next Thanksgiving celebration here.
Cranberry Whiskey Sour
This Cranberry Whiskey sour is a pretty red cocktail made easily with just 4 simple ingredients. It has a heavy tart cranberry flavor with a hit of sour.
Why it's good: you can easily scale this one up for a crowd by making it in a pitcher. No fancy ingredients are needed. It's red color fits the season perfectly.
Cranberry Margarita
A cranberry margarita is a nice twist on a classic cocktail. Full of that typical margarita pucker, but with the added flavor of cranberry mixed in. You can also add in fresh cranberries as a garnish if desired.
Why it's good: only 5 ingredients are needed, and all are simple. Shake this up in about 5 minutes either by the glass or by the pitcher. The red color and cranberry flavor perfect fit the Thanksgiving holidays.
Cranberry Moscow Mule
If you like the sparkling ginger beer flavor of a moscow mule, then try out this cranberry flavored moscow mule. It is the same great recipe, but with the addition of cranberry juice.
Why it's good: it only takes about 5 minutes to mix this one up. It's easy to make as a large batch for a party. The cranberry flavor is well suited for the fall.
Apple Flavored Drinks
From fun shots to spicy cider drinks, these are full of fall flavors. Most of these are also easy to make in big batches for a crowd.
Washington Apple Shot
Sweet apple and tart cranberry mingle together in this washington apple shot. This fun shot can also be easily customized to have a little fizz, additional flavor or scaling it up to be a full cocktail.
Why it's good: it combines several flavors typically associated with Thanksgiving all together. With only three ingredients, you can shake this up in about 2 minutes.
Apple Pie Shot
Dessert in a shot glass? This apple pie shot is just that. With an extra decadence of whipped cream and cinnamon sprinkled on top, this sweet shot is perfect to serve after Thanksgiving dinner.
Why it's good: tastes just like apple pie in liquid form. It only takes 5 ingredients, two of which are the garnishes.
Apple Cider Mule
Similar to the cranberry mule listed above, this apple cider mule is a twist on the classic fizzy and spicy cocktail. The spicy ginger beer mixes perfectly with the lightly, sweet apple flavors.
Why it's good: it can easily be scaled up to be made by the pitcher and serve at large get togethers. It has a light, refreshing flavor that makes it perfect for anytime of the day during Thanksgiving celebrations.
Fireball & Apple Cider
A Fireball Apple Cider is an easy two ingredient cocktail. It is full of light, sweet apple flavor with a punch of spice.
Why it's good: it's super fast and easy to make in just a few minutes with two ingredients. It's light flavor makes it perfect for sipping before, during or after the big meal.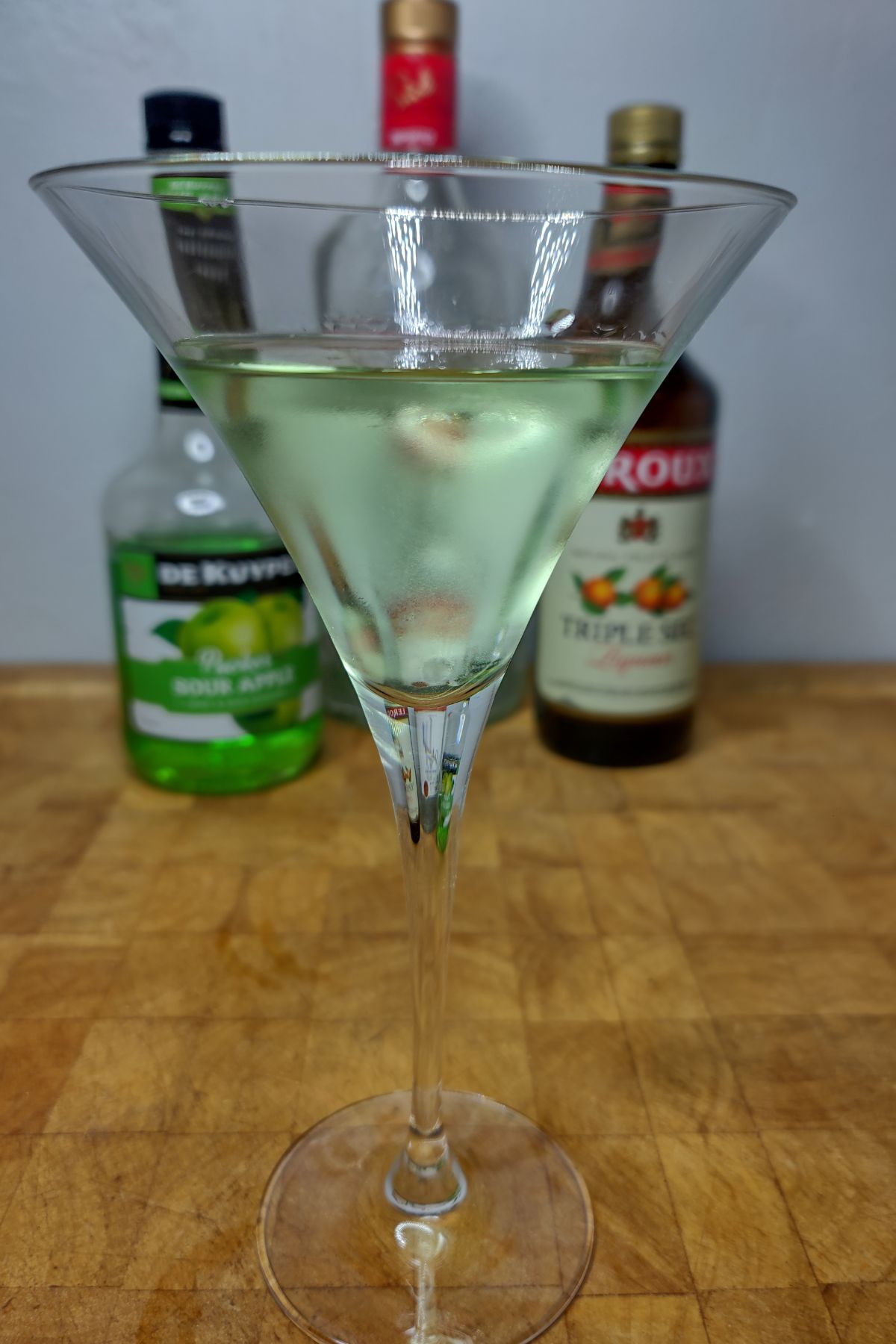 Appletini
This mouth puckering appletini is a pretty light green color. It has a sour, and slightly sweet apple flavor that pairs well with Thanksgiving dinner or after dinner drinks.
Why it's good: this martini is quick and easy to shake up, needing only a few simple ingredients. It has a festive flavor and color.
Pumpkin Flavored Cocktails
These pumpkin flavored drinks range from simple syrups to shots.
Pumpkin Pie Martini
Looking for a dessert drink? Look no further than this decadent pumpkin pie martini. Nothing's says Thanksgiving like pumpkin pie, and with this martini you can eat and drink this fabulous and sweet dessert.
Why it's good: it uses real pumpkin puree for a strong, real pumpkin flavor. The graham cracker rim makes it look fancy, but it's still super easy to make.
Pumpkin Pie Shot
This pumpkin pie shot is also a sweet dessert drink. It is great to serve as an end of the night shot or as an addition to dessert.
Why it's good: it only uses three ingredients and can be shaken up in just a few quick minutes.
Pumpkin & Pumpkin Spice Syrup
Though neither this pumpkin simple syrup, nor this pumpkin spice syrup have any alcohol in them them make great flavor additions to a wide variety of cocktails, mocktails, coffee and even sweet baked goods.
Why it's good: they are both really easy to make and are incredibly versatile for adding pumpkin flavors to a wide arrange of foods and drinks.