Occassional Cocktails may earn compensation from purchases made after clicking links on this page. Learn more Here.
The bright, beautiful color and delicious citrus flavor is a fantastic addition to so many different types of cocktails. Explore beyond the world of Margaritas and fix yourself up some of these drinks with Blue Curacao.
Blue Curacao, like Triple Sec, is one of those ingredients that most of us have but really only use for the rare Blue Margarita. But it can be so much more than a color additive. We have brought together over a dozen of our favorite recipes with Blue Curacao.
[ez-toc]
The Best Drinks With Blue Curacao
We've split our favorite blue-hued spirits into a few categories; cocktails, margaritas, and martinis. We hope you find more than a few that you will love.
| | | |
| --- | --- | --- |
| Drink Name | Drink Type | Primary Alcohol |
| Green Hawaiian | Cocktail | Vodka, Rum |
| Very Berry Lemon Cocktail | Cocktail | Raspberry Vodka |
| Blue Hawaiian | Cocktail | Coconut Rum |
| Blue Lagoon | Cocktail | Vodka |
| Irish Trash Can | Cocktail | Multiple |
| Irish Wake Drink | Cocktail | Multiple |
| Blueberry Margarita | Margarita | Tequila |
| Mermaid Lemon Drop | Martini | Vodka |
| Blue Dolphin Martini | martini | Vodka |
| Sonic Screwdriver | Cocktail | Vanilla Vodka |
| Blue Cosmopolitan | Martini | Vodka |
| Mermaid Margarita | Margarita | Tequila |
| Witches Brew | Cocktail | Vodka |
| Grinch Drink | Holiday Cocktail | Rum |
| Alien Brain Hemorrhage | Shot | Bailey's Irish Cream |
| Purple Mother Fucker | Shot | Amaretto |
| Blue Mojito | Mojito | Rum |
| Liquid Marijuana | Shot | Rum |
| Blue or Adios Motherfucker | Cocktail | Multiple |
| Bullfrog Drink | Cocktail | Multiple |
| Fruity Pebbles Shot | Shot | Vodka |
| Purple Gecko Shot | shot | Tequila |
| Blue Balls Shot | Shot | Coconut Rum |
| Holy Water Drink | Cocktail | Rum & Vodka |
| Purple Rain Drink | Cocktail | Vodka |
| Bazooka Joe Shot | Shot | Multiple |
| Blue Long Island/Blue Motorcycle | Cocktail | Multiple |
| Flaming Lamborghini Drink | Drink | Multiple |
| Froot Loop Shot | Shot | Multiple |
| Shark Bit Drink | Drink | Rum |
Cocktails
The Green Hawaiian Cocktail is a beautiful and refreshing combination of vodka, coconut rum, blue curacao, pineapple juice and lemon-lime soda.
A Fruit Tingle is a fun summer flavored cocktail full of bursting colors.
The Holy Water Cocktail is a refreshing lemonade based drink. It is bright blue with chunks of lemon and strawberries in it.
The Blue motherfucker drink (or adios motherfucker drink) is a bright blue cocktail that basically tosses all the main liquors into a glass with a splash of blue curacao.
The Bullfrog Drink is a bright blue-green cocktail filled with several liquors with an addition of blue curacao and red bull.
The Blue Motorcycle, sometimes called the Blue Long Island Iced tea is a spin on the standard Long Island Iced Tea. Instead of adding cola and triple sec, you use blue curacao and sweet and sour mix for a bright blue strong cocktail.
The Purple Rain Drink is a dark purple colored sipper. Despite is eerie color, this drink has a bright and refreshing flavor
The Flaming Lamborghini drink is a complex cocktail. It is sambuca and kahlua layered in a martini glass and lit on fire. That is chased by shots of blue curacao and irish cream.
Anne Keery Pack in the flavors in this Very Berry Lemon Cocktail, while you whisk everyone away to a tropical paradise due to the vibrant color.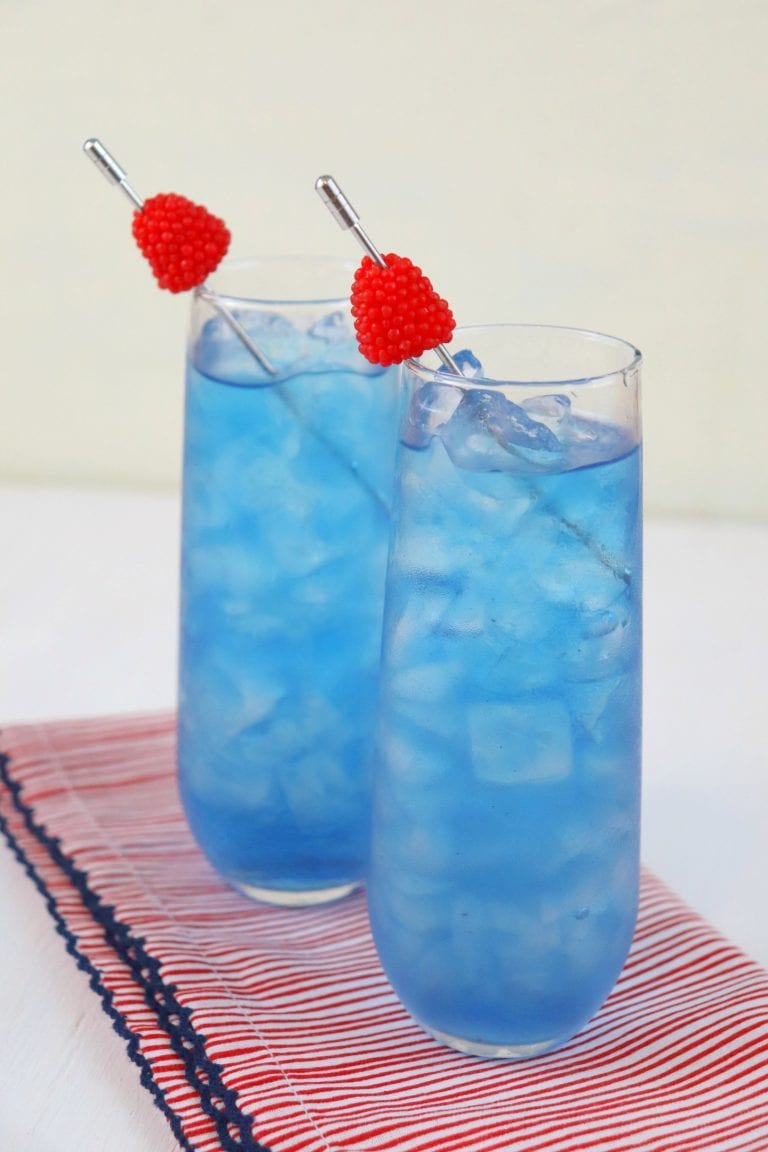 Blue Hawaiian Cocktail is a tropical drink recipe made with rum, blue curaçao, coconut cream, and pineapple juice. Serve it on the rocks or frozen – either way, it's delicious!
This fruity Blue Hawaiian Recipe is perfect to serve at all your summertime luaus! No matter where you live, this boozy blue concoction will make your backyard feel like the tropics.
Try out an easy mocktail that uses non-alcoholic blue curacao and stir up this pretty Blue Lagoon mocktail. It is bursting with citrus flavor, and you only need three ingredients for it.
The Irish Trashcan Drink is a blue and green color changing drink with almost every major liquor dumped into the glass and topped with blue curacao and red bull.
The Irish Wake Drink is a fruity tasting cocktail bursting with bright green color. It is a mix of Blue Curacao, 151 rum, Dark rum and Orange Juice.
You don't have to be a Doctor Who fan to enjoy a Sonic Screwdriver! Blue curaçao enhances the orange juice in this glowing blue version of a classic cocktail.
Don't wait for Halloween to drink this spooky cocktail. The Witches Brew is a delicious and fun cocktail all read round!
The black opal is a purple colored drink with a little of several different liquors tossed together.
The black martini is a fun Halloween themed black colored martini that is easy to make with just a few ingredients.
Try out this fun Blue Dolphin Martini if you want a drink that allows the blue curacao to really shine through. This easy, three ingredient martini only needs vodka, peach schnapps and blue curacao.
The Blue Mojito is a bright blue rum based drink that is perfect for summer celebrations.
The Shark bite drink is a bright blue drink with spiced and light rum. It is then topped with drops of grenadine to replicate blood in the blue water.
This fun and fruity alcoholic Grinch Drink is the perfect cocktail recipe for your upcoming Christmas holiday party!!
Shots
Alien Brain Hemorrhage is a vibrant concoction that is eye catching, which is also quick and easy to make. Creamy and sweet, thanks to Bailey's and peach schnapps respectively, it goes down a treat!
The Purple motherfucker shot is a dark purple shot that is super easy to make and tastes just like a cherry icee.
The Liquid Marijuana shot is actually a bright green shot, but is made with blue curacao. It has a strong pineapple taste.
The Fruity Pebbles Shot isn't brightly colored despite the blue curacao in it. However, is is an easy to make, super yummy dessert shot worth trying.
This purple-ish colored Purple Gecko Shot is full of fruit flavor. This combination of tequila, lime juice, sour mix, blue curacao and cranberry juice is a super yummy drink.
This Blue Balls Shot is an electric blue shot that is full of fruity tropical flavor. Perfect for Bachelor/Bachelorette parties.
The Bazooka Joe shot can be served layered or shaken. No matter which way, it tastes like sweet bubble gum.
The Froot Loop shot is a purple shot that tastes like drinking the milk after eating froot loops. It is creamy, sweet and delicious.
Margaritas
The Blue Margarita may be the most commonly made drink with Blue Curacao. Try out this easy recipe and find out why!
The Blueberry Margarita is a delicious, fruit infused twist on the Classic Margarita.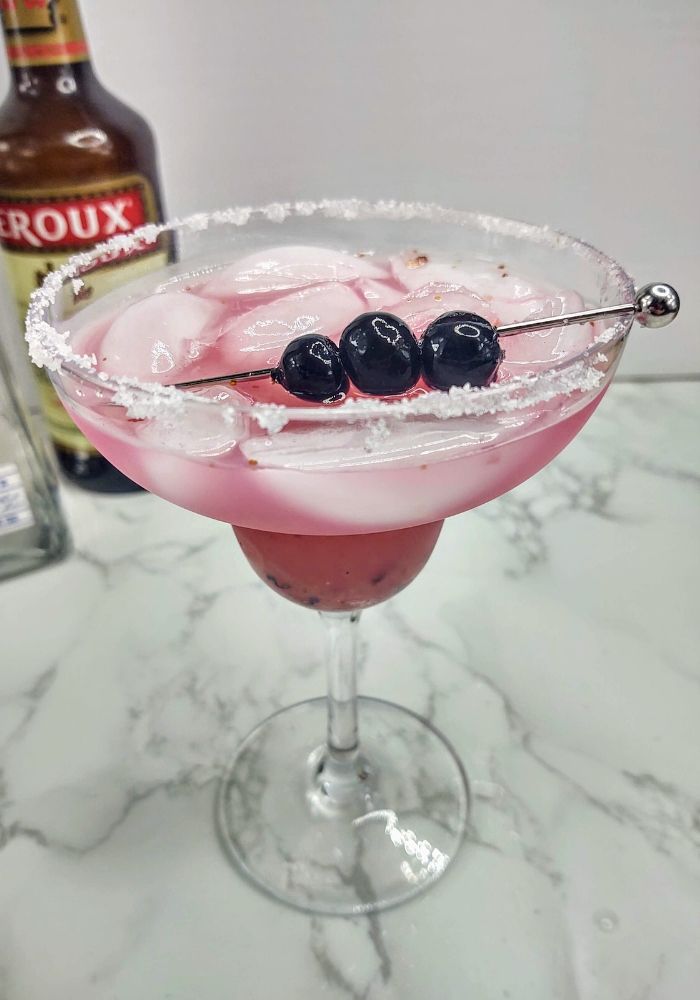 The Mermaid Margarita is a delicious frozen cocktail made with blue curaçao, tequila, and triple sec.
Martinis
Try this Mermaid Lemon Drop Cocktail recipe! This beautiful layered drink features vodka and blue curacao.
This Blue Cosmopolitan cocktail is easy to make and a great way to celebrate. All the classic taste of a cosmo…but with a lovely blue hue.
Shots
The Scooby Snack shot is a tropical, easy to make shot. There is a regular version, but also one where you add Blue Curacao.
Wrap Up!
Blue Curacao is a great addition to so many different cocktails. Not just for the color, but the bitter orange flavor blends so well with so many different ingredients.
Try some of these out for yourself.