Occassional Cocktails may earn compensation from purchases made after clicking links on this page. Learn more Here.
If you love a good cocktail and you also love coffee then you should try out some of these awesome Kahlua cocktails.
The Best Kahlua Cocktails
Kahlua is a liqueur that has a sweet coffee flavor and can be mixed in many different drinks. It is the cornerstone of classics such as a White Russian all the way to lesser-known drinks such as a Tootsie roll shot.
This versatile liqueur is a must-have for any cocktail affectionato. So, whether you're just a big Kahlua fan and want to branch out or you have a bottle of Kahlua and aren't sure what to do with it, check out some of these most popular Kahlua cocktails that are sure to hit the spot.
A rattlesnake shot is a layered shot made from Kahlua, Irish cream and white creme de cacao. Layered shots are always fun because instead of mixing your ingredients together you have each liquor sitting one on top of another.
This shot has a creamy sweet flavor much like your favorite mocha drink from your favorite coffee shop.
This one does take a little bit of time to make as the layering works best if you place your shot glass and liquors in the freezer for a few minutes before getting started. Also, you have to go slowly during the layering so that nothing mixes.
All in all the rattlesnake shot is a fun and delicious Kahlua cocktail to try.
The duck fart shot is a similar shot to the aforementioned rattlesnake shot. It is a layered shot as well. Additionally it also uses Irish cream and Kahlua.
The difference here is a duck fart shot includes whiskey instead of white creme de cacao. This results in a chocolatey coffee creamy flavor but with the punch of the caramel vanilla and bite of the alcohol in the whiskey.
Overall the shot is delicious and fairly easy to make. You need equal parts of each of the three ingredients and just study hand to layer them one on top of another.
The sombrero drink is yet another layered Kahlua cocktail. This one however is not a shot and instead is made in a rocks glass.
This cocktail is super rich and creamy. It is a one-to-one ratio of Kahlua and heavy cream. We like to use 2 oz of each.
The resulting flavor has the coffee and chocolatey hints from the Kahlua as well as a thick sweet creamy flavor from the heavy cream.
Brown cow cocktail is similar to the sombrero drink. It is the first on the list that is not a layered cocktail or shot.
This cocktail is made from mixing together 1.5 oz of Kahlua and 2 oz of milk. It has a flavor reminiscent of a very decadent mocha coffee drink. With highlights of coffee and chocolate from the Kahlua and cream from the milk.
This cocktail is super fast to mix up needing only two ingredients and no elaborate layering, glass rimming or garnishes.
If you have a little time to throw a cocktail together and you love banana milkshakes you might want to give the dirty monkey drink a try.
This tasty frozen drink may take 10 minutes or so to mix up and have several ingredients such as pineapple juice, Kahlua, rum, ice, a banana and have several ingredients such as pineapple juice, Kahlua, rum, ice, a banana, creme de Coco, banana liqueur and whipped cream.
However, The time you put in is definitely worth it for the sweet creamy banana flavored treat you'll get. This drink is perfect for summertime sipping, pool parties and barbecues.
The toasted almond drink is a rich yet easy to make cocktail comprised of equal parts of Kahlua, amaretto and heavy cream. It is served mixed in a rocks glass. With a simple garnish of a few sprinkles of nutmeg on top.
The flavor of this drink is similar to a creamy almond flavored eggnog. With the rich cream flavors from the Kahlua and heavy cream sprinkled in with almond tones from the amaretto and hints of coffee and chocolate from the Kahlua.
This cocktail is great for winter time celebrations and winter holidays as well. However, it's so easy to make you can really mix it up most anytime.
A screaming orgasm cocktail can be served either as a mixed drink and a rocks glass or as a layered shot. This drink tastes very similar to a Starbucks mochachino. It is full of creamy sweet chocolate and coffee flavor with a hint of almond on the back end.
All you need to whip this drink up is equal parts of vodka, Kahlua, Irish cream and amaretto. If you make the cocktail version you can also add an equal part of milk or heavy cream to round the drink out in the glass and add a little extra sweet creaminess.
Looking for a banana flavored cocktail but not up for using a blender and making a frozen drink like the dirty monkey listed above? Give this monkey lunch cocktail a try.
This cocktail is made from three simple ingredients in equal parts: Kahlua, milk and banana liqueur. It is a mixed drink placed in a rocks glass.
The resulting cocktail tastes similar to a banana laffy Taffy with a slight hint of coffee and chocolate on the back end. It's a cocktail perfect for sipping in the summertime.
A Krispy crunch shot is a super easy to mix up shot. To make this one you simply need equal parts of frangelico, Kahlua, Brandy and creme de cacao.
The flavor of the shot is reminiscent of the candy bar with the same name. It's full of nutty and chocolatey flavor.
With how easy this drink is to make it's perfect for casual get-togethers or after dinner drinks.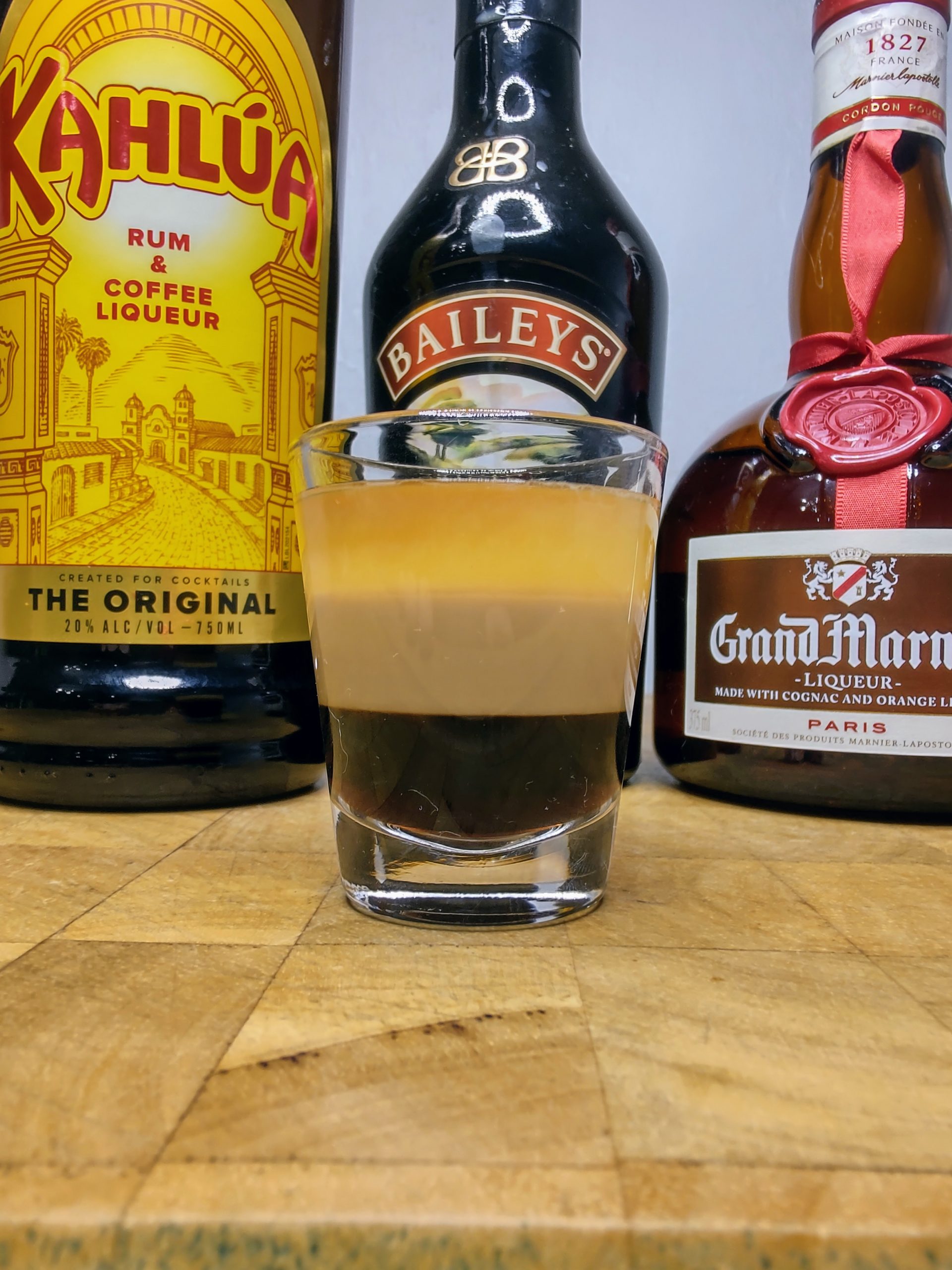 This shot is equal parts Kahlua, Irish cream and grand marnier. It tastes a little like orange cream.
This shot is a layered shot. So it does take slightly longer to make since you have to slowly pour each ingredient one on top of the other into your shot glass.
Though it is a slightly sweet shot It is not overly sweet or two decadent and makes for a great cocktail to serve at most any occasion. And, if you want a variation on this drink you can make a flaming B-52 or you can substitute the Grand Marnier for Cointreau or triple sec.
Another layered kahlua based shot is the Quick Fuck shot. This one is made of Kahlua on the bottom, Midori in the middle and Irish cream on top.
It is an interesting colored shot with the dark rich Kahlua, neon green midori and white creamy irish cream all stacked up on one another.
This shot is a sweet and creamy drink with flavors of coffee and melon mixed together.
The girl scout cookie shot is a Kahlua, peppermint schnapps and Irish cream based shot. The combination of these three ingredients tastes just like a chocolatey, minty thin mint cookie.
This shot is extremely easy to make. You simply need three equal parts of each of your ingredients tossed together in a shaker. A thin mint crushed and rolled on the rim of the glass makes the perfect garnish.
With the shots sweet decadent chocolate flavor it's perfect as an after dinner drink.
This Kahlua based shot tastes shockingly just like the candy it's named for. It is creamy and chocolatey just like a Tootsie roll.
This drink's super easy to make. You only need two ingredients: Kahlua and orange juice. It's best to use non-pulp orange juice so that your shot is smooth.
With no fancy glass running, garnishes or layering needed this shot is easy to toss together in two or three minutes. And it's smooth and sweet flavor makes it perfect to serve for any informal get togethers, birthday parties or most any other fun occasion.
A White Russian not surprisingly is very similar to a black Russian. You need vodka and Kahlua, however, for a White Russian you also add cream.
The resulting kahlua-based cocktail has that same chocolatey coffee mocha flavor however it also has a sweet cream based flavor added in.
Looking for a creamy and decadent cocktail with the extra punch of caffeine? Try out this super easy to stir up espresso martini.
This super creamy and chocolate flavored kahlua hot chocolate is perfect for chilly winter nights. This one is easy to make and tastes so good.
Sweet creamy and full of tropical, coffee and chocolate flavors, this one is a must try. You'll need six ingredients and a little time with your blender to get this one ready.
This coffee flavored cocktail has actual coffee included in the drink. It is an easy four ingredient drink that needs cold brew, kahlua, triple sec and tequila.
It has the little sweet and sour citrus flavor like most margaritas, but is also infused with a sweet coffee flavor.
The frozen mudslide cocktail is a sweet, creamy dessert drink. It is basically a regular mudslide cocktail with ice cream added in. It is made with Vodka, Kahlua, ice cream, irish cream and chocolate syrup. The resulting cocktail basically tastes like an ice cream sundae with hints of coffee flavor.
The colorado bulldog is basically a white russian with a splash of coke added in. This creamy and rich drink has the fun fizzy of the soda added in. It tastes like a light, bubbly iced coffee.
With only four ingredients needs for this one, it is super easy to mix up in just a few minutes.
A kahula and cream is a simple two ingredient layered cocktail. As you may have guessed, the ingredients are Kahlua and heavy cream.
This drink is a low alcohol content sipper. It is easy to make, despite the fact that it is a layered drink.
It tastes pretty much like a rich, creamy coffee. This drink is great for after dinner drink sipping, casual get togethers or afternoon drinks.
This cocktail tastes like a creamy banana laffy taffy that's been infused with a coffee flavor. The ingredients needed for this one are: creme de banana, kahlua, light rum, half and half and irish cream.
This sweet, banana coffee flavored drink is a fun one to serve at celebrations and as after dinner drinks.
This fun, light pink shot is easy to make with only five ingredients. You need grenadine, tequila rose, vanilla vodka, kahlua and half and half.
This shot tastes like drinking the milk of Cap'n Crunch berries cereal. It is creamy, sweet and has a light strawberry flavor.
This cocktail is a classic. It is so easy to make with only two ingredients: Vodka and Kahlua.
You can whip this one up in 3 minutes or less. The resulting cocktail has s sweet coffee flavor with a huge bite of vodka.
This twist on the classic black Russian incorporates tequila rose and half and half in addition to the vodka and Kahlua. This cocktail is easy to make and tastes sweet and creamy. It has a flavor like a strawberry cappuccino.
Don't love strawberries? Try the peanut butter white russian as another flavor spin.
This yummy, warm cocktail is a simple combination of coffee, heavy cream and kahlua. The drink tastes like a sweet, creamy coffee.
This one is super easy to make. With the use of hot coffee, it's perfect for a chilly day or night.
This drink is a combination of Sambuca and Kahlua that is lit on fire. And chased with shots of blue curacao and irish cream.
This easy to make peanut butter cup shot is rich and decadent. It is full of peanut butter and chocolate flavors. You can also make a Peanut Butter Cup Martini.
All you need for this one is kahlua, irish cream or heavy cream, chocolate liqueur and peanut butter whiskey. You can add an extra sweet rim by coating it in chocolate syrup and a peanut butter cup.
Kahlua FAQ
What is Kahlua
Kahlua is a coffee-flavored liqueur that originated in Mexico. It is a combination of arabica coffee beans, rum and sugar.
The resulting liqueur has a sweet, creamy, coffee flavor with hints of vanilla and caramel.of vanilla and caramel. It is a lower volume alcohol liqueur at around 20% alcohol by volume.
Can You Drink Kahlua Straight?
Yes, you can definitely drink Kahlua straight. In fact, it's got quite a rich full body flavor with coffee, vanilla, caramel and an overall sweet smoothness. You can serve it over ice for sipping.
Does Kahlua need to be refrigerated after opening?
No, kahlua does not need to be refrigerated after opening. Due to its alcohol content, it can actually keep for quite a while. Just ensure that it is kept in a cool dry place with the top well sealed.
Is Kahlua the same as Baileys?
Kahlua is not the same as Bailey's. Though, they do complement each other and are often used in cocktails together. Kahlua is a dark, rich and sweet rum-based coffee flavored liqueur. While Bailey's is a light, creamy whiskey based liqueur.
Is Kahlua high in caffeine?
Kahlua is not high in caffeine. In fact, according to the manufacturer, it only contains around 5 mg of caffeine per 1.5 oz drink.